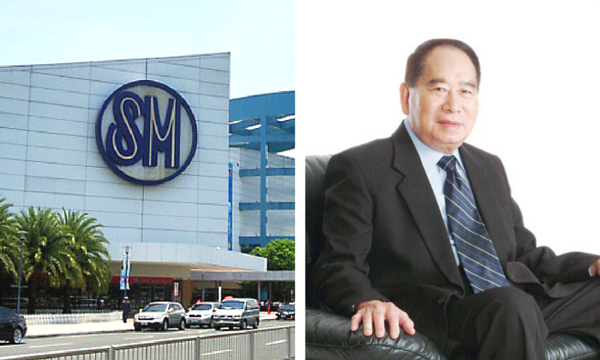 SM Investments Corporation (SMIC) continues its streak to be the top Filipino firm in the prestigious "Forbes Global 2000" list with eight others from the country joining the roster of the world's "biggest, most powerful and most valuable companies."
The list features companies from 63 countries which account for $35 million (P1.63 billion) in revenue; $2.4 trillion (P107.37 trillion) in profit; $162 trillion of assets; and a combined market value of $44 trillion, Forbes reported on Wednesday, May 25.
ADVERTISEMENT - CONTINUE READING BELOW
SMIC, founded by the country's richest man, Henry Sy, improved its ranking to 864th from 911 last year and had $6.18 billion (P288.50 billion) in sales and a market cap of $16.4 billion ($765.78 billion) Forbes reported. The company which has three major operations in different industries (property, retail, and financial services) employs 86,457 people. It recently opened its 58th mall and plans to open the third largest shopping center in China this year.
Related: How SM Malls conquer China
Joining SMIC are Filipino banks and conglomerates JG Summit Holdings Inc. (1129th); Top Frontier Investment Holdings, Inc. (1194th); Ayala Corporation (1224th); Bank of the Philippine Islands (1242nd); Metropolitan Bank and Trust (1379th); Manila Electric (1514th); PLDT (1621st) and Aboitiz Equity Ventures (1955th).
Related: Aboitiz Equity Ventures bullish as PH welcomes new leadership
Asian companies thrive
"The 2016 Global 2000 illustrates the headwinds public companies face from a slowing Chinese economy, the collapse in energy prices and ongoing actions by central banks in the US, Europe, and Japan, among other trends," Forbes Media Senior Editor Steve Schaefer said in a statement.
ADVERTISEMENT - CONTINUE READING BELOW
Amid the global economic slowdown, Asian companies continue to thrive as big Chinese banks top the list.
Bank of China takes the first spot for the fourth consecutive year with China Construction Bank and Agricultural Bank of China ranking second and third respectively.
The boom is not exclusive in China for Asia as the highest-ranked newcomer on the list— Japan Post Holding—made it at 29th place. Toyota Motor Corporation also joins the top 10 list ranking 10th.
Related: 7 bullish Japanese brands in the Philippines
American investment companies Berkshire Hathaway and JP Morgan Chase complete the top five.
Related: 5 things you can learn from Warren Buffet, who invested $1 billion in Apple
Forbes also noted that slumping oil prices have hurt some companies, most notably PetroChina which dropped nine spots out of the top 10 at 17th place.
Other notable newcomers include American online payment system, Paypal; beauty store chain Ulta Salon; and benefitting from its split, HP and Hewlett Packard Enterprise.
ADVERTISEMENT - CONTINUE READING BELOW
Still the US remain as the top country with most companies on the list with 587; China and Hong Kong have 249 companies combined; Japan accounts for 219; United Kingdom with 92; and South Korea with 67.
*****
Elyssa Christine Lopez is entrepreneur.com.ph's editorial assistant / staff writer. Follow her on Twitter @elyssalopz.