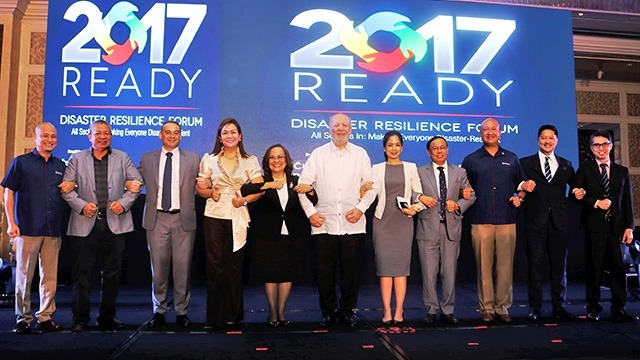 Speakers and guests pose during the Ready Disaster Resilience Forum on August 9, 2017

The Cebuana Lhuillier Group, the country's largest pawnshop network by revenue, is tapping mobile technology to rapidly expand the reach of its microinsurance products among low-income Filipinos.
At the sidelines of the 2017 Ready Disaster Resilience Forum All Sectors In: Making Everyone Disaster Resilient sponsored by the company last August 9, Jonathan Batangan, vice-president and group head at Cebuana Lhuillier Insurance Solution Inc. (CLIS), shared that the group aims to insure two million Filipinos this year by launching new digital platforms and additional products.
ADVERTISEMENT - CONTINUE READING BELOW
As of first quarter of the year, some 26.6 million Filipinos are covered by microinsurance, which are products designed for low-income owners where the "amount of premiums, contributions, fees or charges, computed on a daily basis, does not exceed five percent of the current daily minimum wage rate for non-agricultural workers in Metro Manila."
Next month, CLIS will launch a website, Protectnow.ph, to let Filipinos purchase insurance and process claims online
CLIS is also in talks with a mobile service provider for a mobile platform allowing anyone to buy microinsurance via SMS messaging. "Through text, you can get insurance, and it's just Php10," Batangan said.
One of the group's most popular microinsurance products is Alagang Cebuana Plus Gold (ACPG) which provides Accidental Death/Dismemberment & Disability (ADD&D), Fire Cash Assistance (FCA), rider benefit for Unprovoked Murder and Assault (UMA), and a micro-life insurance. Costing only Php40, the coverage lasts for four months, which is equivalent to only Php10 a month. After four months, one needs to buy another package to continue enjoying insurance protection.
ADVERTISEMENT - CONTINUE READING BELOW
Recently, the insurance firm launched a mobile application, Micropinoy, which provides information on the company and all its products.
The Cebuana Lhuillier Group is the country's biggest pawnshop network by revenue. It includes P.J. Lhuillier Inc., which reported revenues of Php4.1 billion in 2015 and Cebuana Lhuillier Services Corp., with revenues of Php1.7 billion in 2015, according to BusinessWorld's Top 1,000 Corporations in the Philippines 2016.
P.J. Lhuiller operates under the name and style of Cebuana Lhuillier Pawnshop. Cebuana Lhuillier Services does business under the Cebuana Lhuiller Pera Padala, Cebuana Lhuillier Express and Cebuana Express.
Founded by Philippe Jones Lhuillier in the 1980s, Cebuana Lhuiller traces its beginnings to Agencia Cebuana, one of the pioneers of the large pawnshop chains in the country. Philippe Jones' brother, Michel, also founded his own pawnshop group, M Lhuillier. Their father, Henri Lhuillier, was a Frenchman who came to the Philippines and founded Agencia Cebuana in the 1930s.
ADVERTISEMENT - CONTINUE READING BELOW
Going to the Grassroots
CLIS started selling microinsurance as early as 2004, relying initially on traditional marketing methods to introduce the product to local communities.
To reach far-flung rural areas, CLIS deployed community development officers to sell cheap insurance to different barangays in the country. "They (community development officers) talk to the mayors, barangay captains, approach vendors associations," Batangan explained
Timely processing of loans also helps in creating awareness for the Cebuana Lhuillier's micro insurance products, he stressed.
Recently, CLIS started deploying its teams to fire-stricken areas to settle claims immediately. "When you are seen where you are not expected to be seen like burning houses to settle claims, then people say, how come we didn't get insurance from Cebuana," Batangan said.
Batangan says the deployment of community development officers to far flung areas along with their soon to launch digital platforms will help the insurance company reach its goal of selling two million microinsurance plans this year.
ADVERTISEMENT - CONTINUE READING BELOW
To date, CLIS has covered eight million Filipinos and settled claims worth approximately Php200 million. It has also expanded its product range, currently offering 20 micro insurance products ranging from life and accident, automotive, individual insurance plans, group insurance for TODA (Taxi Owners and Driver Association) and security guards and small business owners. Premiums are between Php20 to Php50.
The insurance firm also provides insurance coverage to micro businesses through its product, Negosyocare, which is designed to insure businesses owners from fire, robbery and natural calamities. Some 500 business owners had availed of the product since its launch late last year.
Ambitious targets
The insurance arm of the Cebuana Lhuillier Group is set to launch this year a new product, BarangayCare, designed for barangay officials with premiums ranging from Php50 to Php60 per year.
Batangan says the company aims to sell micro insurance to 60 to 70 million Filipinos in the next three years.
ADVERTISEMENT - CONTINUE READING BELOW
"We (Philippines) still have a long way to go with only 27 percent (of Filipinos covered). Hopefully, we can reach out 60 to 70 percent in the next three years, and hopefully, help the government, the Insurance Commission achieve 80 percent (covered) by 2020."
*****
Cherrie Regalado is a contributor to Entrepreneur.com.ph. Follow her on Twitter @cherrieregalado