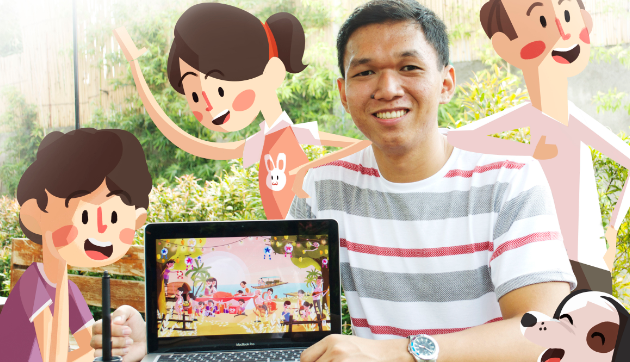 Christmas in the Philippines has always been among the most colorful and merriest in the world. More than the interesting traditions, Pinoy Christmas is all about sharing, generosity, and love. Filipinos generally see the season as the best time for homecomings and reunions.
That is why Pan de Manila always aims to embody the essence of family and home during the most celebrated holiday in the country. Since 2008, the bread chain has made it an annual tradition to come up with Filipino art-inspired holiday paper bags and other collaterals.
ADVERTISEMENT - CONTINUE READING BELOW
In the past seven years, a handful of local artists had been featured in Pan de Manila's holiday paper bags—Robert Alejandro, Amador Barquilla, Jovan Benito, Larry Memije, Albert Magsumbol, Joel Chua, Dante Hipolito, and Rina Albert-Llamas.
This year, the company's 2015 Pinoy Pasko paper bags and peripherals showcase the artwork of 23-year old animator and illustrator Jude Christopher 'JC' Roxas. The young artist from Zamboanga Sibugay said he found inspiration from traditional family reunions and get-togethers.
"Filipinos love to reconnect and make new connections. Our love to reminisce and to make new memories inspired me in creating the Christmas paper bags this year," he disclosed.
Tree of memories
For this year's main artwork, Roxas used the tree as the most prominent symbol. "A lot of things happen under a tree. This is where kids make bases for tagu-taguan (hide and seek), where farmers rest while eating packed lunch, and where families enjoy the shade in every picnic," he elaborated.
ADVERTISEMENT - CONTINUE READING BELOW
"Personally, a tree gives me the best place to sit down and think, about the many wonderful things in life. That is why I want the image of the tree to be really prominent in the design because it reminds us of the importance of each other's company."
His artworks use colors and catchy details that could easily fascinate consumers and entice them to take home goods using the holiday paper bags. "Some of the notable pusong Pinoy traditions that I included are typical street and home scenes that are very much alive during the holidays and homecomings." Roxas added that he even featured comical scenarios like a ninong hiding from his inaanak.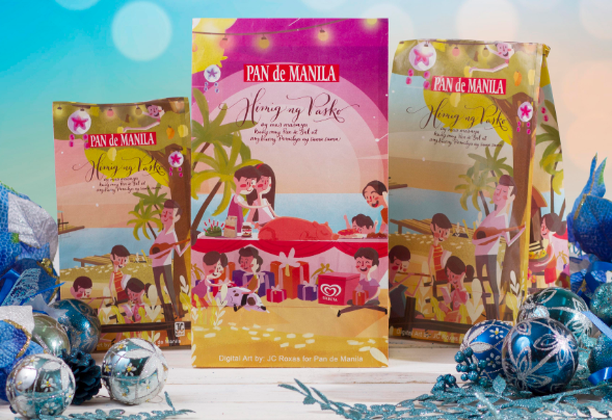 ADVERTISEMENT - CONTINUE READING BELOW
Celebrating local traditions
On top of the festive artworks, Pan de Manila even came up with a unique tagline: "Himig Pasko ay masaya kung may pan de sal at ang buong pamilya ay sama-sama."
The Christmas theme will also be featured in the bread chain's Christmas Gift Pack items, which come in boxes containing specialty spreads or palaman as well as the signature Bread Box that contains assorted specialty breads.
"Pan de Manila's paper bags and packaging have promoted Filipino values and traditions. Coming home and meeting people to celebrate the blessings of Christmas is what makes our truly Paskong Pinoy realized since this reminds us about the real meaning of thanksgiving," said Mari Sebastian, marketing manager of Pan de Manila.
"Since giving is also part of our tradition, Pan de Manila invites you to give the gift of a 'Himig ng Pasko,' which will touch the hearts of your loved ones and friends. The holiday paper bag also conveys that the pan de sal inside is warm and best shared cheerfully to everyone. Make Pan de Manila part of your Christmas feast," Sebastian added.
ADVERTISEMENT - CONTINUE READING BELOW
Pinoy Christmas-themed paper bags and gift pack items are now available in all Pan de Manila outlets, which are open 24/7 in convenient locations across Metro Manila, Northern and Southern Luzon, Iloilo, Cebu, and Bacolod.