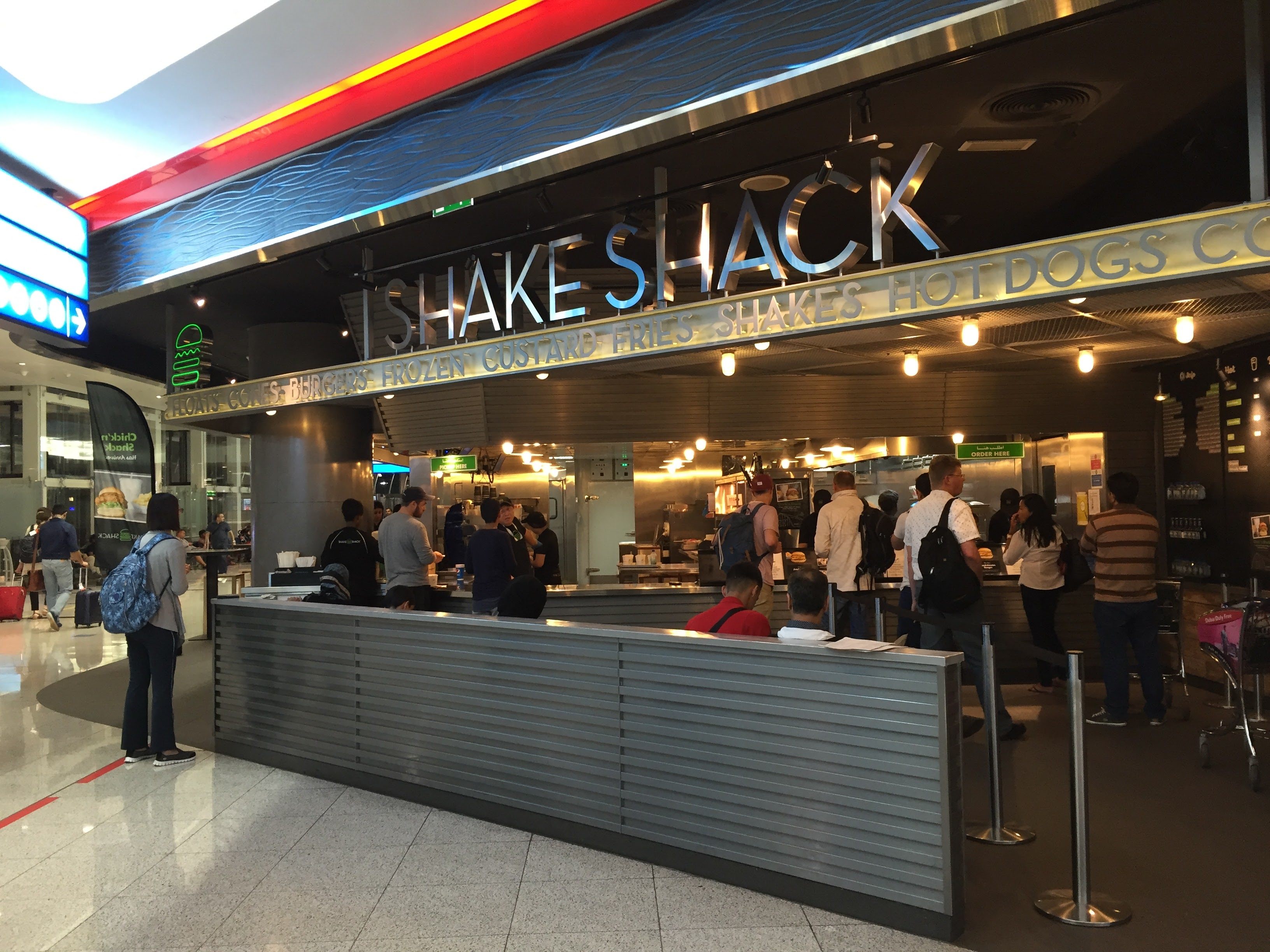 A Shake Shack branch inside the Dubai International Airport. The US-based burger chain will open in Manila next year
UPDATE: Shares of SSI's stock rose by as much as 18 percent after the announcement, the most in two years according to a Bloomberg report. Volume surged more than 3,500 percent above the stock's three-month daily average.
ADVERTISEMENT - CONTINUE READING BELOW
Shake Shack, the famous burger chain from New York City in the US, is opening in Manila.
The announcement was made by listed company Stores Specialists Inc (SSI) in a disclosure to the Philippine Stock Exchange on Wednesday, July 18. Owned by the Tantoco family, SSI is known chiefly as a luxury retailer that has brought in numerous fashion and lifestyle brands to the Philippines, including Hugo Boss, Burberry, Lacoste, Marks & Spencer and many others. 
In a post on social media, the casual restaurant chain said it is targeting to open in Manila by "spring 2019."
Mabuhay, Manila! Pack the Jeepney - we're officially headed to the Philippines! ???? We can't wait to shack up in the Pearl of the Orient in spring 2019. ???????? pic.twitter.com/DWuegylSk5

— SHAKE SHACK (@shakeshack) July 17, 2018
"Shake Shack is proud to partner with the SSI Group, known for its retail expertise and culture of hospitality, to bring Shake Shack to the Philippines," said Michael Clark, vice president of global licensing at Shake Shack. "Manila is an incredible city; its heart beats with a distinct warmth and hospitality. We are excited to begin the search for our first site in Metro Manila and look forward to becoming part of this community."
ADVERTISEMENT - CONTINUE READING BELOW
"It has been a mission of the SSI Group to provide complete lifestyle offerings through global partnerships that cater to eclectic tastes of Filipino consumers," said Anton Huang, president of SSI Group Inc. "We are excited to bring Shake Shack, one of the world's best burger joints, to Manila's young and vibrant consumer scene. We believe that Filipinos will embrace the unique Shake Shack experience and Shake Shack's mission to Stand for Something Good."
Starting out as a hot dog cart in Madison Square Park in Manhattan, Shake Shack now has around 170 locations across the globe, including 60 outside the US. The Philippines will be the first country in Southeast Asia to open a location.
SSI operates other food service brands such as SaladStop!, TWG Tea and Good Eats.* Members of the Tantoco family also own and run Rustan's Coffee Corporation (RCC), which is the sole licensee of international coffeehouse chain Starbucks in the Philippines. Both SSI and RCC are members of the Rustan Group of Companies.
ADVERTISEMENT - CONTINUE READING BELOW
Shake Shack's Manila menu will feature its signature items including the ShackBurger, Shack-cago Dog, crinkle-cut fries, beer, wine and frozen custard ice cream.
The statement also said Shake Shack and SSI will work with "local purveyors and producers to create a one-of-a-kind Shack for the Manila community."
Related stories:
World-Famous Shake Shack is Officially Coming to the Philippines
Rejoice! Shake Shack is Offcially Coming to Manila
Everything We Know About Shake Shack Philippines So Far
Here's What We're Ordering at Shake Shack When It Opens in Manila
Shake Shack is Opening in the Philippines
You Can Make Your Own Shake Shack Burgers at Home
*A previous version of this story said that Shake Shack is SSI's first food service brand. We regret the error. 
*****
Paul John Caña is the managing editor of Entrepreneur PH