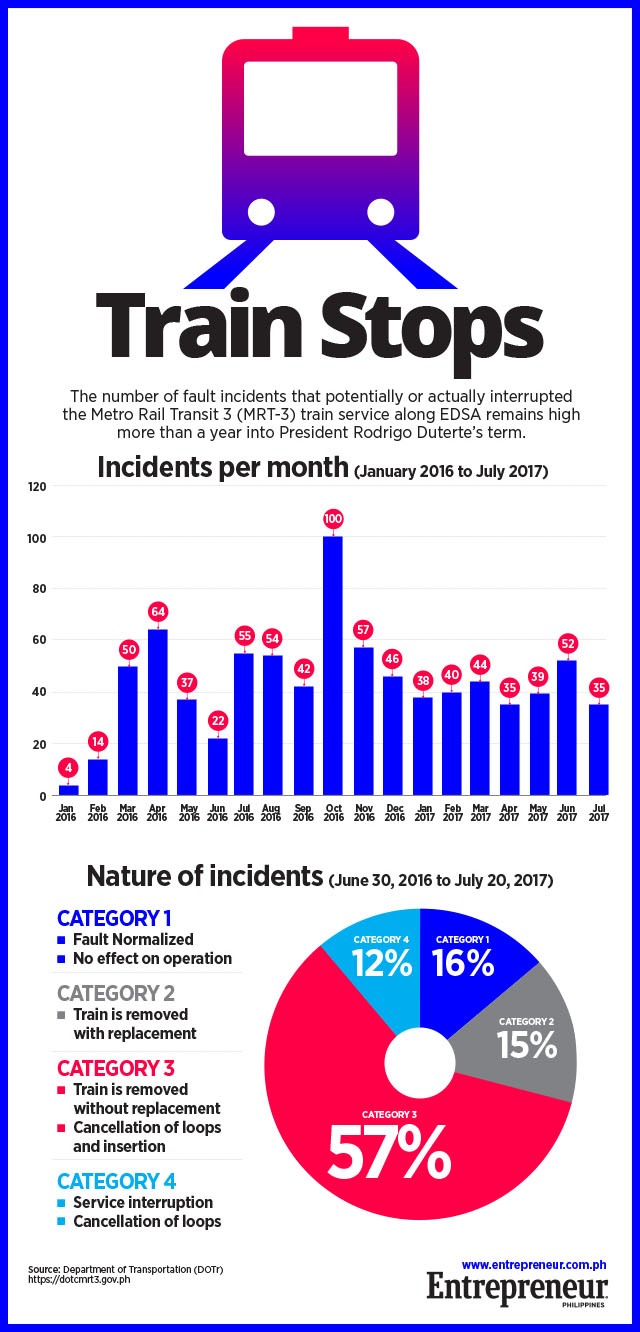 The Duterte administration's efforts to accelerate infrastructure spending to relieve widespread problems afflicting ordinary citizens may be making some headway. Already, the government's planning body, the National Economic and Development Authority (NEDA) has approved an initial list of 20 major infrastructure projects, many of which are designed to improve roads and other transportation facilities.
Related story: Duterte Ramps Up Infra Project Approvals a Year After 1st SONA
However, for the half a million or so commuters who take the Metro Rail Transit 3 (MRT-3) train service every day to get to work and back home, change for the better has yet to come.
Indeed, sometimes, the train service seems to moving from bad to worse such as when the MRT-3 management cut the number of running trains to only 15 from the usual 20 for about a week last month to allow for a thorough inspection of the facilities after the passenger coaches swayed wildly and generated strange sounds, according to a report in the Philippine Daily Inquirer. The speed of the trains was also halved to 20 kilometers per hour from 40 kph.
ADVERTISEMENT - CONTINUE READING BELOW
The infographic on this page illustrates the continuing woes facing MRT-3 riders from January 2016 to July 2017. The number of "fault" incidents that could potentially interrupt train service has remained high since the new government came into power more than a year ago. The numbers recently peaked at 52 incidents in June though it has since fallen to only 35 in July. Almost 60 percent of the incidents are classified as "Category 3," or when a train is removed without replacement and loops are cancelled.
Running 16.8 kilometers along EDSA from North Avenue in Quezon City to Taft Avenue in Manila, MRT-3 is the biggest of the three urban train systems in Metro Manila by volume of passengers. It is also perhaps one of the most challenging infrastructure woes that the Duterte administration inherited from its predecessor.
Related story: MRT 3 Service Breakdowns Persist Under DOTr
*****
Pauline Macaraeg is Entrepreneur PH's data journalist. Follow her on Twitter @paulinemacaraeg