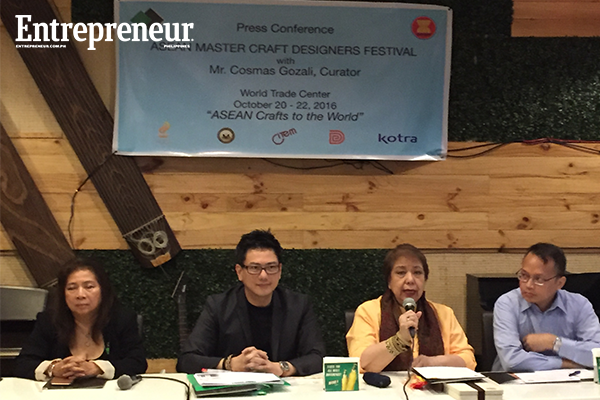 When Kenneth Cobonpue made waves in the international scene through his first line of furniture made of rattan, the Philippines was put on the map in the world of design. He is only one of the many designers in Southeast Asia innovating local traditional materials into state-of-the-art furniture or art pieces.
ADVERTISEMENT - CONTINUE READING BELOW
But local furniture is not the only sector setting trends. Case in point – there are even buildings made of bamboo and high-fashion pieces with elements of Southeast Asian weaving that are taking the region's craftsmanship back to the limelight, particularly after being dimmed by China's crafts stardom in the past decade.
"Traditional buyers of our [Filipino and ASEAN] products are coming back because they're looking for artisanal products," Center for International Trade Expositions and Missions (CITEM) project management department manager Leah Pulido-Ocampo told Entrepreneur.com.ph at the sidelines of a press conference on Tuesday, August 16. "China lost its credibility after safety and quality issues in the past few years. There's a resurgence [of interest] for local craftsmanship."
A billion dollar industry
The CITEM official said the local handicraft industry, which started as a US$26-billion industry and even reached US$80-billion in its heyday, is back to square one due to the stiffening competition with the Chinese which was mass producing some products typically handcrafted in Southeast Asia.
ADVERTISEMENT - CONTINUE READING BELOW
The Philippine Small & Medium Business Development Foundation, Inc. (Philsmed) then initiated the ASEAN Master Craft Designers Festival aimed to showcase the region's latest crafts, now with a more contemporary twist.
"We're creating a new marketplace for our crafts: designers, architects and major buyers from hotels," Philsmed president Mina Gabor said. "We're not limiting ourselves to retailers. It's a wholly different ballgame for crafts now."
The Festival will be part of the 64th Manila FAME, the second longest-running trade exhibition in the Asia Pacific region, which will run from October 20 to 22. The event is a culmination of the months-long training and collaboration of local artisans and master craftsmen with different designers from ASEAN.
For its first edition, the festival tapped five senior master craftsmen: Al Valenciano (Philippines); Rush Pleansuk (Thailand); Lim Masulin (Indonesia); Roselyn Long Lah (Malaysia); and Truong Phi Duc (Vietnam), to conduct product development and workshops with the members of local artisan communities in their respective countries.
ADVERTISEMENT - CONTINUE READING BELOW
As of press time, more than a hundred have been trained under their wing.
"This is also a means of providing inclusive growth. All members of the strata benefit from the project," Gabor said.
Indonesian architect Cosmas Gozali was tapped to curate the pieces for the exhibition. Gozali is an advocate of sustainable design, not only in aesthetic but also in principle.
"I tell craftsmen to not be worried with their livelihoods. They just have to work with designers and they can make contemporary pieces out of their crafts," Gozali explained. "Designers are now challenged to make something new out of these simple products that craftsmen make. Sustainable design also means providing jobs."
The award-winning architect said local craftsmen became redundant with their designs and limited themselves to solely everyday-purpose styles, like in houseware or religious objects. But with the right partnership with the right designers, the simplest objects such as rattan baskets can be innovative pieces of art.
ADVERTISEMENT - CONTINUE READING BELOW
"You may have great food, for example, but without the right packaging, people will never notice you," Gozali said.
But what is ASEAN design?
The group identifies it as products made of natural materials with vibrant colors that exude the charm of the tropics. As Gabor puts it, "When the West thinks of summer, they think of Southeast Asia first."
By putting a face for the region's craftsmanship, the trade expert believes it can better advance its line of work worldwide, especially now with more curated products.
"What our local crafts lack are packaging and marketing. Once we showcase what we really are, then the world can better see what ASEAN design is about," Gabor added.
But is the sum really greater than its parts?
Ocampo believes each member of the ASEAN has its own selling point and that these nations are not entirely fierce competitors. "I'd like to think we're different in many ways. Even when we have [the] same materials, we have different interpretations in terms of colors, design, even in [the] combination of materials used."
ADVERTISEMENT - CONTINUE READING BELOW
*****
Elyssa Christine Lopez is Entrepreneur.com.ph's staff writer. Follow her on Twitter @elyssalopz.