Epson Philippines President and country Manager Toshimitsu Tanaka addresses participants of the Epson Fusion event in Balesin
T-shirt printing continues to be one of the easiest businesses that new or aspiring entrepreneurs could get into because it is relatively easy to learn and inexpensive.
And one of the most common methods of printing t-shirts is through a silk screen, which refers to a mesh that is used to manually transfer ink to garments.
ADVERTISEMENT - CONTINUE READING BELOW
However, silk screen printing can be time consuming. It can take hours to finish, especially when the design has plenty of colors as each color requires each own screen.
Epson Philippines Corp. (EPC), the local unit of the international printer brand Epson, introduced two new products for direct-to-garment printing that address these concerns last May 24, during the company's annual Epson Fusion event in Balesin Island.
With the theme "It's in the Details," Epson officials explained how the company has been striving to deliver precision and performance through the products they offer. SureColor F2130 and SureColor F9330, the two printers they launched at the event, are seen to vastly improve the whole garment printing business.
"It reduces the time. Syempre, pagka-design, print, tahi, then suot na. Before, with the silkscreen, kailangan magkaroon kayo ng orders na 500 bago maproduce 'yung garments," (After the design is complete, you print it, then stitch, and it's ready to wear. Before, with the silk screen, you'd have to have at least 500 orders) said Chu Bacsal-Pajarito, team lead for commercial and industrial printers & colorworks of EPC's product management group.
ADVERTISEMENT - CONTINUE READING BELOW
"Sa amin (with Epson), it's only 50 (pieces) then they can run and they can print," she added.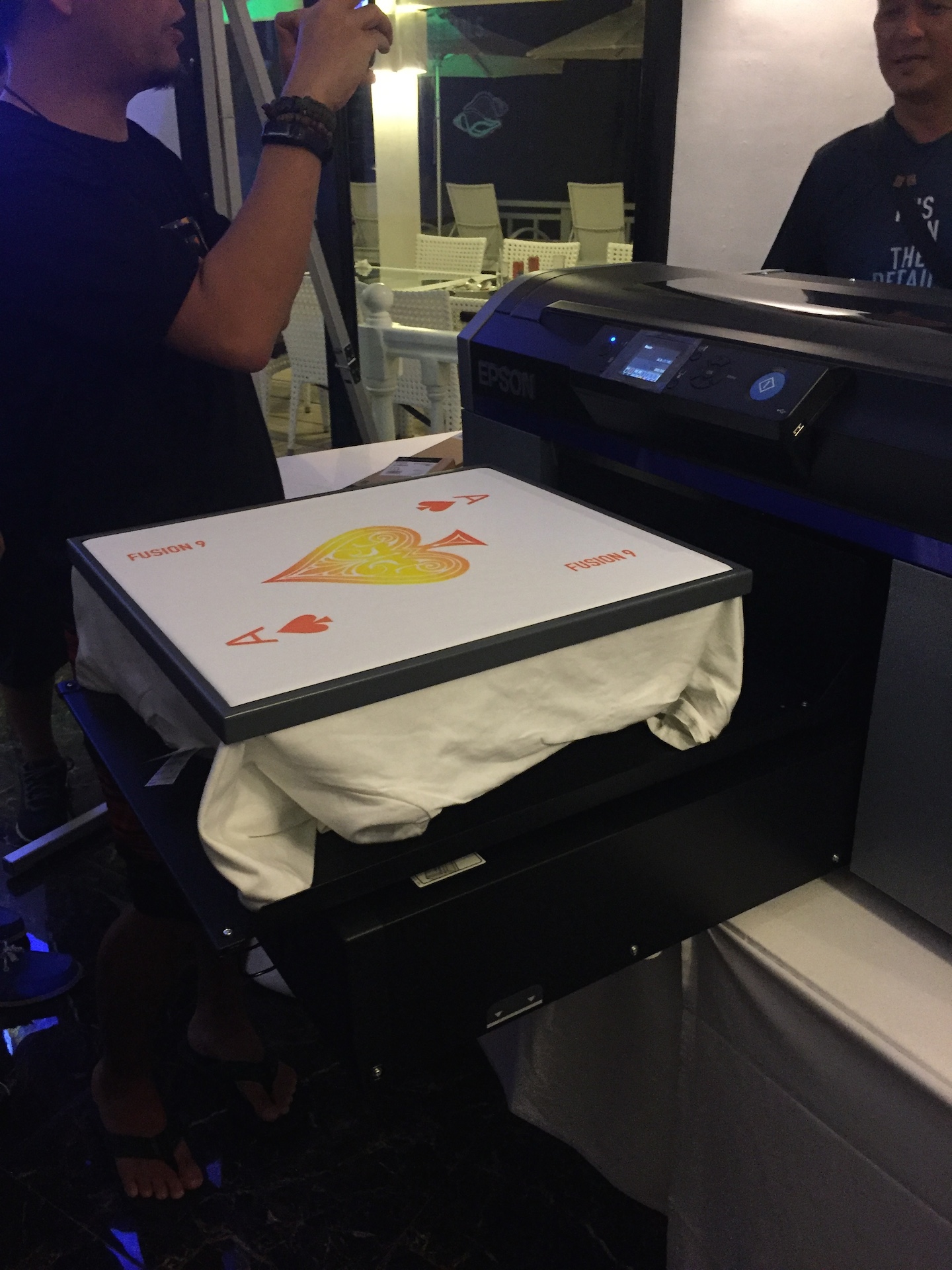 Sample shirt print of the SureColor F2130
Bacsal-Pajarito further called the new products the "future of digital textile printing," as they do not only make the textile printing process faster for entrepreneurs but also more cost-efficient. "It's more sustainable—it's using between 40 to 70 percent less electrical (and water) consumption (than conventional textile printing process)," Bacsal-Pajarito said.
ADVERTISEMENT - CONTINUE READING BELOW
SureColor F2130 is Epson's new direct-to-garment printer, which can print directly on fabrics that are 100-percent cotton such as t-shirts, sweatshirts and bags. It can print a shirt in just nine seconds because of its "PrecisionCore TFP printhead"—an upgrade from the previous model's (Surecolor F2000) record of 27 seconds.
SureColor F9330, on the other hand, is Epson's new dye-sublimation printer used for garments made with polyester material. It is best used for sportswear, apparel, soft signage, home decor and accessories. It can print up to 60 square meters per hour, an improvement from the SureColor F6270's 22.7 square meters per hour.
The SureColor F2130 is worth Php867,000 while the SureColor F9330 costs Php1.3 million (both vat inclusive). According to Bacsal-Pajarito, it would only take about 1.5 years of whole day production before an entrepreneur could get back the capital used for an F2130 unit. For an F9330, it would take about four years.
ADVERTISEMENT - CONTINUE READING BELOW
"What customers get from our products and solutions come from the details we put into them. Our obsession to details enables us to turn big ideas into reality. It also gave us the opportunity to expand our portfolio of innovative products, dedicated to making lives simpler and easier," said EPC President and Country Manager Toshimitsu Tanaka.
*****
Pauline Macaraeg is Entrepreneur PH's data journalist. Follow her on Twitter @paulinemacaraeg. The writer was among a group of journalists that Epson Philippines Corp. hosted in Balesin Island to showcase the company's newest products