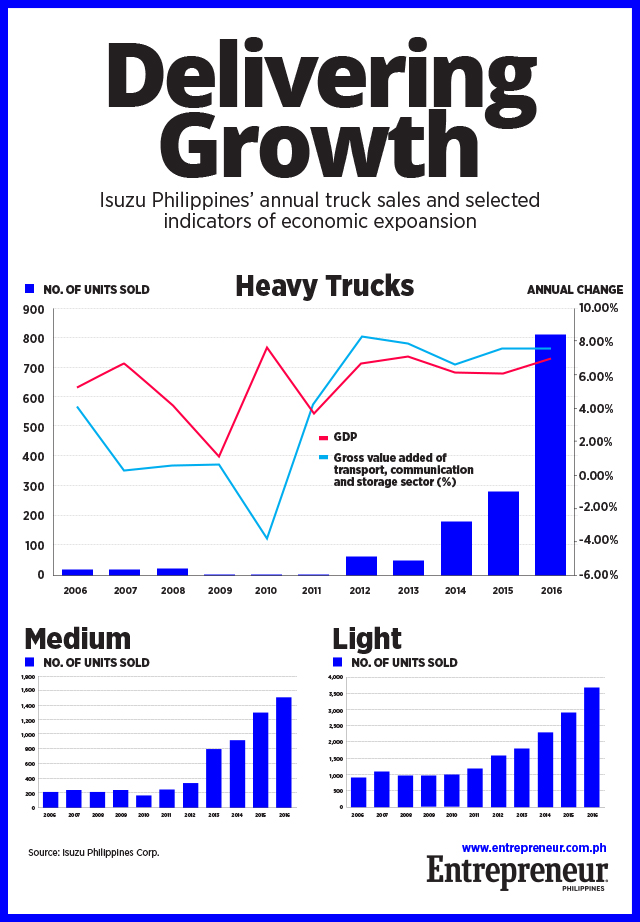 If it's true that economic growth is delivered on the back of cargo trucks—a claim attributed to American truckers—then the Philippines looks set for further rapid expansion.
Isuzu Philippines Corp., the country's No. 1 truck maker, reported that sales of its heavy trucks almost tripled to a record 808 units last year from only 280 units the year before on the back of rising economic growth. Isuzu Philippines is the local unit of Japanese vehicle and diesel engine maker Isuzu Motors.
ADVERTISEMENT - CONTINUE READING BELOW
The company's total truck sales, which include light and medium-sized units, hit a record 6,079 units last year, up 36 percent from the year before. That's the highest increase since 2012, according to figures provided by Isuzu Philippines.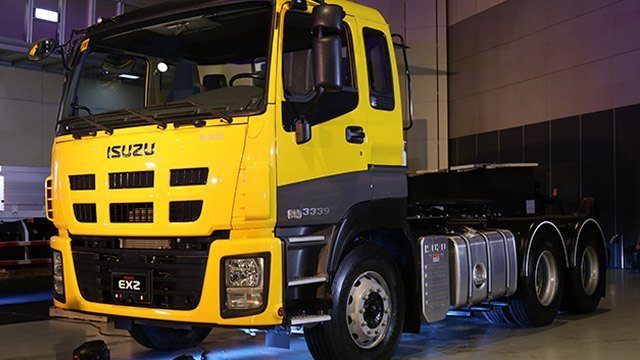 "One of the factors is good economy," explained Joseph T. Bautista, Isuzu Philippines' division manager for marketing, in an interview during the company's Truck Fest in SMX Convention Center last April 20. "The business climate today in the Philippines is great, and many people are starting their businesses. It's improving."
ADVERTISEMENT - CONTINUE READING BELOW
Indeed, steady gross domestic product (GDP) growth in the last five years seems to have set the stage for the sustained rise in heavy truck sales over the same period. Before that, truck sales were wobbly and even dropped between 2009 and 2011 as economic growth became erratic in the wake of the global financial crisis in 2008-2009. (See infographic)
The demand for trucks is supported by a more robust transportation business. In the last five years to 2016, the gross value added in the transportation, storage and communication industry rose by an average of 7.6 percent compared to only 0.35 percent in the previous five-year period from 2007 to 2011, according to data from the Philippine Statistics Authority (PSA).
Though Isuzu's total truck sales are rising, it's the heavy trucks that are drawing attention. Costing between Php4.5 million to Php5 million each just for chassis and engine, the sale of a heavy truck represents a sizeable investment on the part of buyers. In contrast, light trucks sell for less than Php1.5 million while medium trucks are between Php1.95 million and Php3.25 million, according to Isuzu Philippines' online price list.
ADVERTISEMENT - CONTINUE READING BELOW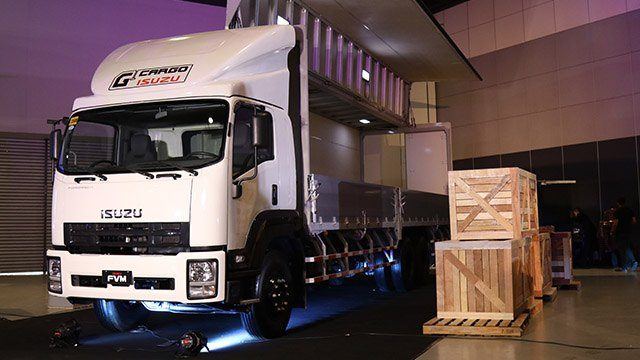 The surge in heavy truck sales is all the more remarkable as companies tend to buy second-hand units because of the high cost of brand-new ones. "Right now, the percentage of people buying new trucks is still small," said Bautista. "Last year, all the registered sold trucks numbered about 50,000 [units]. But only about 10,000 of that, or 20 percent, are brand new."
ADVERTISEMENT - CONTINUE READING BELOW
Because of the huge expense that trucks entail, Isuzu Philippines says it strives to help buyers maximize the value of their purchase through after-sales services.
"With every truck purchase, we provide product orientations, driver's training and even a professional analysis on fuel consumption and actual vehicle operation," said Isuzu Philippines President Hajime Koso. "A truck is probably one of the most valued investments for a company, which is why aside from providing quality products, Isuzu guarantees availability of parts and reliable service."
*****
Pauline Macaraeg is Entrepreneur PH's data journalist. Follow her on Twitter @paulinemacaraeg