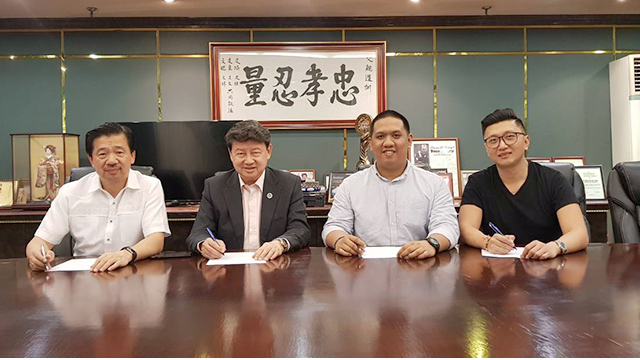 (From L-R) SPGC President Gerry Lim Bon Hiong, SPGC CEO and Chairman of the Board Henry Lim Bon Liong, Chatbot PH Co-Founder and CEO Ron Baetiong, and Chatbot PH Co-Founder Stephen Ku
Just a little over a year after its launch in the Philippines, tech startup and pioneer of AI messaging in the Philippines Chatbot PH has been acquired by Sterling Paper Group of Companies (SPGC), the startup announced recently.
Both parties signed the acquisition agreement on February 1, 2018, just 13 months after the startup was founded in January 2017. Since last year, Chatbot PH has been helping businesses and government agencies attend to online inquiries through the use of artificial intelligence (AI) in online messaging.
Chatbot PH did not disclose the value of the deal or how much of the startup company was acquired by SPGC.
Related story: PH Startup Uses AI To Help Businesses Communicate With Customers Better and Faster 
"This acquisition of Sterling allows us to double down on the momentum that we have built in 2017 and scale our operations in order to help more businesses utilize the power of chatbots and AI," said Ron Baetiong, Chatbot PH co-founder and CEO. "We're very excited to be part of the Sterling family and we look forward to creating great chatbots for Filipinos to use."
ADVERTISEMENT - CONTINUE READING BELOW
Chatbot PH is already the third tech company acquisition of SPGC, which is a local conglomerate with business interests in school and office supplies, real estate and agri-business. Some of the companies under the group are Sterling Paper Enterprise, Expressions Book Store, Openovate Labs, SL Land, and Sterling Global Call Center. It is also the company behind SL Agrifood Corporation, SL Biotech Corporation and SL Agritech Corporation, the pioneer of hybrid rice in the country.
"We believe that Chatbot.ph is really the future of how technology can further enhance and improve customer service of businesses and also allow easier and faster access of information to the users," said Henry Lim Bon Liong, chairman of SPGC. He was also a judge in the first season of Philippine reality TV Show Final Pitch.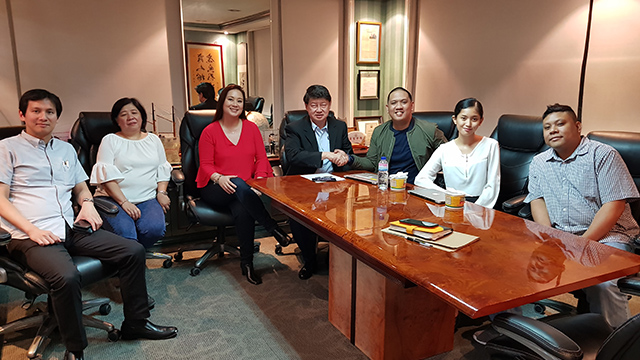 (From L-R) SL Agritech Corporation COO Christian Brian Lim, SPGC SVP and SACC Treasury Head Josie S. Farnacio, Sterling Paper Products Marketing Director Michelle Lim-Gankee, SPGC CEO and Chairman of the Board Henry Lim Bon Liong, Chatbot PH Co-Founder and CEO Ron Baetiong, Chatbot PH Head of Customer Success Ivy Barnachea, and Openovate Labs Founder Christian Blanquera
ADVERTISEMENT - CONTINUE READING BELOW
Chatbot PH was founded by Ron Baetiong, JC Velasquez and Stephen Ku. In an interview with Entrepreneur Philippines in October 2017, Baetiong shared they now have 15 "blue chip" companies as clients, including a major bookstore chain, the local unit of a global bank and a transport payment service.
"We believe we found the right company with a great pool of talent that can propel us to contribute a faster service level and customer satisfaction to the society. Chatbots can support businesses in relations to customers 24/7 and chat simultaneously with thousands of customers," added SPGC Marketing Director Michelle Lim-Gankee.
In October 2017, Chatbot PH was one of the finalists in Startups of the Resque, a pitching competition that challenged startups to put out innovations in times of natural disasters. Organized by startup enabler QBO Philippines together with the United Nations Development Program and the Philippine Disaster Resilience Foundation, Chatbot PH won second place in the contest by presenting Resque Bot, a program that can streamline communication for reports and information dissemination during disasters.
*****
Pauline Macaraeg is Entrepreneur PH's data journalist. Follow her on Twitter @paulinemacaraeg