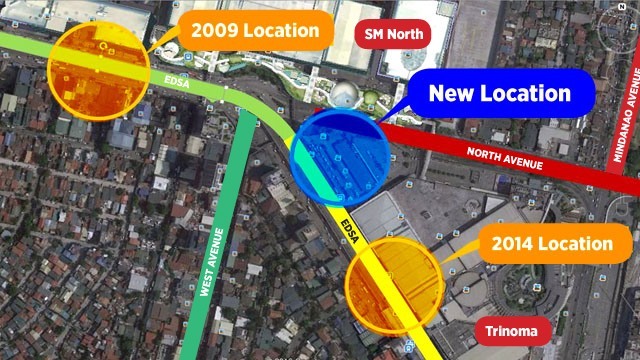 The DOTr released this image of the planned Common Station that will link the MRT3, LRT1 and the soon-to-be-constructed MRT7. It also shows the station's old location in 2009 and 2014 
With the signing of the memorandum of agreement by the government and private sector parties on the Common Station for three major elevated railway lines on January 18, design and planning for the long-delayed project can finally begin in earnest. The Department of Transportation (DOTr) said it expects construction to begin in December 2017 and finish by April 2019.
Apart from the DOTr, the agreement was signed by SM Prime Holdings, Inc., Universal LRT Corporation (BVI) Limited of the San Miguel Corporation (SMC), Light Rail Manila Corporation (LRMC), North Triangle Depot Commercial Corporation (NTDCC), Department of Public Works and Highways (DPWH) and Light Rail Transit Authority (LRTA). The MOA contains the design parameters for the Common Station, which will be the basis of the detailed designs that will be developed after the signing. The project is estimated to cost Php2.8 billion, according to the DOTr.
ADVERTISEMENT - CONTINUE READING BELOW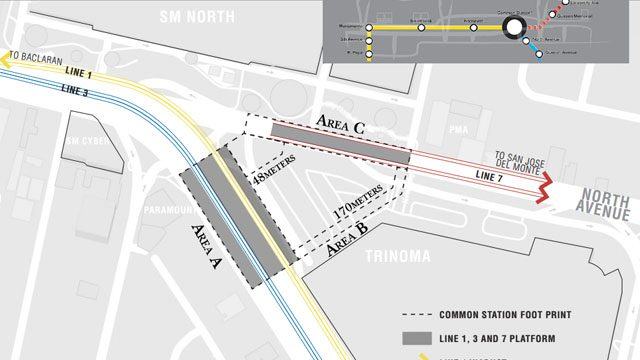 A detailed illustration of the Common Station plans shows how it will be divided into three components, two of which will stand along EDSA and North Avenue
The Common Station serves three urban railway lines converging at the intersection of EDSA and North Avenue in Quezon City. These are the Metro Rail Transit (MRT-3), which traverses EDSA between Taft Avenue and North Avenue; Light Rail Transit (LRT-1), which connects Baclaran and Monumento in Caloocan city along Taft Avenue and Rizal Avenue; and MRT-7, a still-to-be-completed line that will connect EDSA and San Jose Del Monte city in Bulacan.
The Arroyo administration first decided to locate the Common Station in 2009 near the SM North EDSA. It would have covered 7,200 sqm and Php2.6 billion to build. In 2014, the Aquino administration changed the location to somewhere nearer the Ayala's Trinoma Mall. Covering only 2,500 sqm, the new location entailed a lower cost of Php1.4 billion. The move prompted the SM Group to file for a temporary restraining order against the project, which was granted by the Supreme Court. The newly signed MOA envisions a location between SM North EDSA and Ayala Trinoma. It covers an area of 13,700 sqm and an estimated cost of Php2.8 billion.
ADVERTISEMENT - CONTINUE READING BELOW
After detailed designs are completed and approved by the fourth quarter of 2017, all the parties will file an appeal for the dismissal of the case, said the DOTr.
Here's a look at the artist's designs for the Common Station: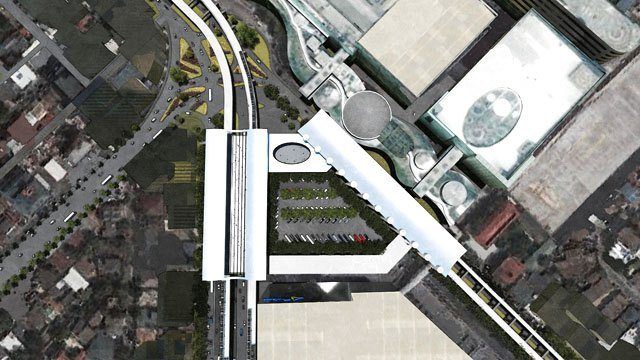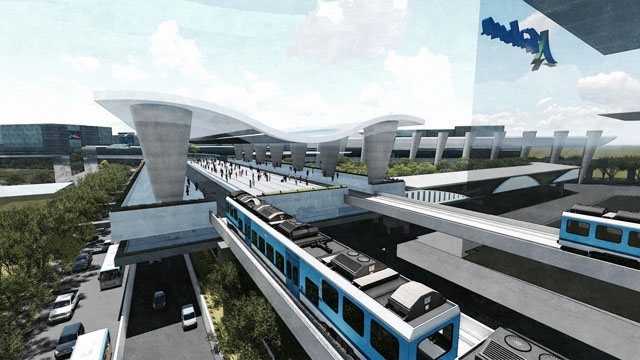 ADVERTISEMENT - CONTINUE READING BELOW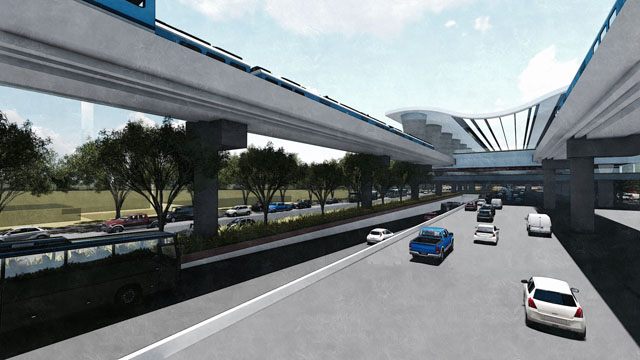 *****