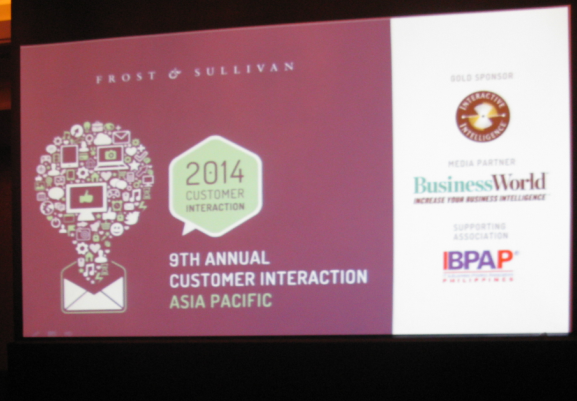 <>The 9th Annual Customer Interaction Asia Pacific was held last July 17, 2014 (Thursday) at the Shangri-La Hotel, Makati City. Organized by American marketing research and consultation company Frost & Sullivan, the conference tackled the latest trends in customer service and the changes that were and will be done due to the continuous upgrade of technology around the world.
Prominent marketing experts gathered in the event to discuss how enterprises need to evolve and proactively reach out to their customers in a limitless world driven by technology. They tackled the importance of proper interaction with the customers and the effective channels that can be utilized in conveying the information to them.
The speakers include Frost & Sullivan Vice President – ICT Practice Andrew Milroy, GrabTaxi Inc Co-Founder Brian Cu, McCann Worldgroup Philippines Head of Analytics Phil Tiongson, Maxicare Corporation COO Marilen Tronqued-Iagniton, and Interactive Intelligence SVP International Sales Gary Blough, among others.
Internet of Things
Milroy started-off the first of many talks by discussing the subject of the Internet of Things (IoT) and the Evolution of Customer Interaction. He discussed the role of IoT and its transformative impact across several industries, while giving an analysis of how it drove innovation in customer interaction.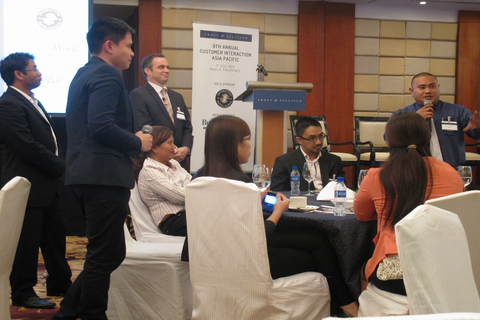 The Internet of Things (IoT) is set to be a key area of focus for businesses in 2014, according to Milroy. The explosion of IoT activity over the next few years will be driven by the nexus of low cost sensors, cloud computing, advanced data analytics, and mobility.
Other important highlights
Frost and Sullivan forecasts that smartphone penetration will surpass 50% in many economies; hence, businesses are constantly finding ways to engage customers directly on their smartphones. With the IoT, mobile application or 'apps' will be developed in the cloud for deployment on any device or sensor.
Blough, in his topic How the Cloud, Mobility, Social & Analytics are Forever Changing Service Delivery, gave a glimpse of what the future holds for all of the industry's view of customer service.
The summit aimed to provide businesses with powerful tools to enhance their customer experience, differentiate ventures from competitors, and build roadmaps for implementing effective strategies. It also provided an avenue for networking with peers and industry stake-holders as companies leverage success stories and recognize the latest solutions available. The attendees were encouraged to participate in discussions and brainstorming sessions about issues, challenges, opportunities, and best practices.
ADVERTISEMENT - CONTINUE READING BELOW