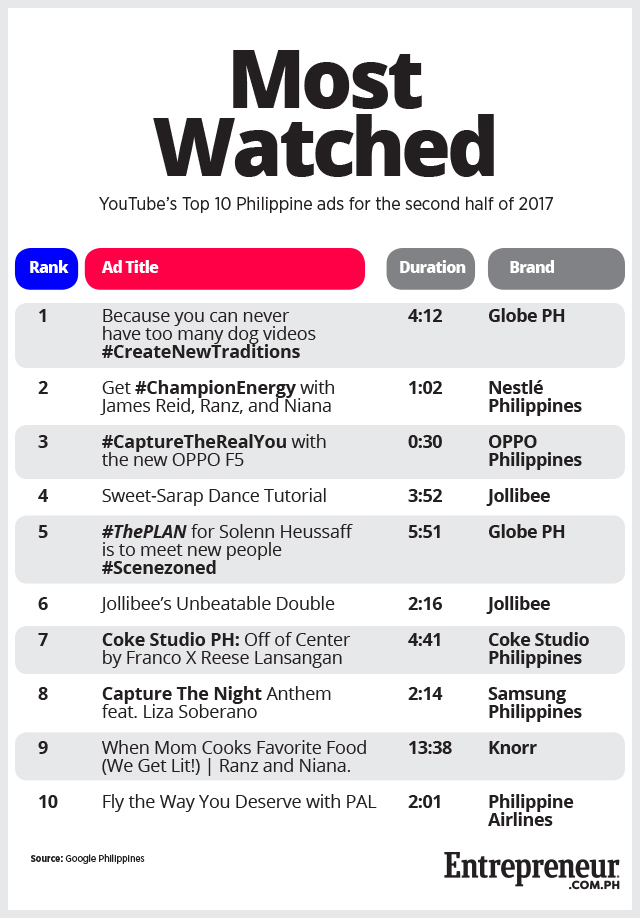 Local flavor and creativity in the digital video space dominated the latest YouTube Ad Leaderboard, which features video advertisements for the latter half of 2017.
Brands showcased different approaches to inspiring Filipino audiences and holding their attention. According to Gabby Roxas, country marketing manager of Google Philippines, through masterful storytelling, brands can nurture interests and fuel passions, hold the attention of millions, and grow their share of audiences online.
ADVERTISEMENT - CONTINUE READING BELOW
"For our 10 winners, we've been seeing significant view-through rates so congratulations because this is a true testament to great creative work that reels people in," Roxas said.
Popular tunes and entertainment
Music will always be in every Filipino's blood. Evidently, six of the 10 ads featured celebrities and influencers in musical performances and dance tutorials. A stellar example of which is Coke Studio PH. Stephen Czypionka from Coca-Cola said that, in the past, they didn't really hit the nail on the head with the ads. They took the risk of using this passion point of music and the collaborations between veterans with younger artists who didn't have a forum to showcase their music.
"So basically you didn't see an ad right? We didn't want to invest in ads anymore in the second half of 2017. The team made a very courageous decision to say, 'Let's just do something different,'" he said of the music videos.
ADVERTISEMENT - CONTINUE READING BELOW
"They produced 200 pieces of content for a period of six months and it really moved our brand metrics. This is the most successful project we did," Czypionka added.
Samsung took the same gamble with a similar music video approach, this time using their endorser Liza Soberano. They shot her first-ever music video at night using the Samsung J7 pro to get the idea across that you can capture the moment—day or night—with Samsung. After the video debuted, they recorded a 31-percent viewthrough rate versus the benchmark.
Jollibee's two entries also made use of music and dance. The Sweet Sarap Dance Tutorial featured the G-Force dance group together with kids who demonstrated its steps, while Unbeatable Double put the spotlight on mascots Jollibee and Hetty in a dance number.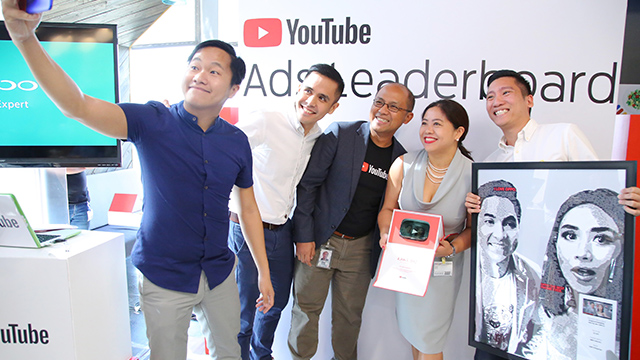 ADVERTISEMENT - CONTINUE READING BELOW
YouTube presented the winners with special plaques and framed photos containing comments from the videos
For Milo, the use of YouTube vloggers Ranz and Niana amplified their continuing campaign using the catchy Beat the Energy Gap song.
Meg Panopio of Nestlé said that the brother and sister dance duo added their own flavor to the music and that they also posted their own content that complemented the video. After the video was posted, their brand equity and growth improved, according to Panopio.
"We need to continue to keep doing these kinds of executions to stay relevant," she said. 
Vlog formats and panoramic experiences
Aside from capturing not just the product but the complete experience, many of the videos mirrored vlog or video blog formats using influencers and endorsers.
Oppo's Capture the Real You ad used humor and influence with the aid of celebs Alden Richards and Sarah Geronimo. Eason De Guzman of Oppo said that since they launched the ad, they have trended and the company also recorded sales of at least 33,000 smartphones in the first week alone.
ADVERTISEMENT - CONTINUE READING BELOW
On the other hand, Philippine Airlines (PAL) wanted to address the perception that the airline is expensive, when, in reality, it actually offers better service for consumers' money. The company did this by creating a video that featured a narrator as a flier who addresses the viewer with the usual complaints of a budget traveler.
The airline was essentially criticizing the services of competing bidget airlines, but Kat Domingo of PAL was surprised by the positive reactions to the video.
"People who had better experiences with PAL were the ones who triumphed the brand and the people are the ones who were responding for the brand," she said.
Their return on investment for the advertisement is almost at part with the current surge ads they are running from direct and viewthrough ads, according to Domingo.
Globe's two entries for the leaderboard also appeared to be a vlog and a short film. In Scenezoned, Solenn Heussaff was seen painting the kids she met in an island.
ADVERTISEMENT - CONTINUE READING BELOW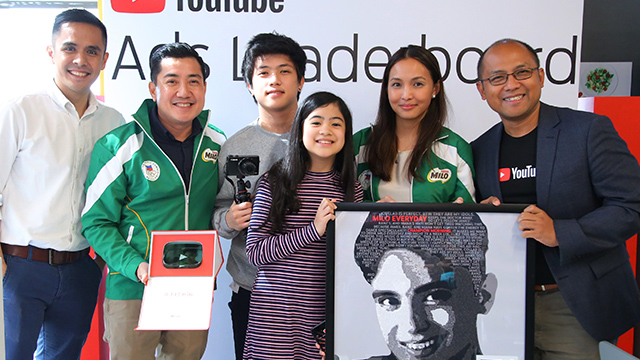 YouTube presents a plaque and framed photo to representatives from Nestlé and vloggers and online sensation Ranz and Niana Guerrero
Angie Po of Globe said that most people are unaware that Solenn is passionate about her art and this is an aspect of her that they want to show in the video. This is the main difference with this episode of Scenezoned. They wanted people to connect with the story as opposed to just showing the technical aspects of Globe's services, such as getting signal and data when you travel.
ADVERTISEMENT - CONTINUE READING BELOW
"What we did this time around was become more purposeful or meaningful for our viewers. Looking at our customers, we know them as purpose-driven. They continuously want to enhance their lives, do the things that matter to them and that's what we want to show in this series—to make them connect with Globe," Po said.
Globe earned the coveted top spot, this time with what could easily be mistaken for a short film, Because You Can Never Have Enough Dog Videos. The video showed the relationship of a lolo and a dog he picked up from the street. In the video, there is only one scene where the lolo is shown using Globe's services and his cellphone.
Po said that in the future, there would be less and less of "in your face branding" because people tend to shy away from these types of videos. With their vlogs and movie-like treatment of ads, they have also seen an improvement in net promoter scores.
ADVERTISEMENT - CONTINUE READING BELOW
The same is true for Knorr who had 6.6 million views, 30 percent of which is organic, in their latest entry for the leaderboard, When Mom Cooks Favorite Food. The brand also used vloggers Ranz and Niana and they gave them complete reign on what to do with their product.
Kristine Go of Knorr said that the video was not scripted at all and with the big fanbase of vloggers, it was important that their fan base or following feel that the content they create for the brand still shows their own unique personality.
"The key that we've seen in digital is that it has to be authentic content and it's about how we brands can work with them rather than imposing our brand on them," she said. 
*****
Nicai is the marketing head of Rising Tide, a technology solutions company. She is also the Manila Bureau Manager of Probe Media Foundation's Mulat Pinoy-Kabataan News Network and a regular contributor for SPOT.ph. Follow her on Twitter, @nicaideguzman, and LinkedIn
ADVERTISEMENT - CONTINUE READING BELOW