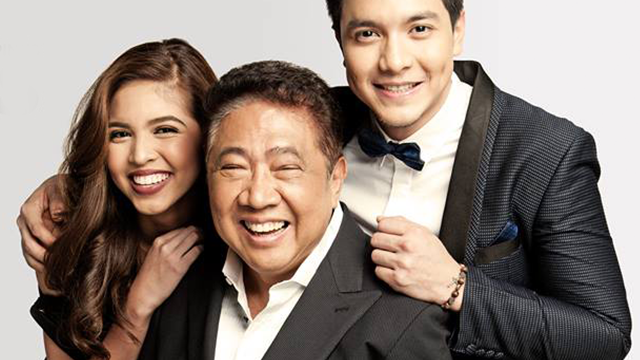 Hate it or love it, Eat Bulaga! is as much part of the Filipino culture as how every Filipino family has an adobo recipe. It has been shared and debated about, and is seemingly the one entertainment dish that every one of us has tasted at least once in our lives.
ADVERTISEMENT - CONTINUE READING BELOW
Much of the credit to its success is given to its triple threat: Tito, Vic and Joey, collectively known as TVJ. The three entertainers have become icons on their own right (with one landing a seat in the Senate) but they would not have been where they are if not for Television and Production Exponents (TAPE) CEO and co-founder Antonito "Tony" Tuviera.
Together, these four men have dominated local noontime television since Student Canteen last aired, the show to beat in the 80s. So what keeps them as the leading choice of lunchtime entertainment for 37 years now?
Buying and selling
In the last four decades, TAPE has bought airtime from different television networks to air its shows. Eat Bulaga!'s first home was in RPN-9 in 1979, as it tried to beat Student Canteen, which was almost a losing battle since the challenger only garnered a 5.2 percent rating vs Student Canteen's 57.6 on its first month.
ADVERTISEMENT - CONTINUE READING BELOW
Tuviera took a chance on TVJ when he tapped them as the show's main hosts. They were fairly newcomers in showbiz then. But even when the show struggled in finances, the three stayed on board.
The TAPE CEO told Forbes Philippines on its July 2016 issue that it took almost a decade before the show became profitable.
"Even if it was a new company, the banks still didn't want to lend us money, which is why, at that time, TVJ sometimes didn't receive any salary. That went on for about six months to a year, but TVJ never complained," Tuviera said.
By 1989, the show moved to ABS-CBN, after RPN Channel 9 was acquired by the Aquino government. But that transfer didn't last for long.  On the fifth year of its six-year contract with the network, ABS-CBN decided to pull the plug on the show and reclaim its airtime. Thus, Eat Bulaga had to find a new home, and found a home it did in GMA 7, for 21 years and counting.
ADVERTISEMENT - CONTINUE READING BELOW
Creativity is king
Purchasing airtime for networks is lucrative, in fact, TAPE paid Php 207.7 million on airtime costs in 2014, its second biggest expense after talent fees.
"It's a fixed amount and there's a yearly increase, but the contract is for three or six years and then we do our own marketing when we resell it to advertisers," Tuviera said.
With much in line, the show has crafted new and exciting ways to engage the public, mostly anchored on the hosts' improv performances and the next new hit game segment. In the last 37 years, it has produced more than 250 segments, building up stars and instilling new trends in the process.
First on the list is Mr. Macho, the all-male pageant that first gave Eat Bulaga! a break, as it tried to conquer noontime television. It rivaled the other noontime show's female pageant.
Then there was Little Miss Philippines in 1987 that catapulted Aiza Seguerra's rise to stardom, who eventually became a daily fixture in the show. In recent memory, it also discovered Ryzza Mae Dizon, the child star who also had her own short-lived talk show.
ADVERTISEMENT - CONTINUE READING BELOW
Then there are the million-peso contests: Laban o Bawi, the show's rival segment to the other noontime show's Pera o Bayong. They also came up with Pinoy Henyo, a game that eventually became another fixture in any typical Pinoy party or reunion.
And just recently: Kalyeserye's AlDub, the tale of the split-screen loveteam of Alden Richard and Maine Mendoza, also known as Yaya Dub.
AlDub phenomenon
Even when Eat Bulaga! dominated the ratings war, averaging 20 percent versus its rival's 12 percent from July 1 to 15, 2015— before AlDub took off—ABS-CBN It's Showtime dominated the 37-year-old and under audience, Forbes Philippines noted.
The AlDub phenomenon gave the show a new life, reaching a historical feat when its TV special #AlDubEBSaTamangPanahon garnered 51 percent TV rating, the largest audience in local TV history according to AGB Nielsen.
The hashtag also became the most used hashtag on Twitter for a 24-hour period. Before the event, the duo trended for three months for almost every day.
ADVERTISEMENT - CONTINUE READING BELOW
While the duo reached skyrocketing feats, the segment actually outsmarted the show's process in formulating new segments. The two's team-up was purely coincidental. The hosts teased the two stars on TV, as the one of them was in the studio while the other was in the field, being part of the show's All for Juan segment.
Usually, writers pitched segments to Tuviera by showcasing how it will play on the show itself, waiting for the big boss' approval.
TAPE Creative Director Jenny Ferre credits the show's relationship with the audience through the years, under which the public accepts new concepts that the show offers.
"Eat Bulaga! has a culture that's very unique and can only be understood by us. A big part of it is the readiness of the audience to accept new ideas that we present," Ferre said.
New chapters
The audience's approval of the show can be reflected in numbers, and while the soaring ratings boosted TAPE's revenues, this was not always the case.
ADVERTISEMENT - CONTINUE READING BELOW
In 2014, the company's revenue fell 9 percent to Php 1.5 billion after previously growing by an average of 22 percent a year between 2010 and 2013, when it reached P1.7 billion, Forbes Philippines noted.
The changing media landscape pushed the company to embrace new avenues, which also landed them the discovery of Maine Mendoza, known for her Dubsmash videos online.
In 2012, Eat Bulaga! also became the first Filipino show to be franchised. An Indonesian version of the show has been on air since 2012, gaining the company more than P20 million for the franchise deal from 2013 to 2014.
But only recently, the show also tapped the help of technology firms, Xurpas and Voyager Innovations in developing apps.
Last year, it launched its very own television app which features previous episodes that go way back to the 80s, an online streaming feature and a digital Pinoy Henyo game. Later in 2015, it also launched an AlDub game.
Tuviera aspires that the Eat Bulaga! brand will soon be available 24/7 in various platforms, may it be in digital means or traditional media. Nonetheless, the show's almost four-decade entertainment domination proves its resiliency in the fast-paced world of show business.
ADVERTISEMENT - CONTINUE READING BELOW
"Now we have Maine and Alden. Before you know it, meron na namang bago," Tuvier said.
Stay tuned.
*****
This article originally appeared in the July 2016 issue of Forbes Philippines magazine. Minor edits have been done by Entrepreneur.com.ph
Photo courtesy of Forbes Philippines