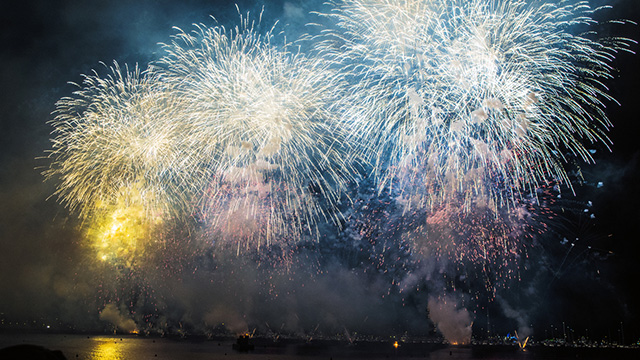 Developed over many years, government regulations on fireworks and firecrackers attempt to balance various community interests, foremost of which is public health and safety, but also those of the companies that make the pyrotechnic products and their employees and other stakeholders.
The latest government issuance on the matter, Executive Order (EO) No. 28, issued by President Rodrigo Duterte in June, precisely attempts to achieve a fine balance by banning truly dangerous firecrackers, restricting the use of less harmful ones in designated areas and generally allowing those that have been proven to be safe.
Absolutely Banned
According to the supplemental guidelines provided by the Department of Internal and Local Government's (DILG) Memorandum Circular No. 2017-168 issued on December 19, "all firecrackers with gunpowder exceeding two grams or 1.3 teaspoons are strictly prohibited."
A press release issued by the DILG on December 11 listed the following prohibited firecrackers:
Atomic Big Trianggulo
Atomic Bomb
Big Bawang
ADVERTISEMENT - CONTINUE READING BELOW
Big Judah's Belt
Bin Laden
Boga
Five Star
Giant Kuwitis
Giant Whistle Bomb
Goodbye Philippines or Crying Bading
Kabasi
Kwiton
Lolo Thunder
Mother Rockets
Og
Piccolo
Pillbox
Pla-pla
Pop pop
Super Lolo
Watusi
Watusi or Dancing Firecrackers
Yolanda or Goodbye Napoles
Permitted Only in Designated Areas
However, there are some fireworks and firecrackers that may still be used in designated areas in each community, provided that their use is under the supervision of a trained person duly licensed by the Philippine National Police (PNP). Any community planning to do so also needs a permit from their respective local government units.
According to the PNP, it has designated 267 areas as firecracker zones in Metro Manila as of December 29, the Philippine News Agency reported. The number of firecracker zones in each city are as follows: 131 in Quezon City Police District; 62 in the Northern Police District which covers Malabon City, Navotas City, Valenzuela City and Caloocan City; 52 in Manila; 13 in the Southern Police District covering Makati City, Muntinlupa City, Las Piñas City, Pasay City, Paranaque City, Taguig City and Pateros and nine for the Eastern Police District which has jurisdiction over San Juan City, Pasig City, Marikina City, and Mandaluyong City.
As stated under Republic Act (RA) No. 7183 or An Act Regulating The Sale, Manufacture, Distribution And Use Of Firecrackers And Other Pyrotechnic Devices which was enacted in 1992, the following are the types of firecrackers that may be used in specific, designated areas:
Baby rocket
Bawang
Small triangulo
Pulling of strings
ADVERTISEMENT - CONTINUE READING BELOW
Paper caps
El diablo
Watusi
Kwitis
Generally Allowed
The regulations don't just ban or restrict the use of fireworks, however. EO No. 28 also allows the use of certain pyrotechnic products. Section 2 of the EO states: "Pyrotechnic devices other than firecrackers may be used outside community fireworks displays subject to existing laws, rules and regulations."
These generally allowed pyrotechnic devices, according to RA No. 7183, include:
Sparklers
Luces
Fountain
Jumbo regular and special
Mabuhay
Roman candle
Airwolf
Whistle device
Trompillo
Butterfly
According to Jovenson Ong, president of Dragon Fireworks Corp., the country's biggest fireworks manufacturer, EO 28 aimed not only to discourage consumers from using firecrackers but also to encourage them to shift to pyrotechnics instead.
"EO 28 is actually dissuading people to use firecrackers and actually persuading them to go to pyrotechnics," he said in an interview with ABS-CBN News Channel. "Why? Because Section 2 of EO 28 actually allows people to use pyrotechnics or pailaw [fountains, sparklers]".
Related story: How PH's Biggest Fireworks Maker is Coping with Duterte's Order Limiting Use of Firecrackers
*****
Elyssa Christine Lopez is a staff writer of Entrepreneur PH. Follow her on Twitter @elyssalopz