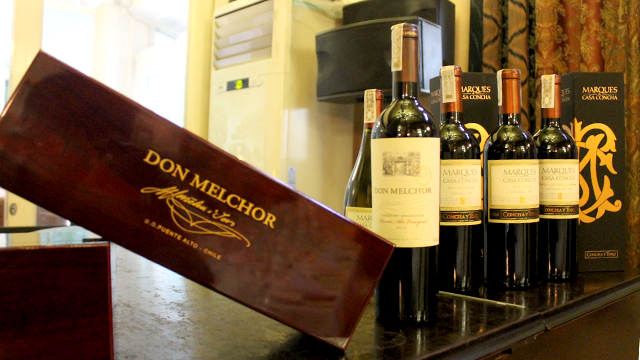 True, Filipinos are no wine drinkers. But ever since the largest Chilean winery Concha Y Toro came to the Philippines, its most expensive wine—Carmin de Puemo Camenere—has become popular among its market, making the country its "most important market in Asia."
In masterclass with the press on Thursday, August 4, award-winning Chilean wine expert Pablo Pressac said such fact is "important" because gives a glimpse of the Filipinos' developing affinity with the fine drink.
ADVERTISEMENT - CONTINUE READING BELOW
"You can have a good glass of wine without paying that much and once people start to recommend wines to others, things can change," Pressac told reporters.
That thing called beer has become the long-time partner of the Filipino in almost every occasion, may they be heartbroken or in celebration. In 2014, Euromonitor found that Filipinos are the world's third heaviest drinkers, only next to the Russians and South Koreans. The same study showed that the local wine industry is growing, and fast.
"We're here to tell the public that wines are not expensive products. It's a gastronomic product. Your experience with food will be much better with wine than beer," Pressac said.
Bel Mondo Italian Corporation, the mother company of Filipino wine Novellino, has been taking the largest local market share at 34 percent, according to the latest report of Euromonitor. Pressac said the popularity of wines with 'Californian origin' is understandable with a market like the Philippines.
ADVERTISEMENT - CONTINUE READING BELOW
Related: How Novellino made wine drinking appealing to the young Filipino market
"It makes sense to me because of the style of California wine, they are more oaky, and sweet," Pressac said. "For someone who does not have a wine culture, it's easy to be enticed with that but this can change with more wines introduced."
ADVERTISEMENT - CONTINUE READING BELOW
The expert admitted Concha Y Torro's line of wines also exuded the same taste a decade ago, alluding to the sweetness of the popular palette. However, Chile's ardent natural resources (80 percent of the country are mountains) showed the diversity of their local vineyards pushing local wineries to explore and embrace their flavors.
"If I can describe our wines, it's honest. As we realized that the piece of land (we have) is so diverse and interesting, there is no sense in covering that great quality fruit with external things like French oak," Pressac said. "We want to show the place and the fruit that we have."
Viña Santa Rita and Viña San Pedro are the two other big Chilean wineries competing in the market, which Pressac believes will change once the smaller companies in the South American country take ground.
"There are a lot of small wineries in Chile that produce fine wines and are simply not taking off because they don't have budget, or simply don't have much support," Pressac said. "Once they get some, there will be more Chilean brands in the market."
ADVERTISEMENT - CONTINUE READING BELOW
And the market they wish to tap? Millennials.
Regional Sales Director Jose Cancino said the brand is capturing more young drinkers, mostly because of their "trendier wines."
For Pressac, this only shows the future of the Filipino taste for their choice of intoxication.
"I think wine is education, people that are of certain level of age are difficult to sway to different tastes. But the younger markets can start in the mid-range ones then go on to the more origin-specific wines," Pressac said.
*****
Elyssa Christine Lopez is Entrepreneur.com.ph's staff writer. Follow her on Twitter @elyssalopz.