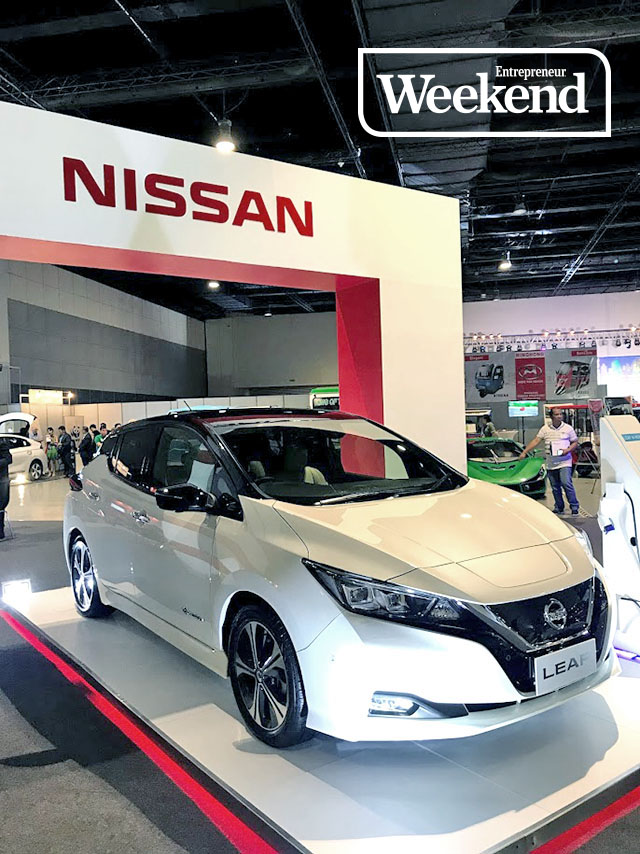 The second-generation Nissan Leaf has a range of about 250 kilometers on a single charge
All eyes were on the Nissan Leaf displayed at the 6th Philippine Electric Vehicle Summit held recently at the SMX Convention Center. Interest in the world's bestselling roadworthy electric vehicle is high even though it has yet to be made officially available in the country.  
ADVERTISEMENT - CONTINUE READING BELOW
"It's still under study," said Nic Thomas, Nissan global director for Electric Vehicles, on the possibility of the Leaf finally making its way to the country. "We haven't confirmed we're introducing it to the Philippines yet. We're certainly hoping we'll be able to."
Seven other Asian countries are getting the Leaf in a major roll-out over the coming months. Thomas pointed to getting the conditions just right for Nissan to introduce their bestselling electric vehicle brand locally.
"There's no specific problem (why the Philippines doesn't yet have the Leaf)," he said. "It all depends on customers, on demand. The Philippines is at the start of an exciting journey. There is clearly a strong interest in electric vehicles in this market, which is fantastic. Customers have to come first. We have to create the conditions where customers really want electric vehicles and they see a benefit to them, and that's happening and it's great."
ADVERTISEMENT - CONTINUE READING BELOW
To whet the appetite of potential car buyers keen on owning a Leaf, Thomas led a walk-through of the car for members of the media. The product of 10 years of research, design and engineering, the car's second generation is, as Thomas put it, "simply everything."
"We've upgraded the design massively," he said. "It's much more mainstream and contemporary, with a stylish design that has been really well accepted."
Introduced in October last year, the new Leaf's battery is much larger, resulting in a much longer range. The car is capable of driving from 250 to 270 kilometers per hour on a single charge, which Thomas said is suitable for everyday use.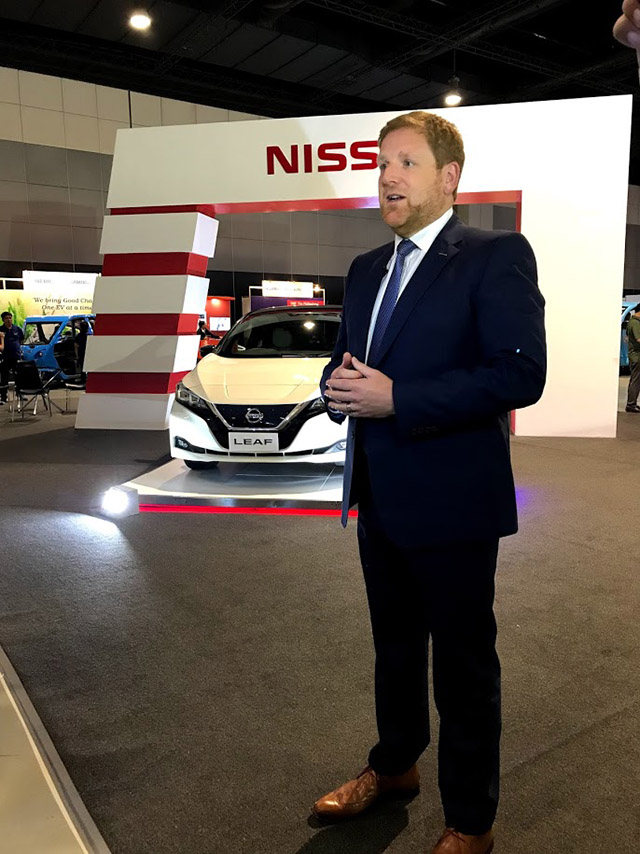 ADVERTISEMENT - CONTINUE READING BELOW
Nic Thomas, global director for Electric Vehicles of Nissan, was in the country recently to attend the 6th Philippine Electric Vehicle Summit
"We're now at a level of range that is suitable for the mass market, where people had 'range anxiety' before," he said. "You can do all of your driving on a single charge and only need to charge once a week."
One other innovation in the new Leaf is its e-pedal, which allows users the ability to drive with a single pedal. Thomas explained that it achieves this through a combination of "regenerative braking" and the use of the e-motor to slow the vehicle down and add power back into the battery.
"We can actually seamlessly add in the friction brakes without you touching the brake pedal," he said. "The car will come to a complete stop by itself. So you can completely control the vehicle with one pedal which, when you're driving along the highway or city traffic, makes your drive much less stressful, much smoother, much breezy."
ADVERTISEMENT - CONTINUE READING BELOW
The feature also adds another layer of excitement to driving, which Thomas said is what Nissan is all about.
"We're not about using the latest technology to take driving away from customers," he said. "We don't want you driving around in an anonymous car. We want you driving around in a stylish, contemporary, really well-equipped, really exciting-to-drive vehicle."
Thomas, who is British but based in Tokyo, Japan, also appealed to the local government to support the campaign for more EVs in the country through incentives for manufacturers and distributors.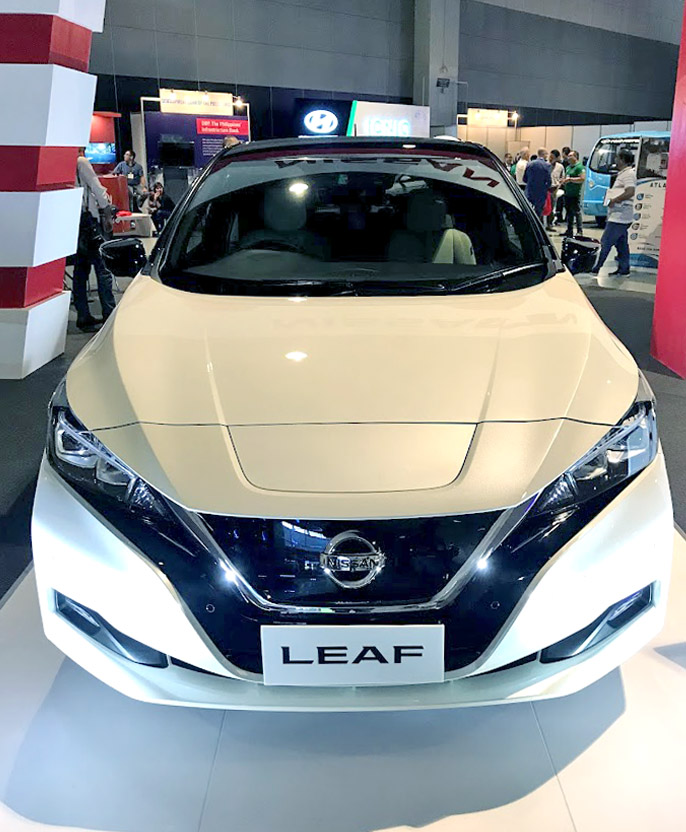 ADVERTISEMENT - CONTINUE READING BELOW
With over 300,000 units sold since its introduction in 2010, the Nissan Leaf is the world's top selling electric vehicle
While there is no single government program or initiative, there are several policies from different agencies to spur the growth of EVs in the country. Among these are EO 488, which provides zero tariffs for parts and components for EV and hybrid assembly; the public utility vehicles (PUV) modernization program; provisions in the Tax Reform for Acceleration and Inclusion (TRAIN) law that grants exemptions in additional taxes and 50-percent tax rates for hybrid cars compared to non-hybrid automobiles; and additional incentives from the Department of Trade and Industry's Bureau of Product Standards and in the investment priority plans of the Board of Investments.
Related story: Almost Half of Future Car Buyers in PH Are Open to Electric Vehicles: Are You One of Them?
In addition to incentives, Thomas also asked relevant government offices to get the required charging stations of EVs in place.
ADVERTISEMENT - CONTINUE READING BELOW
"I'm sure that's coming," he said. "Charging is something that people tend to think about a lot as a big 'blocker.' To me, it's not at all because 90 percent of all EV charging happens at home. As long as you can plug the cable into your wall socket or if you've got space for a dedicated wall box in, then you can charge at home and that serves almost all of the people's needs.
"For those people who can't do that, and for those who occasionally wants to take a longer journey, we need some highway charging which is quite easy to install. Particularly, we need city-based charging, like in employee car parks, shopping malls, sports centers, where people drive to regularly. We need to incorporate simple charging into their daily lives so it doesn't become an issue. It doesn't need to be an issue, we just need a little bit of thought to overcome that."
ADVERTISEMENT - CONTINUE READING BELOW
Over 300,000 Nissan Leafs have been sold worldwide since it was first introduced in 2010 up until January 2018. The company hopes to unveil a total of eight new EVs or electric-powered vehicles and sell a total of one million EV units by 2022. Despite this massive game plan, Thomas said Nissan, as one of the world's largest carmakers, isn't about to completely abandon the other vehicles in its range.
"We're a full-service, full range vehicle manufacturer so, of course, we're going continue to develop our other ranges. But ultimately, we'll respond to customer demand. The customer always comes first for us. We'll match our business to what customers really want."
*****
Paul John Caña is the managing editor of Entrepreneur PH