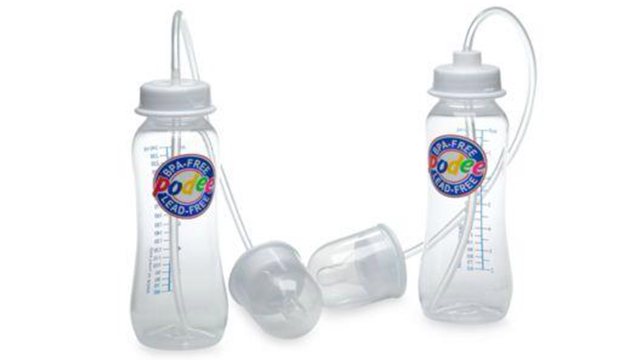 When a major retail firm offered her a hefty sum to carry a product she is currently distributing in the Philippines, mompreneur Maria Christina Siladan did what she thought to be the most sensible thing to do: she turned it down.
The product in question is the Podee Hands-Free Baby Bottle, a world famous Filipino-innovated device that promises to be the safest and most efficient alternative to breast feeding. As for the retailer mentioned, Siladan refused to give the company's name but she did say that it was one of the firms currently dominating its segment in the local market. Had it acquired the right to sell Podee, it would've further solidified its position. But the company's proposal to Siladan came with a deal breaker.
ADVERTISEMENT - CONTINUE READING BELOW
"They wanted to be my exclusive retail partner," she told Entrepreneur. And if she is to achieve what she wants with Podee, this simply would not do.
Novelty begets novelty
After becoming the sole Philippine distributor of Podee since February last year, Siladan, a 14-year veteran of the BPO industry and a mother of two, saw her position as a unique opportunity to achieve two goals. The first is to help people she can relate to: working parents who may find Podee's hands-free and safety mechanism to be a much needed aid in child-rearing. Having an exclusive retail partner with a big name and a captive market would have allowed her to move the product easily. But according to her, it would've also prevented the pursuit of yet another goal—to generate jobs.
"We wanted to be partners with everybody," she said. "That's the vision of Podee. Not to have exclusivity for stores or certain organizations. " And this has led to Siladan's unusual sales force, a handful of acquaintances selling the product online for a 30 percent cut. A suitable alternative, as she described it, to effectively tap her target market of online consumers and people who are too busy to go to malls.
ADVERTISEMENT - CONTINUE READING BELOW
"Everybody seems to be online nowadays," she said so she found it to be more effective to join them instead of simply "having the product sit in a mall."
This is not to say that Siladan is completely against the idea of traditional retail. Podee products after all are also available via Babyland. But she is nonetheless gearing to expand her network of online retailers to further her advocacy while generating income.
"I'm the kind of person who is creating jobs as long as there is the opportunity to do it," she said. "If I have a great product, why would I keep it for myself?"
To maximize profit, one may say. But despite her heavy use of non-traditional retail, Siladan remains confident that she can earn substantial profit given the quality of the product she's distributing.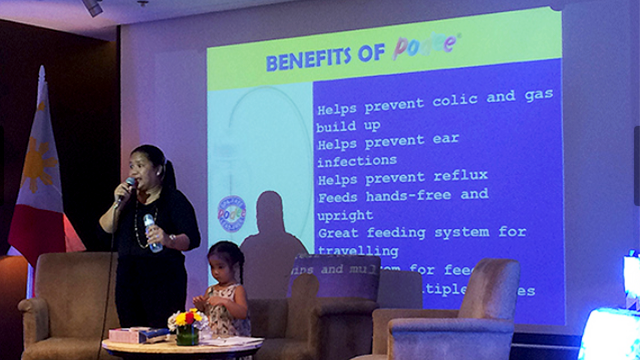 ADVERTISEMENT - CONTINUE READING BELOW
World-renowned, Filipino-made
Like a number of parents who are now interested in Podee, Siladan first discovered the product because of her work. As a BPO professional toiling through long hours, she admitted that her capacity to monitor her daughter, Anya, was limited during the later stages of infancy. She did, however, get to see enough of her to notice that when she was 7 months old, Anya was losing weight. Further observation of the child revealed that the weight-loss was due to her feeding method.
"What I noticed was that whenever she was feeding, her hands would drop the bottle," Siladan related. "She was already capable of feeding herself at that time but while doing so, she would play around, lie down and forget to finish her milk."
Short of holding the bottle herself, Siladan saw the need to find ways to feed Anya while circumventing her youthful and curious tendencies. Thus, she discovered the Podee bottle.
ADVERTISEMENT - CONTINUE READING BELOW
Made in the United States and distributed to other parts of the world, Podee has made a name for itself by virtue of numerous features touching on both safety and convenience. Its most visibly distinct feature—an 11.5-inch tube that connects the bottle to the nipple, allows for hands-free feeding while passing safety measurements to avoid strangulation. Podee's adaptive flow system also allows babies to manage the pace of the feeding with ease.
"With this bottle, as soon as the baby stops sucking, automatically, the liquid reverts," she said.
Meanwhile, the use of dangerous components such as BPA and lead has also been avoided in the making of the bottles. Overall, Podee in general can help in preventing colic and gas build up, reflux and choking due to excessive liquid intake. It is also a bottle ideal for use when travelling, and as Siladan has stressed, busy parents who can't always monitor their children's feeding habits.
ADVERTISEMENT - CONTINUE READING BELOW
All these considered, Siladan believed that Podee would be a popular product in the Philippines. And that was enough of a reason for her to go online, search for the manufacturer and propose a partnership that would allow her to distribute the bottles in the country. She managed just and was pleasantly surprised by another discovery.
"Its inventor is a Filipino," she said. Prudente Cueto to be exact, a Batangas native who migrated to the US, worked in the navy and married a nurse. Cueto, now in his 70s, told Siladan that his innovation of Podee was inspired by his time in the navy as well as his experiences in taking care of his two kids while his wife was at work. Taking cues from the feeding tubes used in the army, he concocted the first Podee prototype and used it to help him in the feeding. The name "Podee" meanwhile, was taken after his nickname in the US.
ADVERTISEMENT - CONTINUE READING BELOW
"[Cueto] told me that life in the US really is busy and that's why he thought of Podee," Siladan said. "Here in the Philippines, life is getting busier so I expect Podee to eventually find success."
She has started to put that theory to the test. Just last August 6, Siladan along with Mindset Events and Consultancy introduced the Podee bottle to the media at the Dusit Thani hotel. During the event, the bottle and its benefits were discussed in length. The event also featured a lecture on safe baby feeding by Dr. Chao-Tiao Yumol, an emergency room physician who caused a significant level of Facebook traffic recently after he bemoaned the fate of a six month old girl that was brought to his emergency room dead. Her lungs were filled with milk. It is such tragedies that Podee seeks to avert as it attempts to penetrate the local market.
ADVERTISEMENT - CONTINUE READING BELOW
"Some people say that it's complicated because of the tube and all its features," Siladan said. "But as long as my baby is safe, as long as she likes it, that's what's important."
Currently, Siladan and her team are in the process of conceptualizing ways to further introduce Podee to the Philippine market. She admits that the task is not without its challenges given that the country has, for a long time, gotten used to traditional feeding bottles, but she is confident that it will do well in the future.
"In two months I think it can do really well," she said. "We just need exposure."
Two months is a lofty goal but not impossible. And if she manages that, such quick-fire success should be yet another novelty she's involved with.
*****
Angelo Cantera is a journalist who has been covering the lifestyle, travel and business-lifestyle beats for some of the country's major newspapers and magazines. He has worked for The Manila Times and has served as associate editor of asianTraveler Magazine. Also a lensman, he occasionally does photography for his own travel assignments.
ADVERTISEMENT - CONTINUE READING BELOW