HUB / Make Lab is a marketplace for clothes, food, accessories and other gift items that is bringing new life in Escolta
Long before Makati and Ortigas, the country's premiere business district was Escolta in Manila. In 1945, fierce fighting during the Battle of Manila razed many of its iconic buildings to the ground. While some have survived, Escolta today is far from being the bustling financial center it once was. However, a growing community of heritage advocates and artists are attempting to revive the Queen of Manila Streets as a culture and arts hub.
ADVERTISEMENT - CONTINUE READING BELOW
With the help of technology, especially social media, people are starting to take notice and rediscovering Escolta. Artist group 98B COLLABoratory (98B) saw a business opportunity. Along with a steady community that actively goes to Escolta for events and tours, 98B is turning the historic street into a shared space for selling art, clothing, food, accessories and other trinkets and gift items.
Culture as a business
For the last three years, 98B, in partnership with the First United Building, has been organizing the Saturday X Future Market @ESCOLTA. Through this monthly event, the group came in contact with creatives and was able to jumpstart a number of artistic endeavors. Foremost among these is the formation of HUB | Make Lab. 
"The HUB serves as an incubation space for those who wish to experiment on a more stable and sustainable setting," said Gabriel Villegas, Operations Director of 98B. "It is open for sellers and concessionaires of crafts, interesting artworks, limited edition merchandise, innovative food items, upcycled clothes and accessories, independent clothing labels, DIY wares, vintage goods and refurbished antiques," he said.
ADVERTISEMENT - CONTINUE READING BELOW
The empty space in First United Building, where the Saturday X Future Market was held, became the official residence of HUB. The group used minimal fixtures such as dividers to create spaces for merchants. It officially opened its doors to buyers and art enthusiasts in May 2016. Ranging from six to 12 square meters in size, each space is open Tuesdays to Sundays from 11 a.m. to 8 p.m. and became available through quarterly open calls.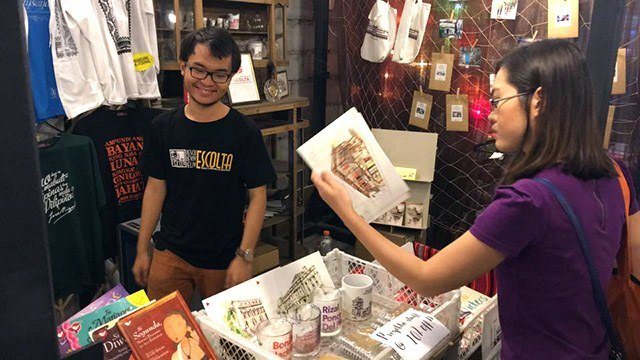 ADVERTISEMENT - CONTINUE READING BELOW
Social media was instrumental in getting people to check out HUB / Make Lab in Escolta
98B offered these spaces to applicants, SMEs and fellow artists, who have three months to test the market and put up their trial shops.
"We are hopeful that we can count on everyone's assistance, encouragement and patronage for HUB | Make Lab, where creatives and creations can converge daily," Villegas said.
One of the groups selling their products is Proyekto, whose merchandise can be found at The Heritage Collective space inside HUB. Proyekto started with historian John Ray Ramos and Architect Cesar Ramirez Jr. who are both into heritage conservation. The two have always been interested in advocating the nation's history and heritage through creative and collaborative means. 
"We saw a problem with the mass-produced generic souvenirs found in tourist sites around the country and saw a need to elevate such items with creativity to add value and ultimately promote our culture more," said Ramos, Proyekto Group's co-founder and operations director.
ADVERTISEMENT - CONTINUE READING BELOW
Digital doors
With all their good intentions, 98B and the merchants of HUB, like Proyekto, faced initial challenges.
Villegas said it was hard to achieve the kind of creative community that they envisioned at the HUB. "Achieving this right mix in the community takes time. We constantly have to remind ourselves to stay steadfast in our quest to achieve this goal."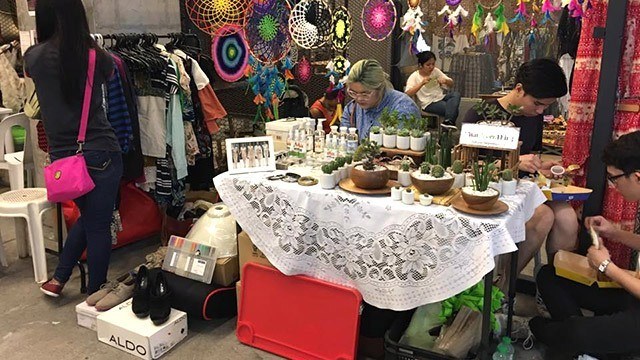 ADVERTISEMENT - CONTINUE READING BELOW
Small entrepreneurs offer everything from vintage to new clothing at HUB / Make Lab
In growing this community, 98B's efforts to publicize their events, their merchants, and their products in social media had a significant effect. It was like a digital door that opened to their actual site. People started to invite their friends who told their other friends. 98B and the other merchants created Facebook events for things like their quarterly Escolta Block Party.
Escolta had been quiet a few years ago, but thanks to a few Facebook and Instagram likes, the street is now showing signs of life.
HUB is now being visited by all kinds of people from different walks of life, including both locals and foreigners. The immediate community of office workers and residents of the street are there during weekdays, while people from other areas who are interested in heritage or creative activities visit during weekends, according to Villegas.
ADVERTISEMENT - CONTINUE READING BELOW
Ramirez, co-founder and creative director of Proyekto, believes in the value of having a strong digital presence. Prior to having a space in HUB, they were already selling their merchandise during their talks, tours and through their social media accounts. Their talks and tours are also usually promoted using social media. Proyekto found their market in social media-savvy young people.
"There are also older customers who like our merchandise because of the nature of our designs – heritage, Old Manila, ancestral houses," Ramirez said.
He added that as a social startup with an advocacy of spreading awareness in history and heritage, having an active online presence is a must, especially to reach younger audiences and get them hooked in culture and convert them into heritage advocates as well.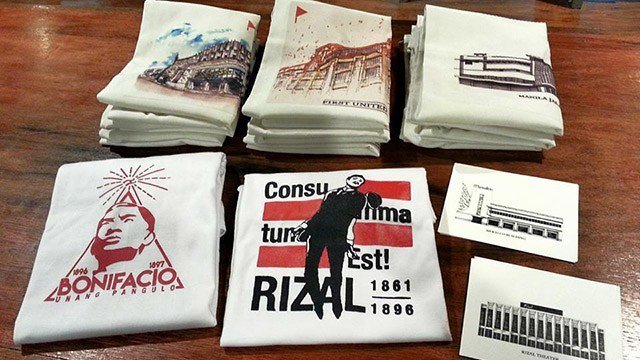 ADVERTISEMENT - CONTINUE READING BELOW
Score these one-of-a-kind shirts and eco-bags at HUB / Make Lab in Escolta
"The younger and future generations will be the future stewards of our heritage, so the internet and social media are important mediums of passing the awareness and passion to them," he said.
Fully aware of the potential of digital, Proyekto also plans to set up online payments and deliveries to cater to a larger market of people who may not be able to drop by Escolta but still want to buy their merchandise.
Culture of community
Today, 98B, Proyekto and the other merchants at HUB would like to sustain the momentum of being publicly recognized by netizens. The plan, Villegas said, is for their small community of makers, creatives, artists, and start-up entrepreneurs to thrive.
"Eventually if they grow and succeed, they might consider leasing out spaces in the other buildings here in Escolta," he shared.
For Ramos, since Proyekto operates more of as an advocacy, it is not financially rewarding for them. Most of their earnings go to fund events that promote heritage and history.
ADVERTISEMENT - CONTINUE READING BELOW
"Yet we are learning and experimenting with the market and our target audiences. For now, we are confident in working our way towards a workable business model as a social startup," he said.
His advice for people who would want to venture in a business involving culture is to start with their community.
"Heritage is community-based," he said. "Work with the community and help each other out. It's like our cultural concept of bayanihan: if we all help each other we all move forward."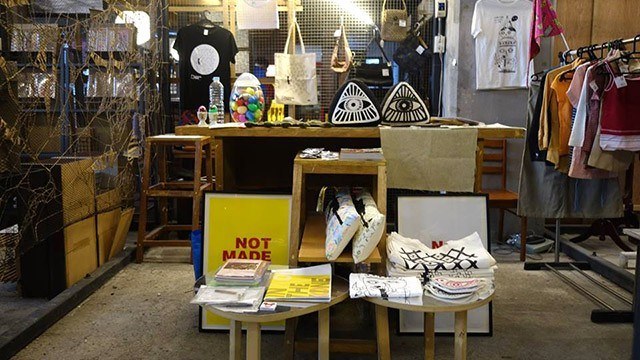 ADVERTISEMENT - CONTINUE READING BELOW
More merchandise and gift items at HUB / Make Lab 
Ramos also believes that in this kind of set up, it is important to avoid the common business culture of cutthroat competition because cultural resources are richly diverse and potential for creativity is limitless.
"But be sure to protect your copyright," he added.
"Don't be afraid to showcase our culture for it is our identity. We usually look down on ourselves because of the problems we have in society, but drawing from our culture can uplift us as a people. Doing so is to be proud of who you are, of being Filipino." 
*****
Nicai de Guzman is the marketing head of Rising Tide, a technology solutions company. She is also the Manila bureau manager of Probe Media Foundation's Mulat Pinoy-Kabataan News Network and a regular contributor for SPOT.ph. Follow her on Twitter @nicaideguzman and LinkedIn https://www.linkedin.com/in/nicaideguzman
ADVERTISEMENT - CONTINUE READING BELOW