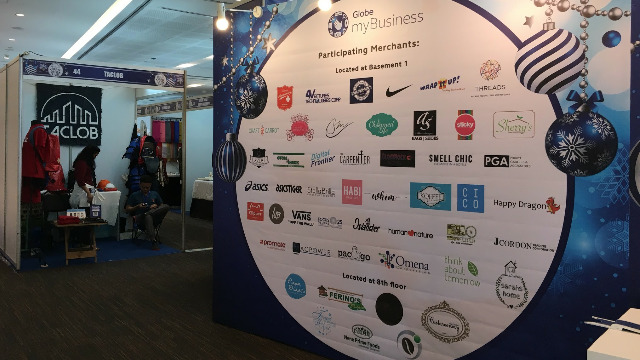 There's no better time than now when it comes to starting your own business, primarily because of all the new digital tools that make operations easier. Starting a business is no easy feat, of course, but thankfully there are modern technologies that can aid you along the way. 
Digital solutions in practical business application is what Globe myBusiness stands for, and this was celebrated at the recently concluded Globe myBusiness Create Yuletide Fair: a Christmas bazaar held at the Globe Tower on November 20 to 22. The event also featured sellers from Globe itself, since the company encourages its employees to get into entrepreneurship. Created to showcase, local entrepreneurs, the event also featured sellers from Globe. Partner merchants were equipped with Globe myBusiness solutions, ensuring smooth transactions. The event highlighted the importance and benefits of myWebsite, AdBlast, and Auto SMS Blast to local entrepreneurs. AdBlast, for example, helps business owners in driving consumers to their promos and events.
The testimonials from a few of the bazaar's participant merchants all point toward the positive when it comes to using these digital tools.
Checkpoint
A legacy Marikina shoemaker owned by Neil and Anne Nepomuceno, the business was first established in San Roque Marikina by Neil's parents back in 2011. While they have physical stores in Greenhills Shopping Center, Marikina Shoe Gallery, and Marikina Shoe Trade Fair, they continue to join bazaars frequently.
Anne shared that the use of a mobile wallet makes it particularly easy to track the purchases and ensures zero pilferage. As Checkpoint joins various bazaars whose schedules sometimes coincide with each other, she can't always be present to man the booth. "Maganda yung cashless siya. Walang hawak na cash yung mga tindera—wala nang abala sa pagsusukli. Tsaka sa mga sales staff, mahirap kasi pag may malaki silang hawak, na-te-tempt yung iba."
Taclob 
Jordan Sebastian, proprietor of Taclob, shares a similar sentiment. "It's smooth and we get a text for every transaction, so nakikita naming confirmed yung payment. So, merong sense of security, kahit wala yung physical cash."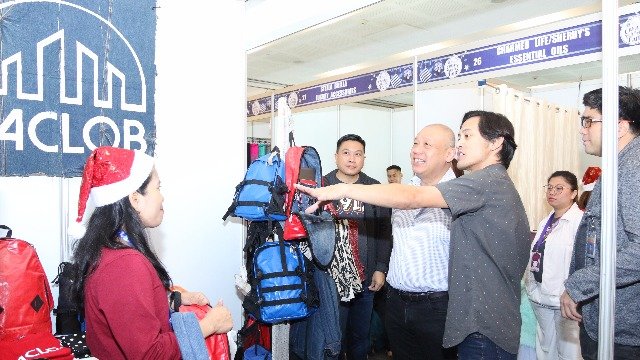 Taclob is best known for the recycled bags they produce, a by-product of enabling survivors of Typhoon Haiyan which devastated the region in November 2013. Taclob provides training and support to a diverse set, including senior citizens, a transgender business leader, a domestic violence victim, and the deaf community.
Sarah's Home
Starting out as a maker of handmade soap, Sarah's Home has since included body washes and scents into its inventory, with a total of 11 variants including local scents like Ylang Ylang and Sampaguita.
Pawla Largo is at the helm of Sarah's Home, and she is happy to benefit from the easy payment and tracking capabilities of GCash. Furthermore, she is quick to point out that joining the Create Yuletide Fair has not only raised her Instagram following in a matter of three days, but has also shown her that many shoppers are very supportive of local products. "Lahat ng mga sinasalihan kong bazaars, supported rin ng Globe myBusiness. They also invited me to their Online Sellers Summit, so very proactive sila sa mga crafters and local entrepreneurs."
HTP
Formerly known as Half the Price, HTP is an online clothing store owned and run by Ricca Del Rosario. From its humble beginnings as a seller of second-hand clothing, HTP has since grown into a large business with 40 seamstresses who create original pieces. HTP is known among the trendy and fashionable for its unique designs and affordability. 
HTP still sells online, and to be able to keep up with the fast consumer demand, Ricca decided to integrate some Globe myBusiness solutions into her operation. "With Globe myBusiness Broadband, we get a business-grade Internet connetion. 'Yung transactions sa HTP sobrang bilis, kaya kailangan namin ng connection na kaya sumabay," she says.
Learn more about how Globe myBusiness can help you grow your business. For a list of upcoming Christmas bazaars powered by Globe myBusiness, click here.