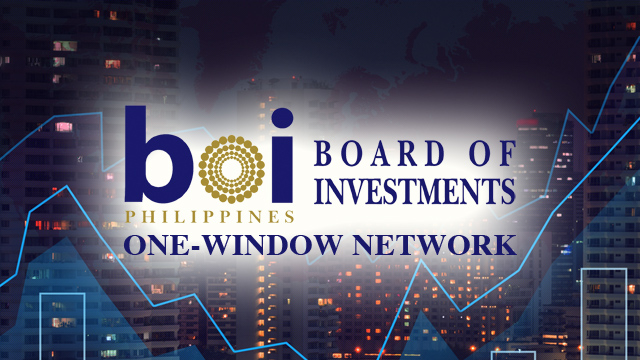 The Board of Investments (BOI), the government's main investment promotion agency, has launched an online and mobile app that could help local and foreign investors get quick feedback on questions or concerns regarding pending transactions with various government agencies. This is part of the government's efforts to further boost foreign direct investments which hit a record high of $10 billion last year.
Introduced in December 2017, the BOI One Window Network (BOI-OWN) is a cloud-based web portal and mobile application that allows users to post pre-investment and post-investment queries and concerns, requests for inbound missions and joint venture facilitation, according to the agency's website.
"The investors can easily track and monitor their concerns anytime and anywhere as they will receive email or SMS notification for every action or activity that will be undertaken by the designated account officers," the BOI said in the website.
Aside from providing assistance to investors, the app contains curated information on the different steps and documents needed in setting up a business in the country.
ADVERTISEMENT - CONTINUE READING BELOW
Under the "Doing Business" section, investors and entrepreneurs alike can browse through the related information on business registration, available business incentives for both foreign and local investors, and permits and licenses needed to operate in the country.
The portal also provides a thorough list of contact details of different government agencies and private partner organizations' related in doing business in the country from the Department of Trade and Industry to the British Chamber of Commerce in the Philippines, all of which are under the "Partners" section.
The app also has an online chat feature, which may help anyone that visits the portal to speak to a government officer, provided that the user has an account in the database. Anyone may set up an account in the chat feature for free.
The app's launch is expected to help improve the country's ranking in the annual ease of doing business report prepared by the World Bank. In 2017, the country's rank dropped to 113th from 99th in the previous year across the 190 countries covered by report.
While the World Bank commended the country's small reforms, it has lamented how business incorporation in the country would take 28 days to finish with 16 procedures in total. In contrast, an entrepreneur seeking to incorporate a business in Canada will only need a day and a half to accomplish two procedures.
In a separate study by a New Zealand government unit in 2017, it was revealed Philippine businesses are wasting over a million days of economic activity each year due to its complex business registration process. 
ADVERTISEMENT - CONTINUE READING BELOW
*****
Elyssa Christine Lopez is a staff writer of Entrepreneur PH. Follow her on Twitter @elyssalopz