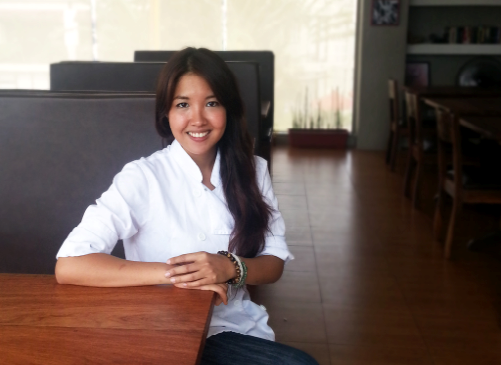 <>Reality tells us that some dreams are tough to pursue, but according to Chef Krsna Algenio, Global Academy alumna and Tus' Clay Pots & Skillets co-owner, with a little perseverance, dreams do come true!
In high school, Algenio planned to enter culinary school, but with her family in the construction business, she was steered clear from her dreams as she felt pressured to take on a more business related course. After completing a four-year degree in Arts Management, Algenio worked as a photographer.
"I saved a little and enrolled myself in Global Academy," said Algenio. "My dad didn't know I applied. I just showed up one day wearing my chef's uniform and he looked both shocked and happy!"
Algenio graduated with a diploma in Professional Culinary Arts from Global Academy, Las Pinas branch in 2011 and interned at Tapella Restaurant in Greenbelt 5. "One important thing that I really learned from Global Academy is to season food properly and to keep tasting it to your heart's content. No matter how simple or complex the food you're preparing is, the finished dish will always be satisfying if it's very well-seasoned," she said.
Tus' Clay Pots & Skillets is the brainchild of Algenio and her close friend and high school softball teammate, Kai Sason. Around April 2013, they quit their jobs and decided to do something that would make themselves and the people around them happy. They thought, "what better way to make people happy than through their stomachs?"
The cozy little restaurant is located in Westgate Alabang, Muntinlupa City. "We both grew up in Alabang and were used to the 'feel at home' type of hanging out," Algenio shared. "That's what we wanted for our restaurant—a place to feel at home while sharing good food with family and friends."
With sharing as one of its core principles, Tus' Clay Pots & Skillets have big servings to allow families and friends to enjoy good food together. To ensure the quality of food they serve they also make sure that they buy the freshest ingredients and prepare their sauces right at their kitchen.
Algenio says that the dishes she prepares are all inspired by her varied experiences. Her recipes are peppered with things that she learned from chefs she has worked with and also influenced by the places that she's been to.
Both Algenio and Sason are hands-on in this venture. On busy days, Algenio can be found in the kitchen with her team, preparing and cooking the skillet steaks and other items in the menu, while Sason manages the dining area together with her front liners.
With hard work, perseverance and a drive to make people happy through food, Algenio's culinary dream finally came true.
Global Academy has branches in Timog, Las Pinas, Makati and Pasig, and offers comprehensive courses on culinary and baking and pastry arts. In as short as four months, aspiring chefs can be equipped to take on their own culinary dreams.
About Global AcademyGlobal Academy is an award-winning culinary academy recognized for its world-class excellence and competitiveness. The academy offers professional courses for aspiring chefs, pastry chefs and hospitality professionals for affordable tuition fees. As the first culinary school in the Philippines recognized by the World Association of Chefs Societies (WACS), Global Academy is distinguished for its quality education and unmatched culinary standards.

ADVERTISEMENT - CONTINUE READING BELOW