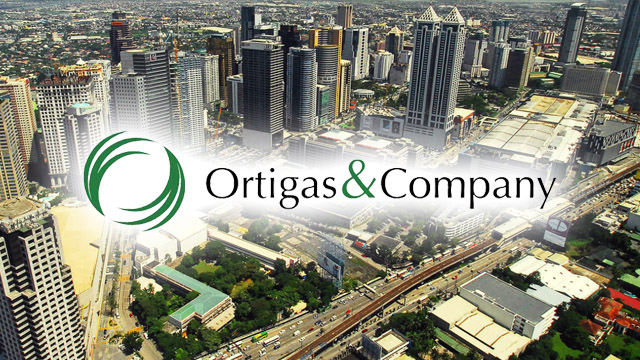 Real estate developer Ortigas & Company is betting on attracting investors with a rare chance to own an office tower unit in a bustling business district with its newest project, The Glaston Tower, which is set to rise in Ortigas East in Pasig City.
In a press conference on Wednesday, March 14, Ortigas & Company CEO Jaime Ysmael launched the Php6.6-billion office tower building, the flagship project of the property developer's newest mixed-used development, Ortigas East, formerly known as Frontera Verde.
ADVERTISEMENT - CONTINUE READING BELOW
The 34-storey building will have an average floor area of 4,000 square meters per level, with 25 office floors and 10 parking levels, two of which will be in the basement. The size of the office units will range from 76.88 square meters to 141.88 square meters.
"The market for offices for sale is very similar to the market for condominiums for sale, especially the investor market of that business," Ysmael said. "That's really the market we are tapping into. We feel that the market is big enough given the lack of product in that nature."
Investment opportunities in central business districts (CBDs), especially in the residential sector, have been growing slim in recent years, as noted by industry experts. According to Colliers International Philippines, rental yields of condominium units across CBDs have fallen from a high of nine percent in 2001 to just below five percent by the end of 2017.
In contrast, office rental rates in Ortigas have risen almost three-fold from Php300 per square meter in 2011 to Php800 per square meter in 2016, according to the latest market insights report of Leechiu Properties. In the latest report of Colliers International Philippines, those rental rates have almost doubled from Php500 per square meter to Php900 per square meter by the last quarter of 2017.
ADVERTISEMENT - CONTINUE READING BELOW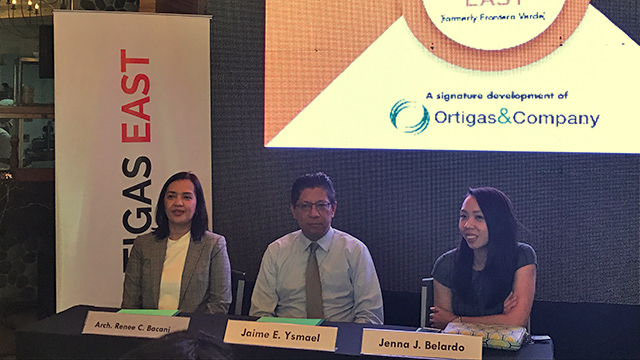 Ortigas & Co.'s Arch Renee Bacani, Jaime Ysmael and Jenna Bernardo at the press conference announcing the The Glaston Tower, which is set to rise in Ortigas East in Pasig City
While rates are not as competitive as Makati's and BGC's, both of which have a going rental rate of Php900 to Php1,750 per square meter, these are actually seen as an attraction, especially for potential tenants which may start looking for alternative locations for their office space needs, as noted by industry analysts.
ADVERTISEMENT - CONTINUE READING BELOW
Aside from attracting individual investors, Ortigas & Company is also going against the grain with its strategy to entice traditional companies, instead of the leading industries in office space take-up such as business process outsourcing units and Philippine Offshore Gaming Operators (POGOs).
"[We're hoping to attract eventual tenants to be] professional firms like law firms, accounting firms, doctors offices, not really BPOs, because the building is not designed for higher foot traffic," Ysmael said. "According to reports, 40 percent of office take-up last year were from traditional companies."
The Glaston Tower will be the first property for sale in Ortigas East, which is set to undergo a redevelopment worth Php50 billion. The area is eyed to be an extension of the Ortigas Central Business District, with various spaces for retail, residential and even hospitality properties.
The redevelopment will be done in three phases in the next 15 to 20 years with The Glaston Tower set to be the first project under Phase 1. Units are targeted to go on sale before the month ends.
ADVERTISEMENT - CONTINUE READING BELOW
*****
Elyssa Christine Lopez is a staff writer of Entrepreneur PH. Follow her on Twitter @elyssalopz