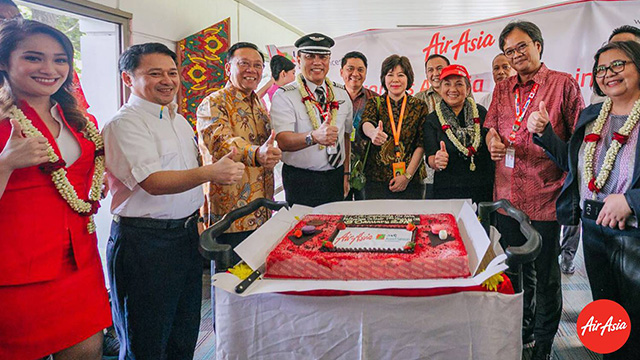 Jakarta, Indonesia -- AirAsia Philippines began direct service between the Philippines and Indonesia with an inaugural flight on January 9 from Manila to Jakarta. The airline, a unit of the pioneering Southeast Asian budget carrier Air Asia founded by Tony Fernandes, one of the region's most prominent entrepreneurs, added the Indonesian capital to the over 20 locations it serves.
While the direct Manila-to-Jakarta flight is a boon for Filipino and Indonesian tourism, what with Indonesians consistently among the top 20 visitor arrivals of the country, AirAsia Philippines expects the new route will prove helpful to entrepreneurs and startup founders who benefit from the linking of two business hubs.
"We wanted to target this niche market of startup entrepreneurs for this inaugural flight," said Jansen Ngo, international marketing executive at AirAsia Philippines. "We wanted to focus on this niche market because we can help them achieve their goals. They can use AirAsia as a way to see what else is out there and to reach out to other entrepreneurs across the region."
ADVERTISEMENT - CONTINUE READING BELOW
For the inaugural Manila-Jakarta flight, AirAsia invited a group of small business owners and introduced them to Indonesia's growing startup scene. This included an office tour of the headquarters of GoJek, Indonesia's first unicorn; a talk with GoWork, a coworking space developer; and a presentation from Javara, a social enterprise turning farmers into entrepreneurs.
Apart from entrepreneurs and investors, AirAsia wants to promote ties between "digital nomads," or business-minded individuals who love to travel and are able to work in any location in both countries.
"It's definitely an untapped market," said Ngo on AirAsia's recent focus on digital nomads. "Not many airlines have yet to really have specific plans for this type of market, so we want to grow and own this digital nomad market in Manila, Jakarta and across the region."
This push on highlighting the business opportunities of Jakarta is part of the company's focus on promoting the experiential aspect of travel for 2018. "We want our customers to experience what they get from AirAsia when they travel from us, not just onboard but also when they get to their destinations," explained Ngo.
AirAsia Philippines is a joint venture between Malaysia-based AirAsia Berhad and a group of Filipino investors that include Zest-O Corp. founder Alfredo Yao and former PLDT chairman Antonio Cojuangco. In 2015, the company reported gross revenues of Php8.2 billion, which made it the fourth largest airline in the country, according to BusinessWorld's Top 1000 Corporations in the Philippines.
*****
Lorenzo Kyle Subido is a staff writer of Entrepreneur PH. The writer was a guest of AirAsia Philippines in Jakarta.
ADVERTISEMENT - CONTINUE READING BELOW