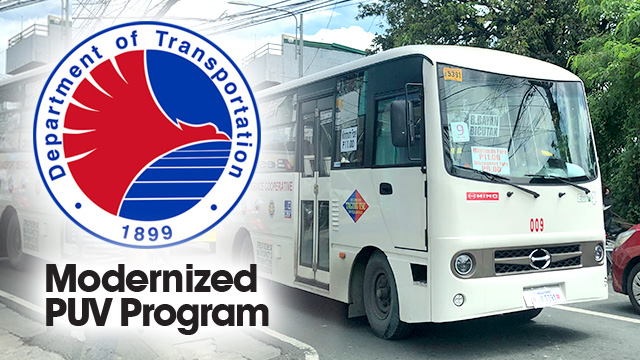 Transport cooperatives that are part of the government's public utility vehicle (PUV) modernization program are protesting the hefty increase in prices of modernized jeepneys since the scheme was rolled out. They warned that unless the price hikes are curbed, they may be forced to petition transport regulators for higher passenger fares on top of the newly-approved fare hike approved last week.
Vicente Balao, spokesperson of the National Federation of Transport Cooperatives (NFTC), said that the quotation their members got from one of the modern jeepney makers rose by Php400,000 or 21 percent in just a month.
"Nagbigay sa amin ng quotation sa SETSCO (Senate Employees Transport Service Cooperative), Php1.9 million. After one month, July, binigyan kami ng quotation sa Pandacan Transport, Php2.3 million na? Bakit? (SETSCO was given a quotation of Php1.9 million per unit. After one month, they gave a different quote to Pandacan Transport at Php2.3 million? Why?)", said Balao during a press conference called by the NFTC to express support for the PUV modernization plan on October 12.
ADVERTISEMENT - CONTINUE READING BELOW
SETSCO is one of the three pilot transport cooperatives that the Land Transportation Franchising and Regulatory Board (LTFRB) has granted a franchise to operate under the PUV modernization scheme, along with Taguig Transport Cooperative and Pateros – Fort Bonifacio Cooperative. The Pandacan Transport Service Cooperative is set to be the fourth one to test the program and is targeted to launch by December to early January next year, Balao shared.
The Department of Transportation (DOTr) launched the PUV modernization program in June 2017 to eventually replace 200,000 jeepneys with vehicles running on either Euro 4-compliant internal combustion engines or electric or solar-powered motors that emit much less harmful gases than existing motors.
To encourage transport cooperatives and corporations to acquire the new modern jeepneys, the government has offered a subsidy of Php80,000 for each old jeepney replaced by new PUVs. Government banks have also developed programs to lend to transport cooperatives and corporations at low interest rates and long repayment periods.
ADVERTISEMENT - CONTINUE READING BELOW
The Development Bank of the Philippines (DBP), for example, is lending a seven-year loan at only six percent interest per annum.
In the light of sudden increase of modern jeepney unit prices from Php1.9 million to Php2.3 million, NFTC said the Php80,000 subsidy would not be enough anymore.
Assuming the modern jeepney units were financed by the DBP lending program, Entrepreneur Philippines estimates that the daily loan amortization would also increase by more than a fifth to Php1,474 from only Php1,209 because of the higher price.
"Dalawa lang po option namin eh: babaan 'yung presyo ng mga sasakyan na bibilhin, o magtaas tayo ng pamasahe—na ayaw naman nating gawin (We only have two options: one is to lower the price of the units, and the other is to increase the fare—which we do not want to do)," Balao said. "So dapat babaan 'yung presyo ng mga sasakyan (The prices should be lowered)."
ADVERTISEMENT - CONTINUE READING BELOW
The federation also suggested that the government should provide incentives to the manufacturers who would take part in the program, such as in the purchasing of spare parts or gasoline, so that the supply side would increase.
Thought the NFTC remains in favor of the modernization program, they also acknowledge the tough environment during the transition period. In terms of profitability, the first three cooperatives to test out the program said that they have been able to earn at a breakeven point just this month.
Balao said the 15 available SETSCO units are now earning Php3,000 gross revenues in a day, which is just enough for the cooperative to divide it for the driver's salary, maintenance, amortization dues and other expenses. It took them almost four months to reach their target earnings, since they were only earning around Php1,500 per day per unit when they launched on June 19.
Likewise, Taguig Transport Cooperative Chairman Freddie Hernandez said their units are also grossing their target Php8,000 in a day, which covers two shifts.
ADVERTISEMENT - CONTINUE READING BELOW
"Sa umpisa ang  hirap talaga, mahirap ipakilala. Two weeks kaming balabag sa byahe, kasi nagulat sila: "jeep ba 'to? (It was really hard to introduce the modern jeepneys at first because the commuters were not used to it)," Hernandez shared, saying that they were in fact cash flow negative during the first few weeks after they started on August 30.
"Pero ngayon nakikita na namin, kilala na si jeep, alam nila na safe 'yung jeep, komportable sila sa jeep (But now that they've seen the advantages of the modern jeepney, they now feel comfortable riding it)," he added.
*****
Pauline Macaraeg is Entrepreneur PH's data journalist