Insurance firm Philam Life may be 70 years old this year, but it's looking to young people to help drive more business and regain lost footing.
The company, which is wholly owned by Hong Kong-based AIA Group, is also getting into the health craze with a new lifestyle campaign aimed at increasing awareness about the importance of life insurance.
ADVERTISEMENT - CONTINUE READING BELOW
According to data from the Insurance Commission, insurance penetration in the Philippines, which is the ratio of insurance premium to GDP, was at 1.75 percent in 2015. Market penetration, meanwhile, or the ratio of individuals with life insurance coverage to population, was at 41.27 percent though bulk of these are covered by microinsurance products that provide the barest of protection.
"Life insurance is always about when something untoward happens, or when death is about to happen," said Philam Life CEO Ariel Cantos during a briefing on Tuesday, June 20. "That's why there's a low penetration rate. People don't want to talk about it. With health, people will want to sit down and talk about getting well. And that conversation will extend later on to things like savings, education, retirement and life insurance."
At the center of the campaign is Philam Life's Vitality Active, a mobile app that provides users with rewards for hitting their fitness targets. Using a fitness device like FitBit, users are given fitness challenges and are rewarded with things like free passes to SM Cinemas, SM Bowling and Ice Skating rinks or prepaid call and text credits on their Globe Prepaid or Postpaid lines.
ADVERTISEMENT - CONTINUE READING BELOW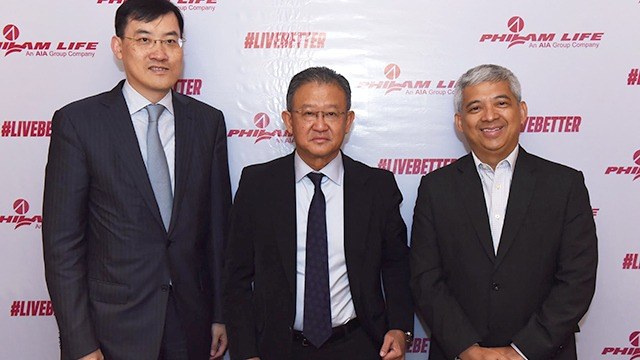 (From left) AIA regional chief eecutive Jacky Chan, AIA group chief executive Ng Keng Hooi, and Philam Life CEO Ariel Cantos
"Life insurance is important, but people don't spend nearly enough time to talk about and understand it," Cantos said. "The reason why we're going into health is we hope it can create more opportunites for us later on to talk about life insurance as we become more familiar with our customers."
ADVERTISEMENT - CONTINUE READING BELOW
Similar to the strategy of other life insurance companies, Philam has also enlisted celebrity brand ambassadors to help get their message across. These are Alyssa Valdez, Mika Reyes, Wil Dasovich, Solenn Heussaff and Nico Bolzico. Cantos said they chose these personalities because of their fit and active lifestyles.
Cantos, who was named CEO of Philam Life last year, also said the company is instituting changes in order to more closely communicate with the so-called millennial generation. For starters, they transformed close to 100 of Philam's office nationwide.
"By transform, we mean the look and feel is very vibrant and colorful," he said. "There's WiFi and digital tools in most of these offices. We provide these options to our policyholders. If they want to transact with us from the comfort of their homes, it's possible, but if they want to talk to us face to face, they can do that also."
ADVERTISEMENT - CONTINUE READING BELOW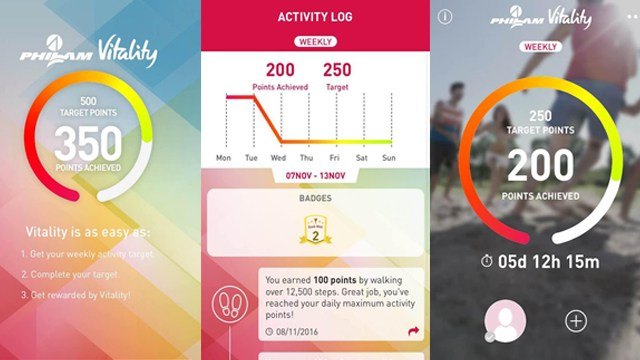 Users of Philam Life's Vitality Active App can earn points and rewards for meeting fitness goals
Philam Life's parent company AIA is supportive of the local company's efforts. "In this day and age, you have to be very fast," said Ng Keng Hooi, group chief executive of AIA. "You have to respond to the market very fast. And you have to be on the ground. We give the country a lot of independence to run their thing, as long as they operate within very wide boundaries."
ADVERTISEMENT - CONTINUE READING BELOW
According to Cantos, Philam Life reported assets of Php256 billion in 2016 and a capital base of Php1.39 billion which he said is twice the requirements of regulators. The company has over 8,000 agents, which sold Php38.5 billion worth of premiums last year.
Based on Insurance Commission rankings, Philam Life is the country's biggest life insurance company in terms of assets but is only the fourth in terms of total premium income. Its bancassurance partnership with the Bank of Philippine Islands, BPI Philam Life Assuance Corp., ranks third in premium income.
*****
 Paul John Caña is the managing editor of Entrepreneur PH