It seems the Philippines' claim as the "social media capital" of the world has added more weight, as Twitter launched #TwitterCityPH at the Mind Museum in Taguig City on Thursday, February 18.
The first of its kind in the Asia-Pacific region, The #TwitterCityPH move was part of the global social media application's appreciation to its Filipino users, after tallying record-breaking engagement with the app in 2015.
"As one of the largest social media markets in the world, the Philippines has been an amazing success story for Twitter in 2015. Twitter helps Filipinos of all ages, communities, and backgrounds connect to one another every day, but it also connects the rest of the world to the country's vibrant culture," Richard Alfonsi, Twitter's vice president of global online sales said in a statement.
Related: 4 reasons to love Twitter

The Twitter City is a temporary space that showcases how Twitter has been infused in the Filipino culture: from sports, TV, food, to tourism.
ADVERTISEMENT - CONTINUE READING BELOW
Some of the #PinoyPride highlights included the over 41 million global tweets for the #AlDub charity concert in October 2015, beating the 35.6 million record of the 2014 FIFA World Cup semi-final match between Germany and Brazil.
In addition to these numbers are the 1 to 2 million daily tweets about the #AlDub social TV sensation for at least three months last year.
It is no surprise then that the 2015 Golden Tweet for the Philippines also came from the other half of the phenomenal AlDub love team. Maine Mendoza's tweet after the love team's charity event in October had over 76,000 retweets and was viewed nearly 2.4 million times on Twitter.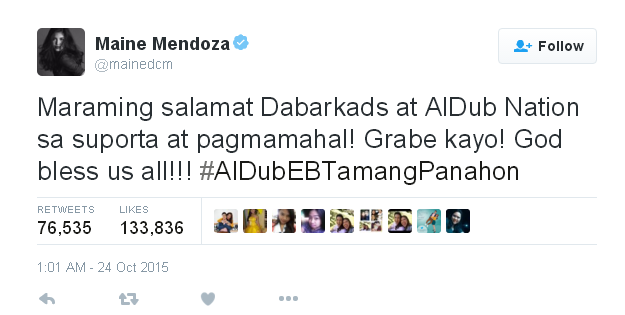 ADVERTISEMENT - CONTINUE READING BELOW
Pope Francis' visit in the country also spurred great engagement online as the hashtag #PapalVisitPH drew in 3.3 million local tweets.
Meanwhile, the weeklong Asia-Pacific Economic Cooperation summit, which transpired in Manila brought in over 700,000 global tweets.
And before the year ended, Ms. Philippines Pia Wurtzbach's win as Miss Universe in December recorded more than 6.7 million global tweets.
The Philippines is expected to have high engagement this year as well, with the upcoming May 9, 2016 elections and Olympic qualifiers of Gilas Pilipinas in July.