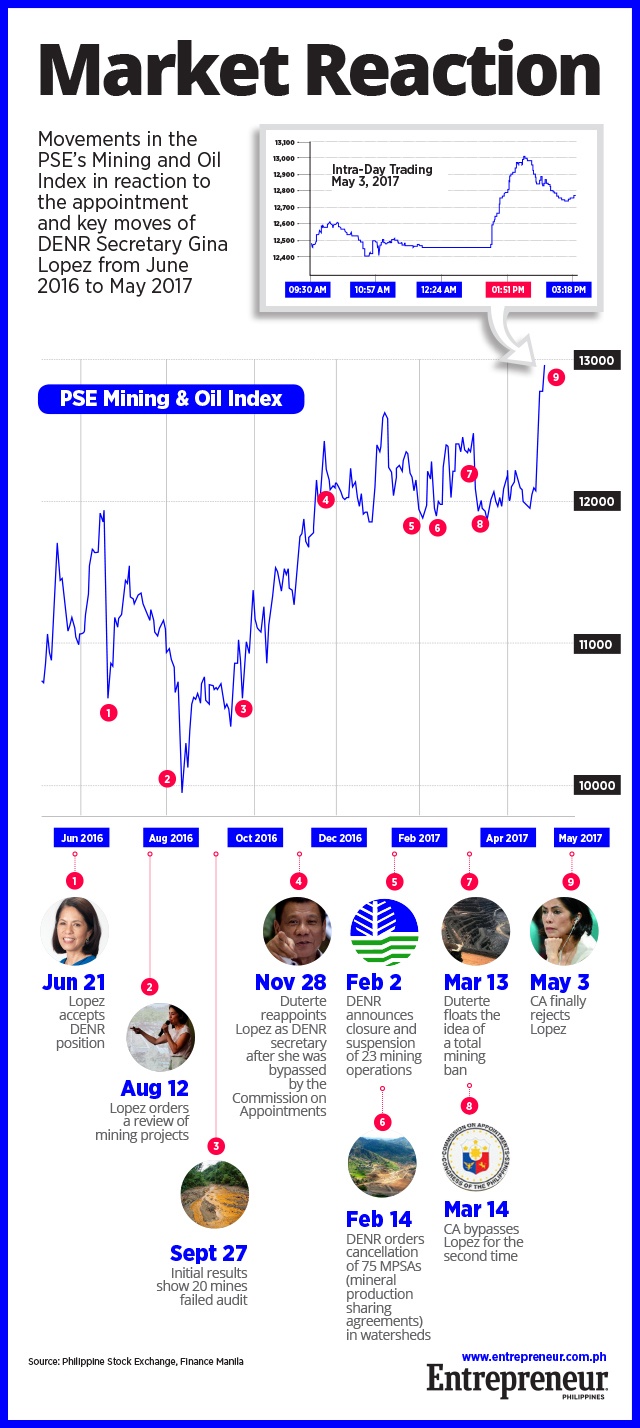 When news broke that the powerful Commission on Appointment (CA) rejected the appointment of Gina Lopez as Department of Environment and Natural Resources (DENR) secretary last May 3, the reaction from investors in mining stocks was instantaneous.
After trading listlessly from morning to shortly after lunch, the Philippine Stock Exchange's (PSE) mining and oil index suddenly shot up, like a rocket taking off, on reports that the feisty department secretary failed to win the approval of the 24-member bicameral body. (See graph)
ADVERTISEMENT - CONTINUE READING BELOW
The mining and oil index rose 2.7 percent from the previous day and closed at 12,772.82, the highest since July 2015. It was the only sectoral index to close higher as the rest of the market, including the PSE Composite Index, fell. However, the mining and oil index fell by 0.26 percent the next day, closing at 12,739.38 
The market reaction was hardly surprising. Lopez was a vocal critic of the mining industry before she became secretary. In February, she ordered the shutdown of 23 large-scale mining sites and wanted to suspend 75 mineral production sharing agreements (MPSA).
Describing herself as an environmentalist, she has drawn the ire of big mining companies and their lobby group, the Chamber of Mines of the Philippines. Last week, she also initiated moves to ban open pit mining in the country.
But a broader look at how mining stocks fared during Lopez's 11-month stint at the DENR since her appointment in June last year shows that market reaction hasn't been uniformly negative. Though mining stocks fell sharply in reaction to her appointment in June and her order for a mining audit in August, the index also recovered in most of the second half of 2016. Stocks swung wildly only after she announced the closure of 23 big mining sites.
ADVERTISEMENT - CONTINUE READING BELOW
Even then, the mining and oil index traded within a narrow range and didn't go into a free-fall. In fact, the index's recent lows were higher compared to its level before she was appointed DENR chief. (See graph)
*****
Pauline Macaraeg is Entrepreneur PH's data journalist. Follow her on Twitter @paulinemacaraeg