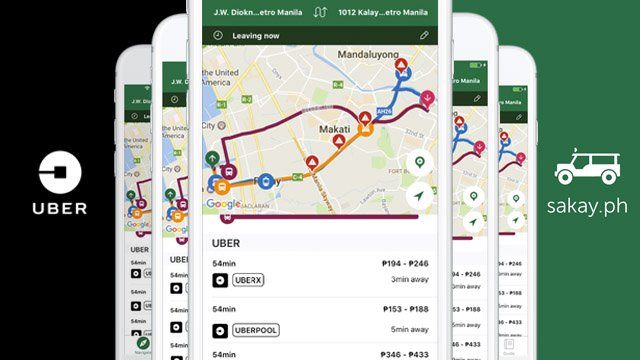 Uber Philippines, the local unit of the global transport network company based in San Francisco, California, is partnering with Sakay.ph, a Philippine startup, to make its ride-sharing services more accessible to Filipino commuters. It is the first time that Uber is tying up with a local tech startup. 
"What we really want to do is not just to solve traffic but to support other developers as well," Lawrence Cua, Uber's country manager in the Philippines, told Entrepreneur Philippines in an interview on April 18. "I think with this [partnership] we can inspire other local startups to try and take their own big bold bets."
Founded just two years ago, Sakay.ph runs a web and mobile service application that helps users plan their daily commute in Metro Manila by presenting them with different transportation options—from jeepneys and buses to trains—for them to get from one place to another.
ADVERTISEMENT - CONTINUE READING BELOW
Sakay.ph shows routes of jeepneys, buses and trains in Metro Manila, including a schedule of the Pasig River ferry. The app also estimates how long the travel time will be, even the number of minutes a user may need to walk just to get to a bus stop for example. It also estimates the cost of each transport option.
With the partnership with Uber, Sakay.ph users will gain access to information on the cost and duration of ride-sharing as an additional transport option. As of now, only Uber, including Uberpool, is available as a ride-sharing option.
The global transportation startup, which has been in operation in the country since 2013, chose Sakay.ph as its first partner in the Philippines because it saw the value of its locally developed app in helping commuters cope with road congestion, a global problem.
The partnership was made possible largely due to the API or application program interface that Uber has made accessible for all developers globally since 2014. However, Sakay.ph is the first local startup to officially make use of the available data in the country.
"I think we're both fighting the same monster here, which is traffic, so it makes sense for us to work together," Sakay.ph co-founder Philip Cheang said.
Like many startups, Sakay.ph has yet to make money from its free app. For now, its priority is to gather as much valuable data that it hopes to monetize later on. "We have data that no one else has and I think we have an opportunity to make commuting engaging for our users and advertisers as well," said Cheang.
ADVERTISEMENT - CONTINUE READING BELOW
The advertising potential is evident in the way the app plans to provide navigational information to users. "How do we get directions? We actually say, turn left to this establishment, then turn straight ahead until you see this convenience store," Cheang explained. "So we make the experience valuable for both the commuter and the advertiser."
*****
Elysse Christine Lopez is a staff writer of Entrepreneur PH. Follow her on Twitter @elyssalopz