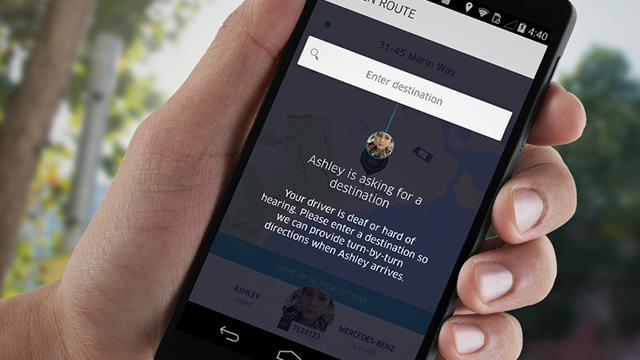 The next time you book a ride using Uber, you might be having one of the safest rides you'll ever have, and the most meaningful too, as the app might find for you a "Beethoven" driver.
Uber Philippines is giving people with disability (PWDs), specifically those who are hearing-impaired, the chance to work with the company, through a program called the Beethoven Initiative.
ADVERTISEMENT - CONTINUE READING BELOW
The program affords hearing-impaired PWDs the opportunity to earn income as Uber's partner-drivers.
This should naturally follow as today's technical advances are already providing Filipinos with more opportunities to earn money, as Uber Philippines general manager Lawrence Cua pointed out.
Cua said the Beethoven Initiative came about because: "We want to use Uber as a platform to give that opportunity to more people."
Six in every 1,000 households right now have a household member who is deaf and majority of these people are unemployed. Cua said Uber recognizes the need to provide the people with livelihood opportunities.
"We think there are segments of the population of our nation that is currently not being served properly, that are not given the right opportunities," he said.
"This program reinforces Uber's global commitment to provide every member of society a viable way to earn a living by driving," he added.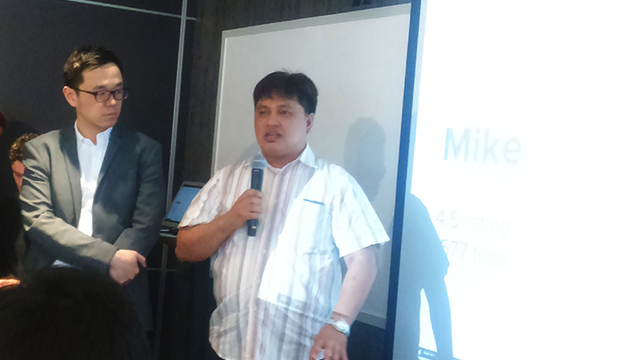 ADVERTISEMENT - CONTINUE READING BELOW
The Beethoven feature
The program is named after the German composer and pianist Ludwig van Beethoven, who was able to create classical musical pieces despite having a hearing impairment that later made him deaf.
Uber's Beethoven Initiative was first launched in 2015 in the US, with pilot programs in Chicago, Los Angeles and San Francisco. It's now being used in more than 400 cities all over the world where Uber operates.
The app's new features will help hearing-impaired drivers via visual and auditory cues when they pick up passengers, and while driving and navigating to their passengers' destinations.
For example, when the driver receives a new trip request, the app signals with a flashing light in addition to the current audio notification.  
Likewise, the app disables phone calling such that passengers can only contact their driver during pick-up through text-only messaging.
On the other hand, passengers are informed through notification beforehand that the driver who has accepted their trip request is hearing-impaired. This will set passengers' expectations before being picked up.
ADVERTISEMENT - CONTINUE READING BELOW
Amy Kunrojpanya, Uber's director for public policy communications for Asia Pacific, said they got a lot of driver feedback when Uber's research and engineering teams developed the new feature.
"It's one of the reasons why we can be confident in the safety front and the customer service experience," Kunrojpanya said.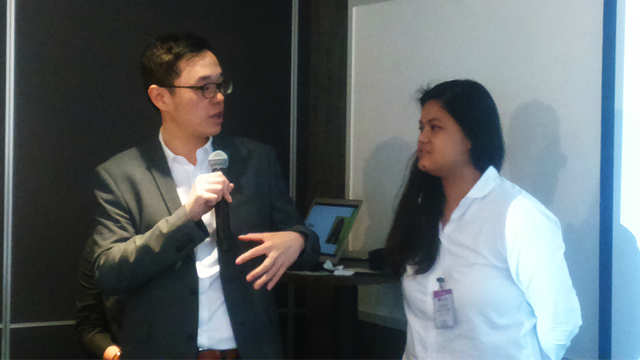 ADVERTISEMENT - CONTINUE READING BELOW
Safer driving with the hearing-impaired
Cua also gave assurances that based on global data, hearing-impaired PWDs are actually safer drivers.
He added that hearing-impaired drivers have fewer accidents than regular drivers and are more focused on the driving, which lead to safer rides overall.
Through this initiative, Uber wants to educate the public—as well as diminish any misperceptions—about people who are hearing-impaired. They also consulted with the Philippine Association of the Deaf, Inc. (PADI) on the program.
Having launched the program in the country last September, Uber is currently testing this feature with a handful of hearing-impaired PWD partner-drivers.
Cua stressed that they are not asking any extra requirements when PWD drivers with professional licenses apply to become partner-drivers.
Likewise, Kunrojpanya said Uber's community guidelines for both drivers and riders will help protect PWD drivers from possible discrimination from passengers.
Possible violations like discrimination can result in the cancellation of their accounts, Kunrojpanya said.
ADVERTISEMENT - CONTINUE READING BELOW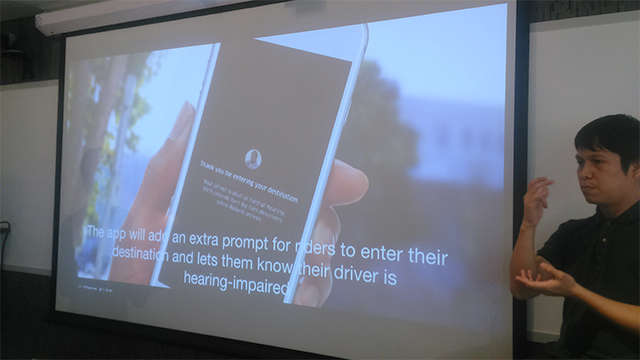 Hearing out the Beethoven drivers
Two of Uber's Partner-Drivers spoke during the presentation to share their experiences in using the app's new feature.
Driving for Uber since September, Dana Castillo said using the app helps a lot when dealing with passengers as it tells them their driver is hard of hearing.
ADVERTISEMENT - CONTINUE READING BELOW
Because of this, "they're nicer to us," Dana said.
Mike Eballa—who has been driving for Uber for five months—agreed that the new feature was a big help. He said, "I really am thankful to Uber's Beethoven program because I have an opportunity to earn a living like any individual through driving."
Cua said they have no idea yet on how many PWDs in the country will take part in the program in the future.
However, Cua said that through the Beethoven Initiative, they want PWDs to find better opportunities to earn money through Uber: "We are in a way opening our doors more."
"For us, success is not just about running a business. Success for us is to continue revolutionizing how people earn money so that they can be their own boss on their own time," he said.
*****
Joseph Nacino is an editor and communications consultant who has worked for the Department of Budget and Management, Philstar.com and various corporate clients. A Neil Gaiman Graphic Fiction awardee, he writes short stories and has been anthologized in the Philippine Speculative Fiction series, and co-edited Diaspora Ad Astra and Demons of the New Year.
ADVERTISEMENT - CONTINUE READING BELOW