The Union Bank of the Philippines' pavilion at the Singapore Fintech Festival while Indian Prime Minister Narendra Modi was visiting the neighboring India pavilion
Bautista, a mechanical engineer by training but who worked mainly in marketing and product development in Procter & Gamble and Citibank, said scrum teams reminded him of project management teams of old except the current versions worked a lot faster. "Back in the day, it took you six months to launch something new," he said. "Now, you rolled out a minimum viable product and you iterate every two weeks. It's perfect for banking because the products are digital."
ADVERTISEMENT - CONTINUE READING BELOW
Digital shift
Relying on several scrum teams, Union Bank was able to roll out several digital banking products and services, including EON, an upgraded and fully digital banking platform that introduced "selfie- banking," a first in Southeast Asia, allowing clients to log into their accounts by posing in front of their smartphones instead of typing their passwords; Rafa, a next-generation banking chatbot that can answer detailed client-specific questions and not just pre-set queries; and the ARK, the country's first fully digital bank branch that does away with queuing and waiting. In addition, the previously mentioned products and services displayed at the Union Bank's pavilion at the SFF were also developed by these scrum teams.
Related story: Deposit Up To Php1 Million With This E-Money Card
Apart from agile approach used by its teams, Bautista credits the bank's strategic decision more than two years ago to go "all-in" and embark on an end-to-end retooling of systems towards full digital transformation for the rapid development and deployment of its digital innovations.
ADVERTISEMENT - CONTINUE READING BELOW
As the first bank to put up a web site and introduce online banking, Union Bank is no stranger to digital technology. But digital transformation is different, said Bautista.
"We've always approached it per product before; now, there's a commitment to change the entire back-end towards digital to the core," he explained. "The problem with per product approach is that you can only innovate so much. Eventually, you'll face a dead-end because of the limited capability of your back-end systems, for example, if you try to do straight-through processing," referring to transactions that flow seamlessly from a client's device to the bank to the clearing house to a different bank and then back to the phone all in a matter of seconds.
Unlike its bigger counterparts, Union Bank is not burdened by legacy mainframe-based information systems, facilitating its digital shift. "We were one of the early banks who chose to go open system. Others are still reliant on mainframe computers," he explained. "They can still introduce digital products by layering transactions on top of mainframe but that means doing it through batch processing whereas the new open systems can do it real-time."
ADVERTISEMENT - CONTINUE READING BELOW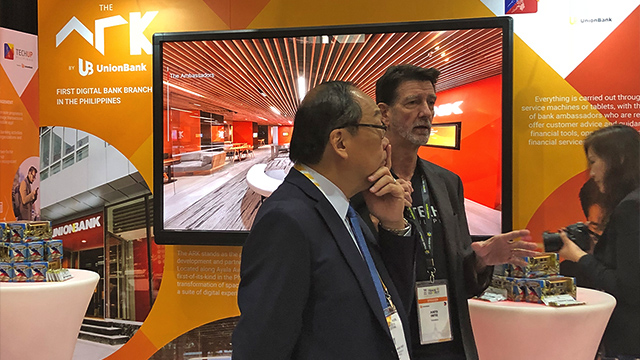 Union Bank of the Philippines Chairman Justo Ortiz entertaining a visitor at the bank's booth during the Singapore Fintech Festival

Thanks to these innovative products and services, Union Bank has cemented its leading position in digital banking in the Philippines and the region. In 2017, the bank was named by Euromoney the "Best Digital Bank in the Philippines" for its EON online banking platform. That same year, HK-based The Asset magazine gave it the "Digital Bank of the Year" award in the Philippines. It was also honored as the "Most Innovative Bank of the Year" at the European Global Banking and Finance Awards. Its EON app won the distinction as the "Best Mobile Banking Project" from the Asian Banker magazine during its Philippine country awards.
ADVERTISEMENT - CONTINUE READING BELOW
Growth agenda
But the real test is yet to come. Unlike other banks that are going digital as a defensive strategy, Union Bank is embarking on full digital transformation to grow rapidly and catapult itself from its position as the Philippines' ninth biggest lender by assets to the Top 3. With only 300 branches compared to over a thousand branches of each of the three largest banks, it will take a long while for Union Bank, which has only Php559 billion in assets,  to catch up with the three biggest banks' asset base of Php1.7 trillion to Php 2.7 trillion.
"If we fight them the old-fashioned way, I'll be retired and with grandchildren but we haven't caught up with them yet," said the 58-year-old Bautista. "But if the rules of the game change, we have a fighting chance. Already, the world's largest accommodation provider doesn't even own a single hotel room and its biggest ride provider doesn't own a single car."
ADVERTISEMENT - CONTINUE READING BELOW
In pursuit of its digital-powered growth strategy, Union Bank is furiously engaged in building online and mobile platforms, communities and entire ecosystems to attract and engage with tens if not hundreds of thousands of users that will eventually become bank customers.
"Facebook is an ecosystem, Amazon is an ecosystem, WeChat is an ecosystem. The world is already moving to ecosystems, many just don't recognize it yet," Bautista explained. "And initially they didn't make money."
So far, the prospects look good for Union Bank. Users of its GlobalLinker platform, for example, grew almost four-fold in the first ten months of the year from only 6,000 at the end of 2017 to 23,000 by end-October. Of course, not all of them will become customers but Bautista is confident a sizeable number will sign up as bank clients.
Meanwhile, even Union Bank's presence at the Singapore Fintech Festival seems to be paying for itself, helping generate new if unexpected business. Entrepreneur Philippines' scheduled interview with Bautista was delayed by a few minutes because representatives of an Australia-based bank chatted with him to explore a possible partnership in the Philippines.
ADVERTISEMENT - CONTINUE READING BELOW