Which of the four Money Management models in the diagram above describes your current personal finance?

In model A, you are spending more than how much you earn. These are the borrowers, their overspending has forced them to augment their earnings with debt. This is the most dangerous money management practice, since most debt has interest that will increase future payables and force even more overspending, which in turn would lead to more debt and so on. If untreated, this vicious cycle could lock into an endless debt spiral that could bury them in a pile of ever increasing payables.

In model B, what is left from your earnings after expenditures have been deducted goes to your investments. These are the spenders where most Filipinos operate. Since they prioritize spending, they have little or no savings. Which is fine, until an emergency (such as sickness, job loss, death in the family, etc.) occurs, and they are forced into the borrowers' dilemma above.

In model C, you only spend what is left after investment allocations are deducted from your earnings. These are the savers, their savings can protect them from emergencies while they live beneath their means. However, their earnings might limit the size of their dreams hence those with big dreams need to find bigger sources of earnings such as new investments. Furthermore, they may feel trapped in the proverbial rat race as they are still dependent on their income.

And lastly, in model D, the investment is more than how much is regularly earned. These are the investors, where the truly rich operate in. They have passive income from their investments that equal or exceed their earnings. This might seem an ideal and unreachable scenario for some, but as we get older, we will reach a point where we might not be willing nor able to earn for a living. This money management practice protects the retired elderly from being dependent on others for their subsistence.  

If you think models C and D are impossible to attain, you have to think again. If you would be properly guided and equipped with the right money management knowledge, you can possibly make it happen, not in the far future, but soon.

Timely workshop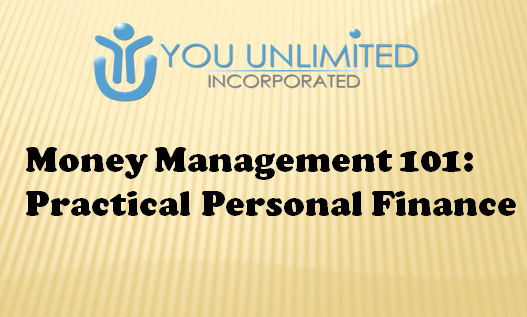 Now is the right time to start that change so you could get on track to a much better and secure financial future. Some of the best and most credible experts have designed a special learning program for modern Filipino consumers.

YOU Unlimited Inc.will hold 'Money Management 101: Practical Personal Finance' on November 29 from 8 a.m to 5 p.m. The seminar would be at UPAA Bahay ng Alumni in UP Diliman, Quezon City. The participants will learn the 7 Sources of Income, the BIG 8 Basic Investment Groups, the 13 Tabas Tips, the 4 Steps to Wealth Management, The 4 R's of Budgeting and other tools that they can immediately apply to increase their income, develop personal savings and spending plans, and make their money work for them.

Facilitators and rates

Program facilitators include Prof. George 'GQ' Quitoriano, M.E. and Prof. Henry Prudente, M.B.A. Quitoriano is former assistant vice president of Nestle Philippines and founder of retail franchising business Vente, which has branches nationwide. He completed his Master in Entrepreneurship from the Asian Institute of Management. He is also currently a faculty member of the Ateneo de Manila University, De La Salle College of St. Benilde, University of Sto. Tomas, ABS-CBN Bayan Academy, and the Development Academy of the Philippines.

Prudente, on the other hand, is a finance coach of the Financial Educators Association of the Philippines and founder of the Business Process Outsourcing (BPO) Center at the Polytechnic University of the Philippines (PUP). He completed his Masters in Business Administration from the De La Salle University. He is currently a faculty member at the De La Salle College of St. Benilde and PUP, where he is also the president of the PUP College of Economics, Finance, and Politics Faculty.

Regular walk-in rate is P2,500 but if you call soon you may still avail of the early bird rate of P999. There is also a premium package that includes the program, lunch, morningsnack, afternoonsnack, preferred seating and a PESO (Practical Earning & Spending Operations) Workbook.

For inquiries, call (02) 464-9354. You may also send an email to inquiry@youunlimitedinc.com.


ADVERTISEMENT - CONTINUE READING BELOW