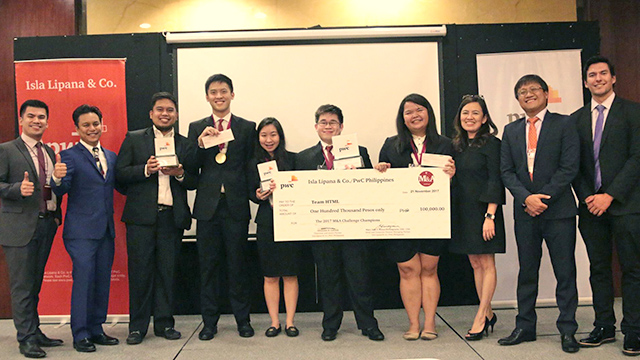 A team of business students from the University of the Philippines Cesar Virata School of Business collected Php100,000 after winning the top prize in the 2017 M&A Challenge sponsored by accounting firm PwC Philippines.
The nationwide contest highlighted the importance of mergers and acquisitions (M&A) in the current business landscape. PwC Philippines believes that students taking up business, accounting and other related courses need a more holistic and realistic experience in learning these critical skills apart from what is taught in the classroom.
ADVERTISEMENT - CONTINUE READING BELOW
A team from the Ateneo de Manila University placed second and received a cash prize of Php50,000, while a team from the Mindanao State University – Iligan Institute of Technology won Php25,000 for coming in third. Three other finalists each took home Php10,000.
"The objective of this competition is to provide that link from what they're learning in school and what is actually happening in reality," said Mary Jade Roxas-Divinagracia, CFA, managing partner for deals and corporate finance in PwC Philippines. "We see that more and more (M&A) transactions are happening in the market, but when we hire fresh grads for example, there's often that disconnect between what they have learned from school and what skills they need to be an M&A advisor."
As a professional in the M&A industry, Divinagracia also saw the challenge as an opportunity to paint a better picture of the industry to students who would potentially become M&A advisors.
ADVERTISEMENT - CONTINUE READING BELOW
"We want to give them that experience so that they will know what they'll be getting themselves into," she added. "We'd like to encourage them to be M&A advisors, to think like people from the boardroom, to think like businessmen and not just as employees."
Each of the 142 teams who participated in the competition was assigned a conglomerate listed in the Philippine Stock Exchange (PSE). The teams were then tasked to identify one of its subsidiaries that they think should be spinned off and to explain why using several analyses related to the M&A field such as valuation and due diligence reports.
The teams went through a three-month program that consisted of webinars and practice cases. Afterwards, the number of qualified teams was trimmed down to six finalists that presented their reports and analyses before a panel of judges.
For the UP Diliman team, the experience was helpful in familiarizing them with the concepts and processes of M&A as it is not part of their curriculum. In addition to putting their lessons into practice in a real-world scenario, the team now sees the big potential in the M&A industry both professionally and personally.
ADVERTISEMENT - CONTINUE READING BELOW
"One thing that makes M&A a very fulfilling task is… it's like a work that's for creating value," said Michelle George Tan, a fifth year business administration student and member of the UP Diliman team. "You give value to things that if they were on their own, it's not as valuable as if they were together. So you create synergy. You're an instrument to create additional value."
For winning the contest, PwC will also be giving the UP Diliman team a headstart in the M&A industry. In addition to the Php100,000 cash prize, the team members will also be given internship opportunities with PwC Philippines' Deals and Corporate Finance Team for 2018.
*****
Lorenzo Kyle Subido is a staff writer of Entrepreneur PH