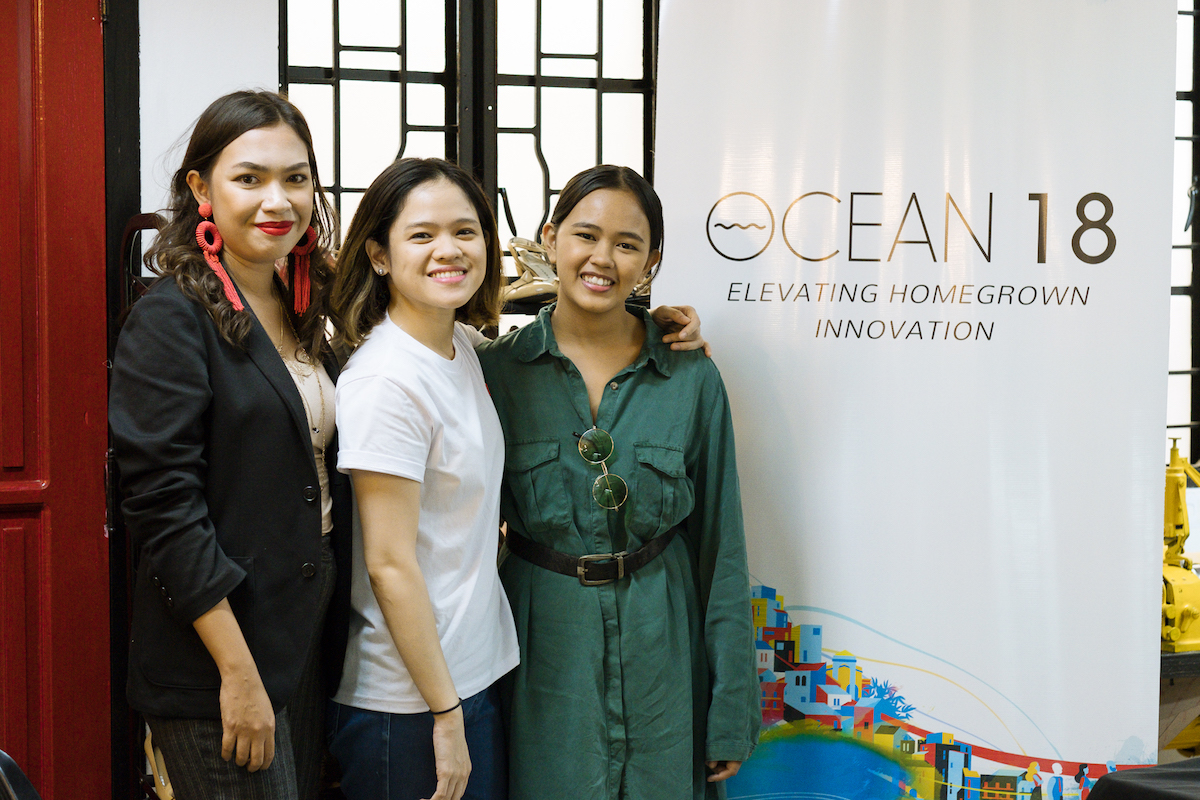 Fashion designer Marinelle Salvadar, Zapateria co-founder Unyx Sta. Ana and Development Innovation Insider CEO Gladys Llanes are some of the indiepreneurs that has participated in OCEAN 18's road shows nationwide. 
"You're not working when you are not networking."
That seemed the main takeaway of some of the entrepreneurs who took part in several road shows leading to a business gathering of 250 startup founders, investors and industry leaders in November in Cebu.
ADVERTISEMENT - CONTINUE READING BELOW
The event is called OCEAN (Open Collaboration for East Asian Nation) 18 Summit, a biennial conference that began in 2014 under the leadership of US-based Filipino technology entrepreneur Winston Damarillo. He heads Amihan Global Strategies, a consulting group that helps large businesses adopt digital technologies.
Ahead of the OCEAN 18 Summit on November 9 and 10 in Cebu City, organizers held roadshows in Cebu, Davao and Manila to generate awareness of the summit and give entrepreneurs an idea of how connections forged during the main event can help their businesses.
It's the first time such roadshows were held, reflecting lessons learned from participants' feedbacks in the past two OCEAN summits in 2014 and 2016.
"The audience [of the past summits] was mostly under 30 while the speakers were established entrepreneurs. That's when we realized that our messaging has to be more focused on the needs of entrepreneurs because it wasn't initially," Micaela Beltran, OCEAN 18's partnership lead, said in a roundtable interview with the press last week.
ADVERTISEMENT - CONTINUE READING BELOW
In the past, OCEAN participants were mostly involved in tech startups and/or were part of conglomerates and long-established companies here and abroad. But for this year, OCEAN is widening its scope as it reaches for what organizers call "indiepreneurs" or independent entrepreneurs.
Marinelle Salvador was one of business owners who took part in roadshows for OCEAN 18. A fashion designer, Salvador used to hold a day job and just tended to her other gig during her free time. But early this year, she decided that if really wanted her brand, Maria Salvador, to be a success, she needed to focus on it full-time.
"It was during the roadshow in Cebu that I managed to identify what I really want the brand to be, who I was [as a designer] and who my designs are for," Salvador said.
Salvado creates bags, shoes and clothes out of indigenous materials found in the provinces such as Bicol and Davao. Some of her best-selling creations are handbags for women handmade from raffia materials.
ADVERTISEMENT - CONTINUE READING BELOW
Unyx Sta. Ana, a former tech startup executive, was also one of the participants of OCEAN 18's roadshow in Cebu. She attended the OCEAN conference in 2016 as a member of the startup community but for this year, she is representing Zapateria, a Marikina-based shoe hub that helps enthusiasts and designers to craft their own footwear collection.
"During the roadshow, I met the designer behind A.T.E by Tatah [brand]. After that meeting, we realized we could do something together. Now, we're working on a shoe collection that makes use of the retaso of the clothes she make," Sta. Ana explained.
OCEAN 18 is set to have another roadshow on October 30 in Makati City, and one of the prospective participants is Gladys Llanes of content production Development Innovation Insider (DII).
A Bachelor of Science in Mass Communications graduate, Llanes is keen on developing her business acumen as she grows her content production firm. Unlike most outfits that work with multinational companies and established businesses, DII works with those in the development sector, particularly social enterprises and non-government organizations.
ADVERTISEMENT - CONTINUE READING BELOW
"We want to help them bring premium to their brand, to their services and their products. I know that through OCEAN 18, I can grow my network and it can help me connect with other business contacts that can help me reach more businesses," Llanes said.
The two-day conference set in November will be the third OCEAN summit to be staged. Organizers say they expect attendees to grow to 250, with majority consisting of "indiepreneurs."
Entrepreneur Philippines is a media partner for the OCEAN 18 Summit.
****
Elyssa Christine Lopez is a staff writer of Entrepreneur Philippines.