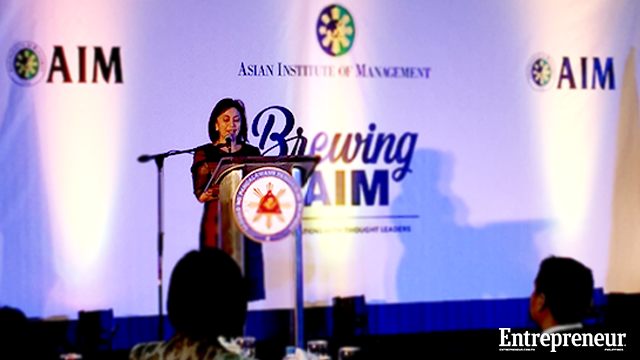 Vice President Leni Robredo called on private companies to work with the government in its fight against inequality and poverty through partnerships, in a speech on Wednesday, August 31 at the Brewing@AIM (Asian Institute of Management) in Makati.
ADVERTISEMENT - CONTINUE READING BELOW
Speaking before AIM alumni who are mostly business owners and executives, Robredo reiterated that inclusive growth not only benefits those at the fringes of society but businesses too.
"Inclusive growth is not only critical for those in the fringes of society that we have vowed to serve, but also for your businesses to grow sustainably," Robredo said in her speech. "Building nations where everyone can live and thrive and enjoy the benefits of economic growth is the best way to create more growth."
The Housing and Urban Development Coordinating Council chair cited six key areas where the government and the private sector can both play their key roles namely: hunger and food security, universal health care, rural development, education, and women economic empowerment and housing.
Robredo said some real estate companies have already worked with the government in previous projects for housing programs specifically catered to informal settlers. Phinma Properties was one of the companies mentioned that offers 26 sqm homes for a monthly amortization fee of as low as Php 2000. 
ADVERTISEMENT - CONTINUE READING BELOW
"We will have to revolutionize our approach to finally solve our shelter problem. We must not look at this as simply a matter of building houses. We also need to think about livelihood in resettlement areas, public safety among other things," Robredo added.
Like the shelter problem, the Vice President said that fighting hunger also meant rethinking of ways to help, as most companies only count the number of children fed during feeding programs but not the number of children taken out of hunger.
This drove her to the importance of "impact investing and inclusive agribusiness," as some companies have already also worked with local government units in providing financial and resource assistance coupled with trainings for farmers in rural areas.
"Jollibee Foundation uses an interesting business model that creates clusters of small farming communities and provides them with training on how to meet its strict supplier specifications," Robredo said. "You can refine your business models so that you can also include microentrepeneurs in your value chains."
ADVERTISEMENT - CONTINUE READING BELOW
As for the value of education, Robredo said her office is planning on building a database where private companies may log the jobs they need in their respective offices, thus giving incoming graduates a snapshot of the job market.
But she emphasized that most ideas are still in the planning stage and her office is open for suggestions. The VP office is expected to conduct a partners' summit with the private sector for future collaborative projects as she stressed that the VP office has "limited budget."  
In a report in June, former Vice President Jejomar Binay's camp said there is at least 80 percent left from the budget of the VP's office, at Php 503 million for 2016.
"If we work together, I am positive that the synergy we will create can bring our economy to heights…but only if our poor are included in the picture," Robredo said.
Brewing@AIM is a monthly breakfast forum of AIM where it discusses relevant issues for Asian businesses.
ADVERTISEMENT - CONTINUE READING BELOW
*****
Elyssa Christine Lopez is Entrepreneur.com.ph's staff writer. Follow her on Twitter @elyssalopz.