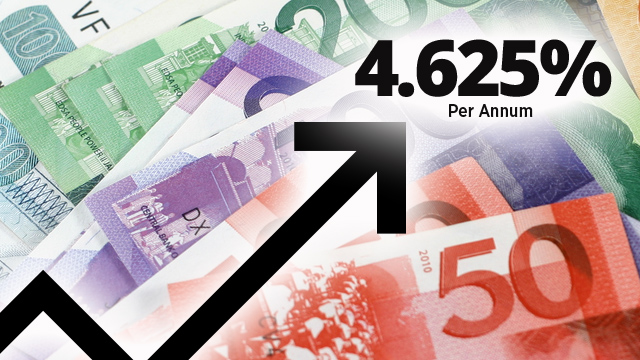 Like the previous offering in April, the investing public welcomed the government's latest retail treasury bonds (RTB) issue warmly, perhaps because it was timed just when people are about to receive their yearend or holiday bonuses.
If you're keen to buy the five-year RTBs that mature in 2022 and pay an annual interest rate of 4.625 percent a year, the first step is to ask your bank if they are offering the bonds for sale. A peso deposit account with a bank that serves as one of the offering's qualified selling agents is required to purchase the bonds.
ADVERTISEMENT - CONTINUE READING BELOW
Major banks have started accepting applications and reservations for the five-year RTBs since last Monday, Nov. 20, 2017. They will do until Wednesday next week, Nov. 29, 2017. However, bank managers and officers we interviewed advised interested investors to reserve soon and not wait for the November 29 deadline.
The minimum amount needed to buy the RTBs is Php 5,000. Those who can afford it can try to reserve more so long as the total amount is a multiple of Php5,000. Bank managers, however, cautioned would-be buyers not to expect that the full amount of their reservation will be accepted.
After confirming that your bank offers the RTBs, the next step is to pay a visit to the nearest branch to fill up some application forms. After the documents are submitted, reservations are then processed by the head office. Funds will be automatically debited from your account once your reservation is approved in full or partially. Coupon payments from the RTBs will also credited automatically to your bank account.
ADVERTISEMENT - CONTINUE READING BELOW
Some banks encourage you to fill up the forms in your main branch for faster processing. It may take a while for forms filled up in another branch to get to your home branch. Other banks seem to prioritize preferred clients, whose applications are processed immediately and even prepared by bank officers themselves. All the more reason, then, to submit your application early – especially if you're an ordinary and not a preferred client.
With additional reporting by Lorenzo Kyle Subido and Pauline Macaraeg
***** 
Elyssa Christine Lopez is Entrepreneur Philippines' staff writer.