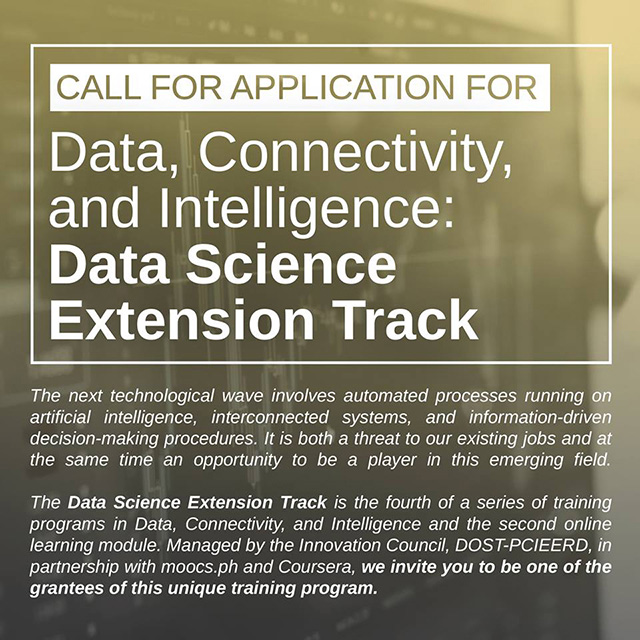 The Department of Science and Technology's Philippine Council for Industry, Energy and Emerging Technology Research and Development (DOST-PCIEERD) is accepting applications for its Data Science Extension Track, a grant that will provide one free online course on key topics in data science and analytics.
Grantees will be able to choose among four short online courses covering different specializations on data, connectivity and intelligence: (a) data science; (b) data warehousing; (c) applied data science using the programming language Python; and (d) analytic techniques using MySQL and other databases.
ADVERTISEMENT - CONTINUE READING BELOW
But those who wish to apply for the program should act immediately because the deadline for filing applications with the DOST is today, Feb. 9, Friday. More information about the grant can be found on DOST-PCIEERD's Facebook page.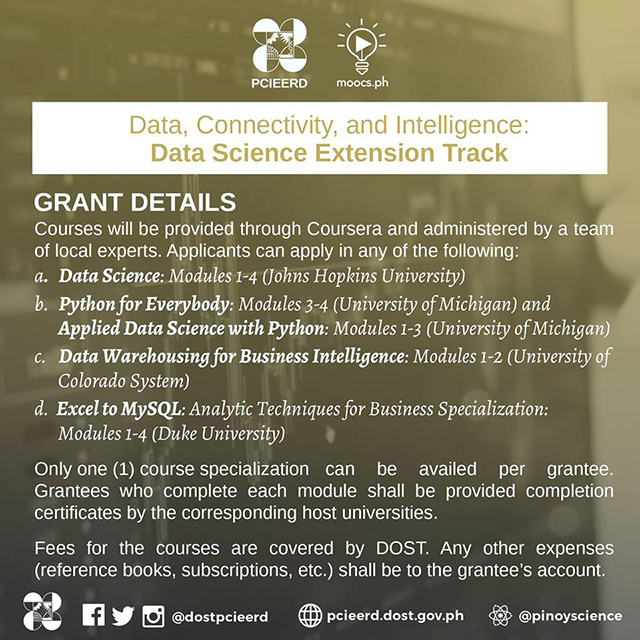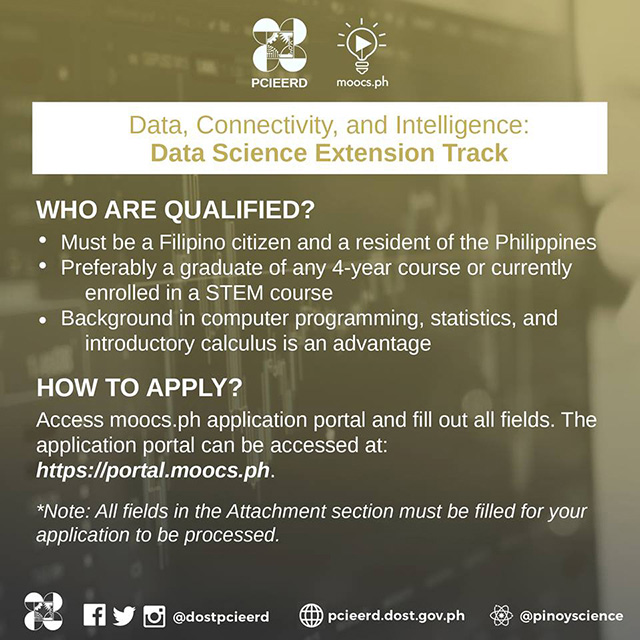 ADVERTISEMENT - CONTINUE READING BELOW
Although DOST-PCIEERD will shoulder all fees linked to the courses, the agency noted that other expenses such as reference books and subscriptions would be credited to the grantee. The agency is partnering with online learning platform Coursera, which will host all of the courses offered in the program, as well as with local education technology startup moocs.ph, which will be involved in the courses' content as well as facilitate the application process.
The Data Science Extension Track is timely, as experts believe that there will be a rise in demand for jobs involving data science and its related fields in the Philippines. According to Daniel Meyer, executive director of the Analytics Association of the Philippines, around 500,000 data science and analytics (DSA) jobs will be seen from now until 2022.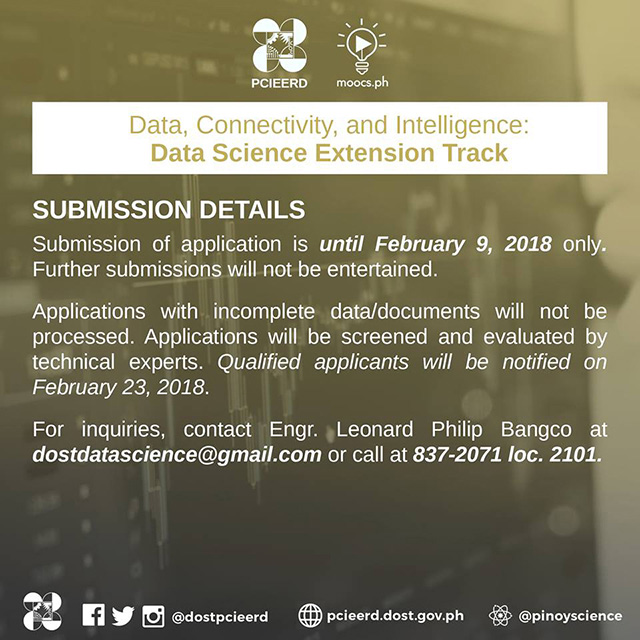 ADVERTISEMENT - CONTINUE READING BELOW
"Jobs requiring a familiarity with DSA are rising dramatically, resulting in a shortage of qualified employees," said the APEC Human Resources Development Working Group in a report. "By identifying DSA competencies required by employers in a data-driven world, economies will be equipped to educate their workforce—preparing students and workers for the yet-to-be-defined jobs of tomorrow and helping economies to fulfill their economic potential."
Related story: Up to 500K New Analytics Jobs Seen in PH By 2022: Interested? Here's a Checklist of Skills You'll Need
*****
Lorenzo Kyle Subido is a staff writer of Entrepreneur PH