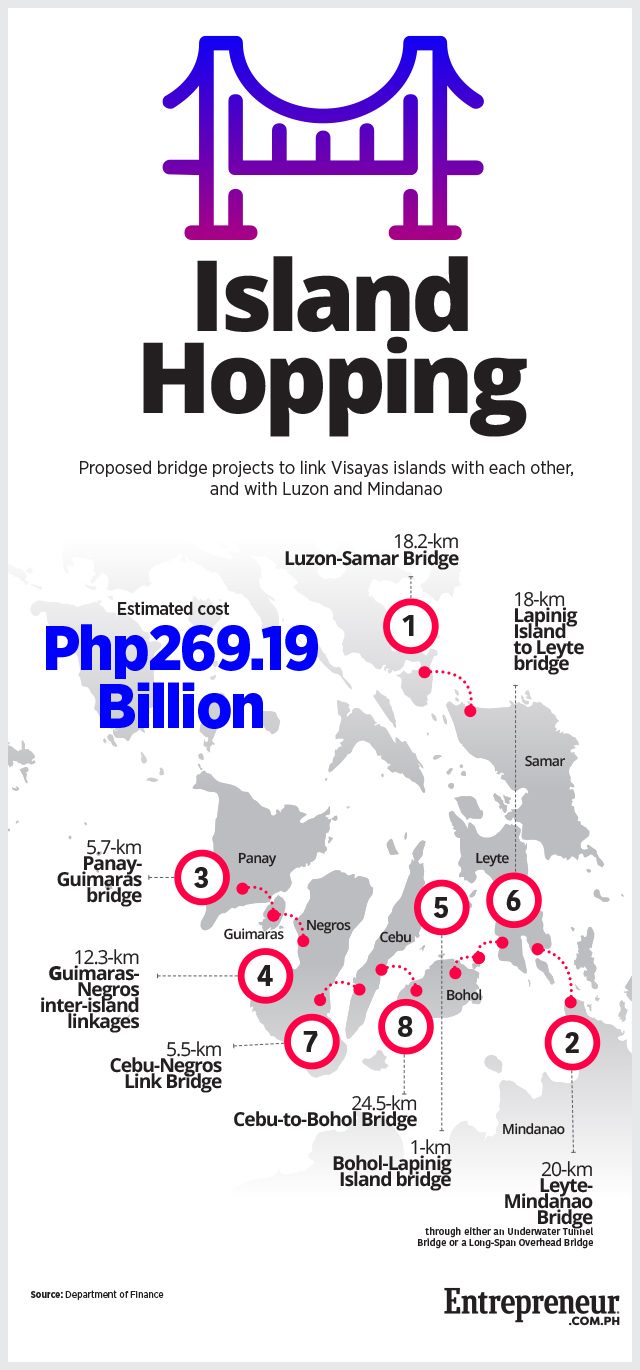 The government announced plans to build eight major bridges that will connect the Visayas region to Luzon and Mindanao, Department of Finance (DOF) Secretary Carlos G. Dominguez said in a speech Thursday, April 19, during the Philippine Economic Briefing in Cebu City. The speech was delivered by Undersecretary Bayani Agabin.
Among the projects to be proposed are: an 18.2-kilometer bridge to connect Samar provinces to the main island of Luzon; a 5.7-kilometer bridge to connect Panay and Guimaras; a 12.3-kilometer inter-island bridge connecting Guimaras and Negros; a one-kilometer Bohol-Lapinig Island bridge; an 18-kilometer Lapinig Island to Leyte bridge; a 5.5-kilometer bridge connecting Cebu and Negros; a 24.5-kilometer bridge connecting Cebu and Bohol; and a 20-kilometer underwater tunnel or long-span overhead bridge connecting Leyte to Mindanao.
ADVERTISEMENT - CONTINUE READING BELOW
The Duterte administration is set to submit proposals for these projects, which have an estimated combined cost of Php269.19 billion, for the approval of the Investment Coordination Committee (ICC).
"These bridges will provide growth corridors and ensure that none of the major islands of the Visayas will be left behind in the country's race to progress," Dominguez said.
Apart from these eight bridges, there are also four major projects in the Visayas region that are already approved by the National Economic Development Authority (NEDA) board. These are the improvement and maintenance of three airports in Bohol, Iloilo and Negros, and the construction of the New Cebu International Container Port.
The Finance secretary cited the Build, Build, Build program and the newly-approved Tax Reform for Acceleration and Inclusion (TRAIN) law as two of the main drivers of the country's robust economic growth. The government is confident that the Philippines will maintain its growth target of seven percent or better this 2018, and achieve a high middle-income status in the next few years.
ADVERTISEMENT - CONTINUE READING BELOW
"The comprehensive tax reform program will help us create the incremental revenues we need to fund the infrastructure program," he said. "Our infrastructure investments, estimated at $170 billion between now and 2022, have very high multiplier effects. By undertaking these thoroughly studied strategic projects, we will stimulate economic activity. Jobs and opportunities will be created, and we are confident we can bring down poverty incidence to only 14 percent by 2022."
He added: "Be assured that President Duterte is fully committed to the overall economic program that will make our growth more inclusive, our people more prosperous and our communities stronger and safer."
*****