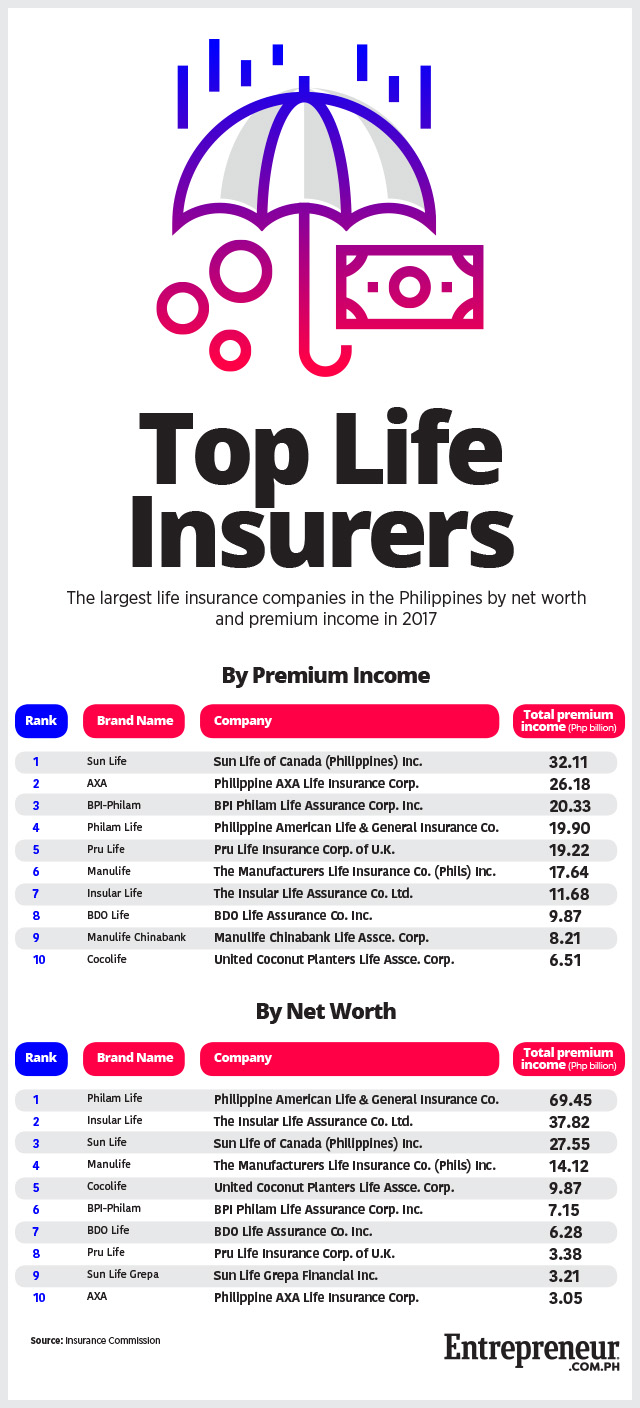 Local insurer Philippine American Life & General Insurance Co., better known as Philam Life, and the Philippine unit of global life insurance firm Sun Life Financial retained their titles as the country's largest life insurance companies for 2017, according to data from the Insurance Commission (IC).
In a series of statistical data published on the IC website, Philam Life topped the list of 30 life insurance companies in terms of net worth, which IC defines as "total assets minus total liabilities of a life insurance company." For 2017, it reported a net worth of Php69.5 billion, almost double that of the figure for the second largest company.
ADVERTISEMENT - CONTINUE READING BELOW
Not surprisingly, Philam Life was also the largest insurance firm in terms of total assets last year, which stood at Php251.4 billion. Historical data on the IC website also shows that the company also led its competitors in terms of net worth from 2014 to 2016.
Established in 1947 in the Philippines, Philam Life is part of the AIA Group, an international conglomerate of life insurance companies present in 18 Asia-Pacific markets. It has also established a joint venture with the Bank of the Philippine Islands, one of the country's largest banks, through bancassurance firm BPI-Philam, which is the country's sixth largest life insurance company by net worth.
However, the largest insurance firm by premium income, or the "revenue generated by a life insurance company from the total premium it charges on its policies," continued to be Sun Life Philippines. Similar to Philam Life, Sun Life has led the industry in terms of premium income for the past four years, with the figure reaching Php32.1 billion in 2017.
ADVERTISEMENT - CONTINUE READING BELOW
Sun Life was also the country's largest insurance firm by net income last year, standing at Php6.9 billion. 
Having been in the Philippine market since 1895, Sun Life Philippines is one of the 12 major units of Canada-based Sun Life Financial. In the country, it has also partnered with universal bank Rizal Commercial Banking Corp. to form Sun Life Grepa, a bancassurance unit which ranked 11th in terms of premium income last year.
Related story: Why Sun Life's Riza Mantaring Wants to Triple PH's Top Insurer's Clients to 5M in 5 Years
*****
Lorenzo Kyle Subido is a staff writer of Entrepreneur PH