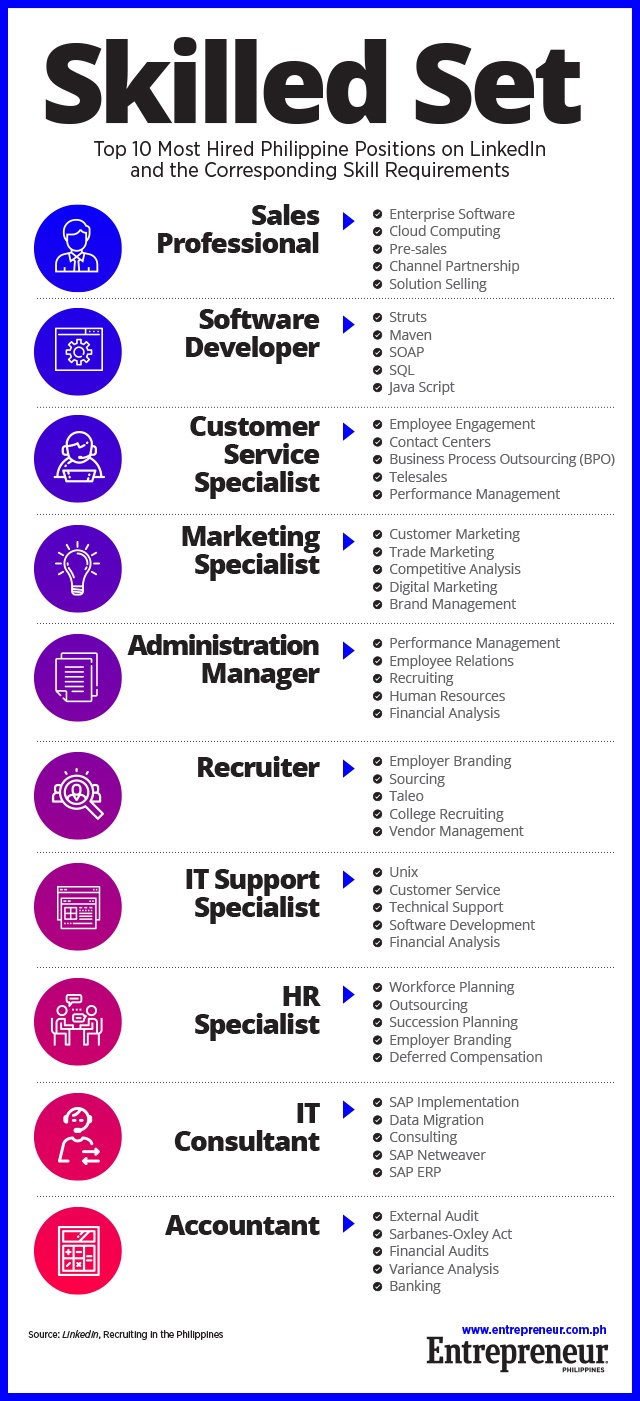 Professional networking website LinkedIn has emerged as one of the best ways for companies to look for new talent. As of end-2016, LinkedIn has built up a network of four million Filipino professionals and over 19,000 active Philippine companies. The website further revealed that last year, around 770,000 Filipinos opened a LinkedIn account.
ADVERTISEMENT - CONTINUE READING BELOW
In a new report entitled Recruiting In The Philippines: A Special Report On The Philippines' Skilled Workforce And How To Attract Top Talent, LinkedIn revealed the 10 job positions that were hired the most on its website in 2016. It also elaborated on the skills that companies usually look for in applicants to these positions.
Unsurprisingly, a majority of the 10 most hired occupations tie in to the country's booming business process outsourcing (BPO) industry. At the top of the list are sales professionals, with customer service specialists and marketing specialists also making the top five. The information technology (IT) sector is also well-represented, with software developers (No. 2), IT support specialists (No. 7) and IT consultants (No. 9) all making the top 10.
However, LinkedIn noted that the skills employers are looking for in these positions have developed alongside the Philippine economy as a whole. Among the most in-demand skills of sales professionals is knowledge of enterprise software and cloud computing, indicating a level of technological expertise expected from applicants. 
ADVERTISEMENT - CONTINUE READING BELOW
"Much of the boost to the Philippines economy is attributed to the BPO industry. As the sector matures, the demand for skills such as digital marketing and IT is on the rise," said Feon Ang, LinkedIn's vice-president for talent and learning solutions in Asia Pacific, in a statement. "For job seekers, it is no longer adequate to just possess technical qualifications but they need to diversify and strengthen their skill sets. This also spells tougher competition for companies looking for talent with the right skill competencies, as well as aptitude for continuous learning," 
Check out the infographic above to see what other professions were actively searched for in LinkedIn last year and what skills employers expected of them.
*****
Lorenzo Kyle Subido is a staff writer of Entrepreneur PH