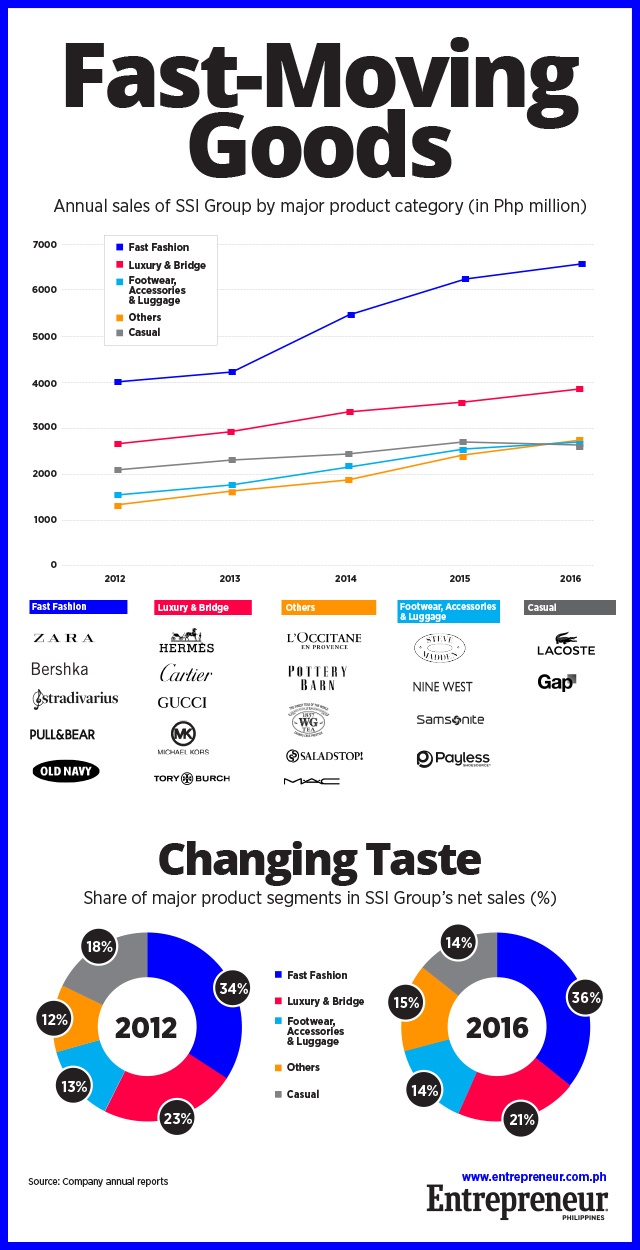 Annual reports of companies listed on the Philippine Stock Exchange are typically read by shareholders and investors keen to find out how the company is doing financially.
But the latest report of the SSI Group Inc., the country's leading specialty retailer, could be useful reading even if you're not a shareholder but somebody just dabbling in fashion retailing by selling, say, sneakers, shirts or even Korean cosmetics on Facebook or Instagram.
ADVERTISEMENT - CONTINUE READING BELOW
The SSI Group carries over a hundred brands ranging from Hermès and Gucci to GAP and Lacoste. It classifies these products into six categories and keeps track of sales from each of these every year. The groupings are: luxury; bridge; casual; fast fashion; footwear, accessories and luggage; and others, which include personal care, home and food.
In the last four years, the personal care, home and food category was the SSI Group's fastest growing segment, rising by an average of 19.6 percent per year from 2013 to 2016. From only 12 percent of the company's net sales in 2012, this category accounted for 15 percent last year. Footwear, accessories and luggage posted the second fastest average growth in the last four years, climbing by 15.2 percent a year. Its share of SSI Group's net sales went up from 13 percent to 15 percent.
Among clothing lines, fast fashion brands rose the fastest, going up by an average of 13.6 percent a year. Last year, it accounted for the biggest share of the company's sales at 36 percent, up from 34 percent four years before. Luxury and bridge brands went up by an average of 9.8 percent per year. However, their share of SSI Group's net sales fell from 23 percent in 2012 to 21 percent in 2016. Casual brands grew the least among the six categories, going up by just six percent a year. Its share of SSI Group's net sales also fell the most: from 18 percent to only 14 percent.
ADVERTISEMENT - CONTINUE READING BELOW
Zara is one of the international brands that SSI carries locally
Though SSI Group's net sales have been climbing in the last four years, the pace of growth has slowed considerably. Last year, it grew by only 5.9 percent compared to 14.5 percent the year before and the slowest since 2013. Sales from casual brands even fell 2.9 percent after rising by more than a tenth in 2015. Combined with narrower margins and write-offs from store closures as the SSI Group rationalized retail operations, the slowdown in net sales growth pulled down net income by 71.4 percent. That's the second year in a row that profit fell after easing by 18.7 percent in 2015.
ADVERTISEMENT - CONTINUE READING BELOW
Competition in fashion retailing in the Philippines has become tougher following the entry of international casual clothing brands such as H&M and Uniqlo, which now have a combined total of 59 outlets in the country. According to consumer research firm Euromonitor International, as of January 2017, the two brands already accounted for four to five percent of clothing retail sales in the country.
In the second half of 2016, SSI Group launched a rationalization program, cutting down the number of its stores and brands, to devote more resources to outlets and lines that are doing well. It closed outlets in provincial areas including Cagayan de Oro, General Santos and Zamboanga and expanded instead in denser urban areas such as Metro Manila, where its target demographic is located. Before that, in March 2016, the SSI Group, together with its partner, Ayala Land Inc., sold their combined stake in Wellworth department store, which caters to the upper middle market, to the Gaisano family's Metro Retail Stores Group Inc.
ADVERTISEMENT - CONTINUE READING BELOW
Anthony Huang, SSI Group's president, expressed confidence that 2017 would be a better year for the company especially with its streamlined operations. "Within an environment of resilient consumer demand, and given the efficiencies put in place in 2016, we believe that 2017 will be a turnaround year for the Group," Huang said in a statement.
*****
Elyssa Lopez is a staff writer of Entrepreneur Ph. Follow her on Twitter @elyssalopz