Each year, provincial agricultural statisticians of the Department of Agriculture gather information on the revenues and costs of growing more than 30 farm products all over the Philippines.
The Philippine Statistics Authority (PSA) then compiles all the information gathered in a database called CountrySTAT, a project that is part of the United Nations' Food and Agriculture Organization Corporate Statistical Database (FAOSTAT).
ADVERTISEMENT - CONTINUE READING BELOW
The PSA calculates the average income and costs per hectare of growing the products, which ranges from fruits, vegetables, root crops to fish, poultry and livestock. All in all, the PSA estimates averages for at least a dozen cost items, including cash and non-cash costs.
There are various ways that readers can make use of the information from the PSA. For those who already know what product they want to grow, there is valuable data on the revenue and cost structure across the various regions.
For those still looking for a plant or animal to grow, we list in the accompanying infographic a ranking of the various farm commodities based on their average net returns per hectare. The figure is the result when total costs are deducted from gross revenues, and is the national average of at least 14 years from 2002 to 2015.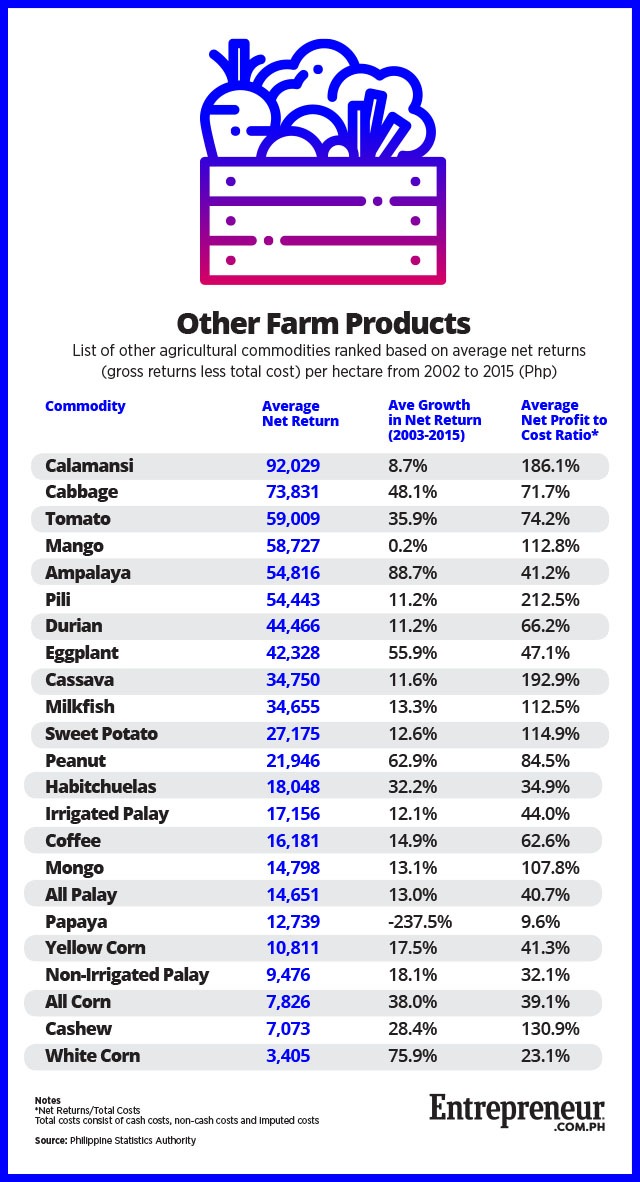 ADVERTISEMENT - CONTINUE READING BELOW
The table also shows the product's net return annual average growth rate over the same period. A positive figure shows its average returns are still growing while a negative number shows returns are falling. The average net profit to cost ratio (which is calculated by dividing net return by total costs) is also presented to give an indication of the profitability of growing the commodity.
Among the top 10 most profitable products, there are six vegetables, two fruits and one fish. Potato, the third crop with the highest net return, is listed as both vegetable and root crop. Onion bulb leads the list of the most profitable crops with an average of Php243,542 per hectare. It is followed by string beans, which yield a net return average of Php229,339 per hectare, and potato, with Php181,643.
Out of all the 31 listed crops in the CountrySTAT database, 35 percent are classified as vegetables; 19 percent fruits; 13 percent palay and corn; six percent each of milkfish and tilapia, nuts, root crops and legumes; and three percent commercial crops. – with additional research by Ivah Knefriteir De Leon
ADVERTISEMENT - CONTINUE READING BELOW
*****
Pauline Macaraeg is Entrepreneur PH's data journalist. Follow her on Twitter @paulinemacaraeg