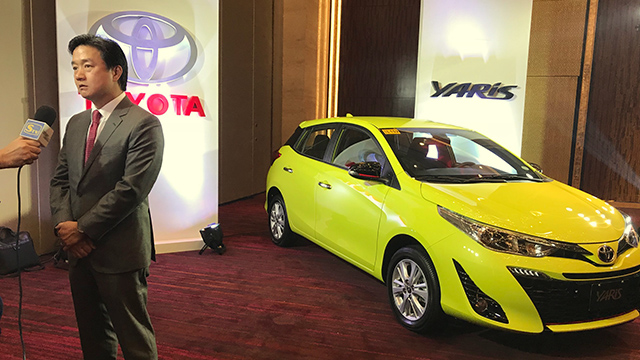 Alfred Ty at the Christmas lunch for media and the launch of the new Toyota Yaris at the Grand Hyatt Hotel in Bonifacio Global City
A member of the Ty family, which controls the holding firm that owns a majority of Toyota Motor Philippines (TMP), the country's biggest car maker, says the company can live with the just-approved tax reform law even if it increased the excise taxes on its bestselling model, Vios.
Alfred V. Ty, vice chairman of the Ty family holdings firm GT Capital, which owns 51 percent of TMP, said he is "happy" with the final results of congressional deliberations on automobile excise taxes, one of the most contentious issues in the tax package called Tax Reform for Acceleration and Inclusion (TRAIN) law.
Related story: The Extremely Busy Person's Guide to the New Tax Law Just Signed by President Duterte
The son of GT Capital founder George Ty, Alfred Ty is also vice chairman of TMP, which accounts for a sizeable portion of GT Capital's net asset value. Benefitting from rising car sales and its leading position in the car making industry, TMP was estimated to account for about 40 percent of GT Capital's net asset value in recent years, according to CLSA, a securities broker. George Ty is the seventh richest man in the Philippines with a net worth of $3.7 billion in September 2017 according to Forbes magazine.
ADVERTISEMENT - CONTINUE READING BELOW
Ty added that the approved four-tier tax schedule was "not as bad" as they had feared, especially after the Senate came out with its version of the bill that imposed just a two-tier system of 10 percent and 20 percent. He spoke during a media luncheon for motoring press at the Grand Hyatt Hotel in Bonifacio Global City, which is scheduled to open to the public in the first quarter of 2018.
"If you will recall, a few weeks back, the Senate came up with an announcement that would just simplify (the excise tax) into two tiers, and all along we've been talking about the seven-tier and five-tier," Ty said.
Related story: Afraid the New Tax Law Will Jack Up Car Prices? Maybe Not if You're Buying the Really Expensive Models
"That kind of shook us up because, how do you apply the two-tier?" Ty added. "It could be too high for others and it could be too low for others. And that's too simplified.
"But in the end, it ended up with four tiers and so, we're happy with that," he added. "We can live with that. And move forward. That's the most important message of the TRAIN program."
Ty said that although he expects demand to slow down a bit in the next year or two because of the expected increase in car prices, he does not expect the changes to dampen growth for Toyota and the local automotive industry in general.
"I think only because there's so much rush (of people) buying in 2017, of course, the people who were supposed to buy in 2018 and 2019 bought ahead, and so they will not buy again," he said. "Maybe there's a correction on that side. That's one factor. When we thought the taxes would be much higher, that would be a second factor. But now, we don't have that. I think (if) there is a price adjustment, in the end, I believe it would be manageable. And so, the whole industry can look forward to a brighter future."
ADVERTISEMENT - CONTINUE READING BELOW
Industry officials have yet to fully assess the full impact of the new tax law on the CARS (Comprehensive Automotive Resurgence Strategy) program, an initiative that grants certain incentives to automobile manufacturers that can locally produce at least 200,000 units of one specific model within six years. Toyota is enrolled in the program with its bestselling Vios model.
Related story: Waiting for More Affordable Mirage and Vios Units Under Government's TRAIN Program? Forget It If Senate's TRAIN Version Prevails
TMP President Satoru Suzuki said the company has already recorded year-to-date sales of 34,338 units of the Vios, which have added to the 166,601 overall units sold by Toyota this year. The total year-to-date sales of the Japanese brand have already surpassed the 150,728 units in 2016.
"Together with Vios, Toyota's other top-selling models aided us in further securing our leadership position in six out of eight segments in the industry," Suzuki said. "This only shows how customers continue to trust the products, services and most especially, the Toyota brand."
TMP controls about 43 percent of the total automotive market in the Philippines, according to data released by the Chamber of Automotive Manufacturers of the Philippines (CAMPI). Fellow Japanese brand Mitsubishi is second with about 14.5 percent, while American manufacturer Ford is third with about 8.42 percent.
*****
Paul John Caña is the managing editor of Entrepreneur PH