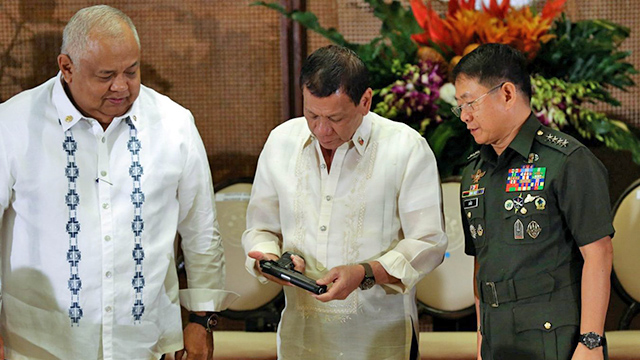 President Rodrigo Duterte inspects one of the caliber .45 pistols sourced from Armscor Global Defense that were turned over to soldiers of the Armed Forces of the Philippines 
In April 2017, President Rodrigo Duterte promised soldiers of the Armed Forces of the Philippines (AFP) new pistol firearms to better fulfill their duty of securing the country from lawless elements.
ADVERTISEMENT - CONTINUE READING BELOW
It fell on the AFP to make sure the President delivered on his promise. The project took on a greater sense of urgency when rebel groups laid siege on the city of Marawi in May, leading to a prolonged military crisis.
Although countries like the US and China donated weapons for Philippine police and military forces to use in the conflict, it was local defense company Armscor Defense Inc. that was able to provide a total of 3,000 firearms to the AFP in accordance with the President's wishes.
"Like a good soldier, we immediately requested for an emergency procurement for 3,000 units of caliber .45 pistol," said Undersecretary Cardozo Luna of the Department of National Defense, in a speech on behalf of Secretary Delfin Lorenzana. "This acquisition is also part of the First Horizon of the revised Modernization Program of the AFP."
"The president asked for 3,000 pistols, we delivered it in one week," said Martin Tuason, president and CEO of Armscor, the country's oldest and biggest arms and ammunitions maker. "That's how it should be. If the army needs 155 howitzers, we can deliver it. They need it. Our troops can't wait. It costs lives."
ADVERTISEMENT - CONTINUE READING BELOW
Tuason added there are massive delays in getting firearms, ammunition and military equipment to those who need them because of current defense procurement processes in the country.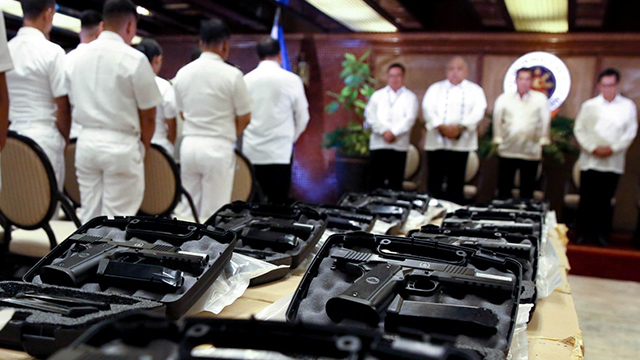 The AFP acquired 3,000 units of the caliber .45 pistols from Armscor Global Defense Inc.
"Take Marawi, for instance," he said. "Five months of conflict. All the reserves of the army and marines and everyone involved there were depleted. Right now, the procurement process (depends) on foreign suppliers and their schedules, because they have other customers as well, and it can take up to two to three years."
ADVERTISEMENT - CONTINUE READING BELOW
"We have to change it and streamline it so the process can be done and be favorable to the armed forces," he added.
Armscor is supporting the drafting of a new legislative bill called the Philippine Defense Industry Development Act (PDIDA) that aims to make it easier for foreign companies to manufacture the product locally.
After Armscor announced last year that they were pivoting to being a full service defense company, Tuason said the company has been actively seeking out foreign partners. It's a way, he said, to enhance self-reliance and promote local development. Partnerships with foreign companies could also mean more local manufacturing facilities, which translates to providing more jobs for Filipinos.
"We are looking at different partners, including (companies in) South Africa, whom we have represented for a couple of items already," Tuason revealed. "They have expressed willingness to come here. Even the Russians and French have also come to us. We are looking at all the options, but the first thing is to crawl before we walk, and walk before we run. So to prove Armscor's worth, we have to represent the company well with the AFP, get our first couple of contracts with them, so (the foreign companies) feel comfortable with Armscor and doing business in the Philippines. After that, we can then expand."
ADVERTISEMENT - CONTINUE READING BELOW
Established in the early 1900s, Armscor currently produces up to 200,000 firearms and about 420 million rounds of ammunition annually. In addition to its main factory in Marikina City, the company also has manufacturing facilities in Stevensville, Montana and Pahrump, Nevada, which service the requirements of its biggest market, the US.
Related story: PH's Biggest Arms Maker Now a Defense Company
Tuason said the draft PDIDA bill is still pending with Defense Secretary Delfin Lorenzana. "We're waiting for the SND (Secretary of National Defense) to say yes or no," Tuason says. "I think it's a very fair law."
In the meantime, Armscor is busy with its annual Tactical, Survival and Arms Expo, a showcase of defense, security and survival skills and accessories. The expo aims to address global issues on environment, economic uncertainty and various security threats.
"It's high time that a unique show such as this is held in the country," said Severo "Conkoy" Tuason, Martin Tuason's uncle and chairman of Armscor, during an event to launch this year's expo. "TACS Expo, which focuses on the involvement of various manufacturers and their representatives will be an avenue to reach out to everyone and create awareness on how to prepare for emergency and life-threatening situations."
ADVERTISEMENT - CONTINUE READING BELOW
According to the younger Tuason, Armscor is looking to bring the event to other parts of the country, with up to six to eight smaller-scale expos planned eventually throughout the year.
TACS Expo 2018 happens from February 22 to 25, 2018 at the SMX Convention Center, 3rd Level, SM Aura Premier, Bonifacio Global City, Taguig.
CORRECTION: An earlier version of this article stated that Severo "Konkoy" Tuason is Martin Tuason's father. Mr. Konkoy Tuason is actually Martin's uncle.
*****
Paul John Caña is the managing editor of Entrepreneur PH