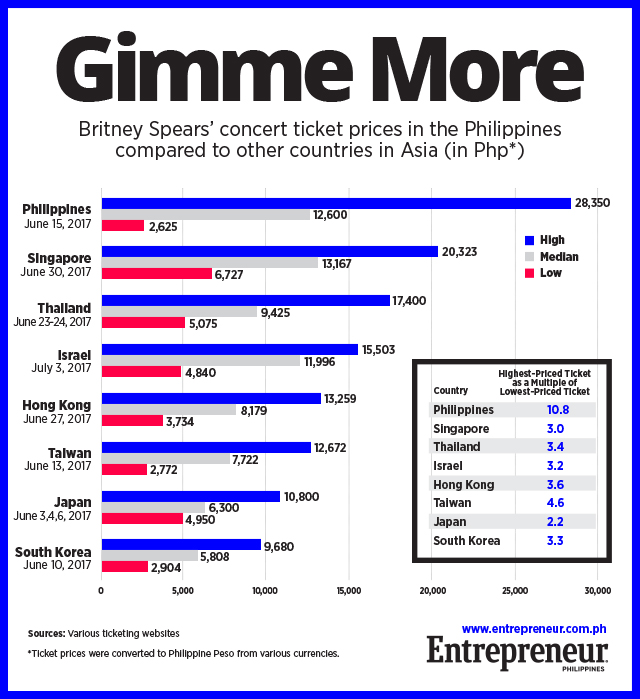 On June 15, pop artist Britney Spears is set to perform in the Philippines for the first time. Apart from Manila, the "Lucky" singer who has a lucrative Las Vegas show is also performing this month and next in at least seven other countries in Asia, including Israel.
How do ticket prices for her show in Manila compare with those in other countries?
ADVERTISEMENT - CONTINUE READING BELOW
After a cross-country comparison across Asia, it turns out that the high-end tickets for her concert in the Philippines, which sell for Php28,350 apiece, are the most expensive in the region. It leads the second-highest price by a wide margin, as Singapore's priciest ticket is only worth Php20,323 when converted to pesos.
However, Spears' Philippine concert also offers the least expensive ticket in her Asian tour, as general admission seats in the Philippines were sold at Php2,625 apiece. South Korea and Taiwan also sold tickets for cheaper than Php3,000, but the Philippines still had the cheapest tickets among the eight countries.
With both the most expensive and cheapest concert tickets, the disparity between the two poles of the ticket price range is widest in the Philippines. While the costliest tickets, on average, are only 3.3 times the cheapest ones in the seven other countries in the list, the multiple is almost 11 times in the Philippines.
ADVERTISEMENT - CONTINUE READING BELOW
According to US-based magazine Forbes, Spears earned $34 million in the past 12 months, which made her the 89th highest-paid celebrity in the world. No doubt, Philippine buyers of SVIP tickets to the artist's concert in Manila will help add to her fortune in the coming year.
*****
Lorenzo Kyle Subido is a staff writer of Entrepreneur PH