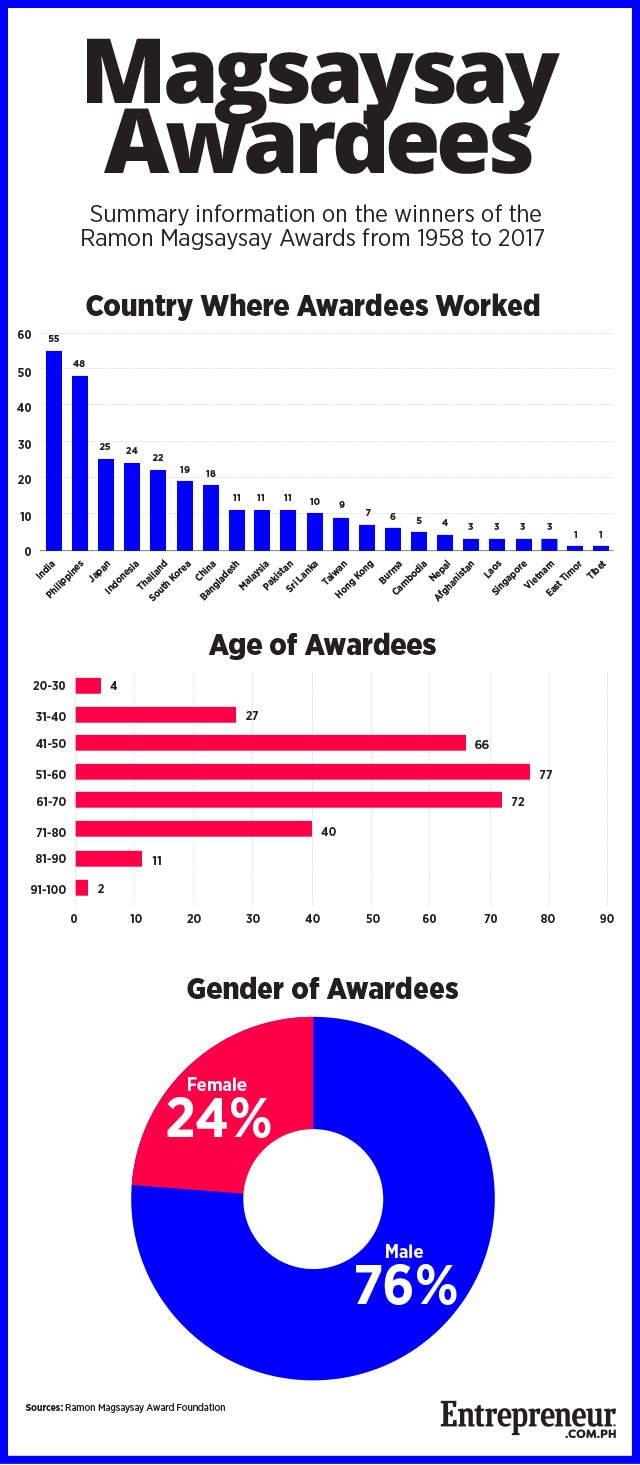 The Ramon Magsaysay Award Foundation (RMAF) honored on August 31, 2017 five individuals and one organization from all over Asia for their notable contributions to the society and human development in the region.
The 2017 individual awardees are Yoshiaki Ishizawa (Japan), Lilia de Lima (Philippines), Abdon Nababan (Indonesia), Gethsie Shanmugam (Sri Lanka) and Tony Tay (Singapore). Philippine Educational Theater Association, which is based in the Philippines, is the lone organization awardee this year.
"The Magsaysay awardees of 2017 are all transforming their societies through their manifest commitment to the larger good," said RMAF President Carmencita Abella in a press release. "Each one has addressed real and complex issues, taking bold and innovative action that has engaged others to do likewise."
Created in 1957 in the name of former Philippine President Ramon Magsaysay, the Ramon Magsaysay Award is now considered as "Asia's highest honor," which recognizes the same selfless service and influence embodied by the late president. The awarding ceremonies have been held every August 31st, the birth anniversary of Magsaysay. The first batch of the awards was given on August 31, 1958.
ADVERTISEMENT - CONTINUE READING BELOW
To date, there are already 324 Magsaysay laureates including this year's awardees from 22 Asian countries, both individuals (299) and organizations (25). India has the highest number of individual awardees, followed by the Philippines, Japan and Indonesia.
Majority of the awardees are male at 76 percent, and most of them belong to the 51-to 60-year-old age bracket.
"In the 57 years of the Ramon Magsaysay Award's existence, Asia has made great progress, some nations more than others," the foundation said in a statement. "From the Magsaysay laureates, present and future generations may draw courage, challenge and hope."
*****
Pauline Macaraeg is Entrepreneur PH's data journalist. Follow her on Twitter @paulinemacaraeg