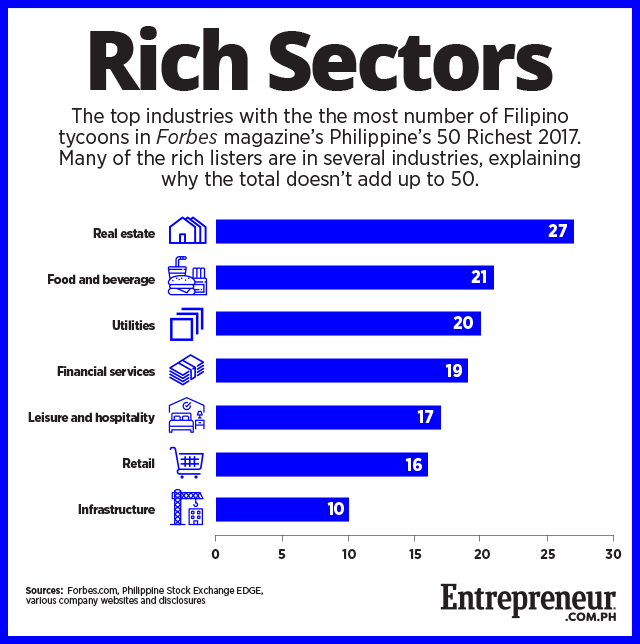 US business magazine Forbes' list of the Philippines' 50 richest people features tycoons with a diverse set of businesses. While some tycoons have built diversified conglomerates with stakes in multiple industries, others have grown businesses that have specialized in one or two industries and raked in millions over time.
However, a closer look at each of their business profiles shows that these tycoons tend to favor certain industries over others. In fact, there were seven industries where at least 10 tycoons are active.
ADVERTISEMENT - CONTINUE READING BELOW
Topping the tally is real estate, which saw activity from more than half of the country's 50 richest people. In fact, more than half of the 27 tycoons with real estate investments are dollar billionaires, many of whom are owners of the largest property developers in the country.
Related story: SM Group Founder Henry Sy Sr. is PH's Richest Person for 10th Year in a Row
Coming in second is the food and beverage industry, which includes both retailing and manufacturing of food and drinks as well as restaurant businesses—21 tycoons do business under those sectors. Not far behind is the utilities industry, which encompasses power generation as well as electricity and water distribution—companies headed by 20 of the Philippines' richest belong to those sectors.
Check out the infographic above to see the rest of the industries receiving big business from at least a fifth of this year's rich list.
ADVERTISEMENT - CONTINUE READING BELOW
*****
Lorenzo Kyle Subido is a staff writer of Entrepreneur PH