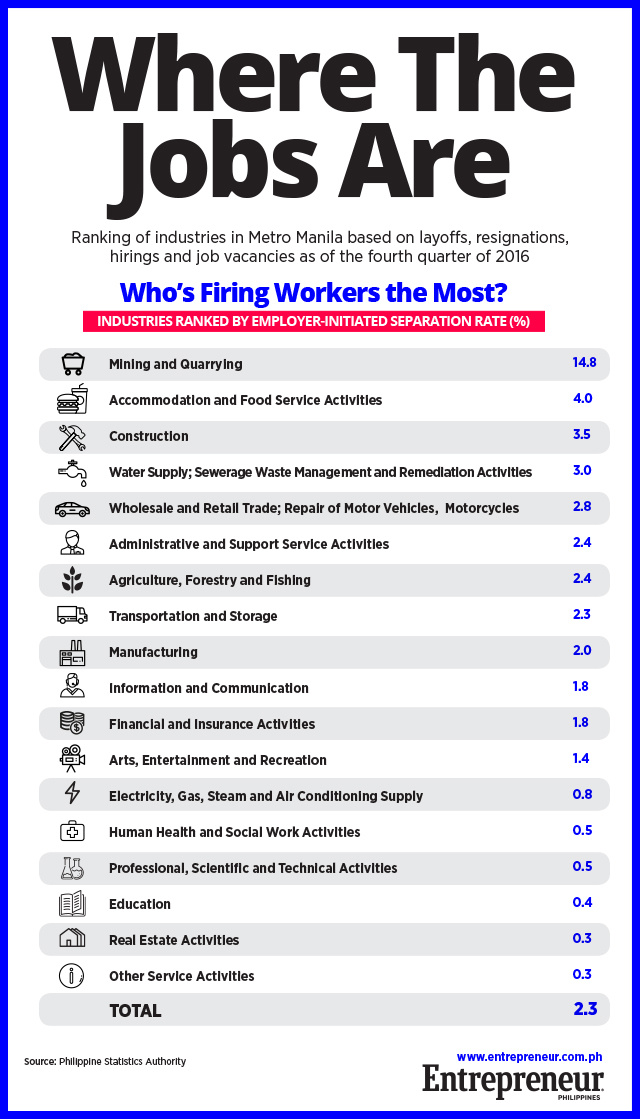 At the rate the Department of Environment and Natural Resources (DENR) under Secretary Gina Lopez was suspending mining permits, it was more or less expected that mining companies will soon begin laying off people.
But the latest labor turnover statistics covering Metro Manila from the Philippine Statistics Authority (PSA) show that firings in the industry already began in the fourth quarter of 2016, affecting 14.8 percent of the work force in the metropolis. The industry posted the highest rate for "employer-initiated separation," or labor layoffs in plainer language.
ADVERTISEMENT - CONTINUE READING BELOW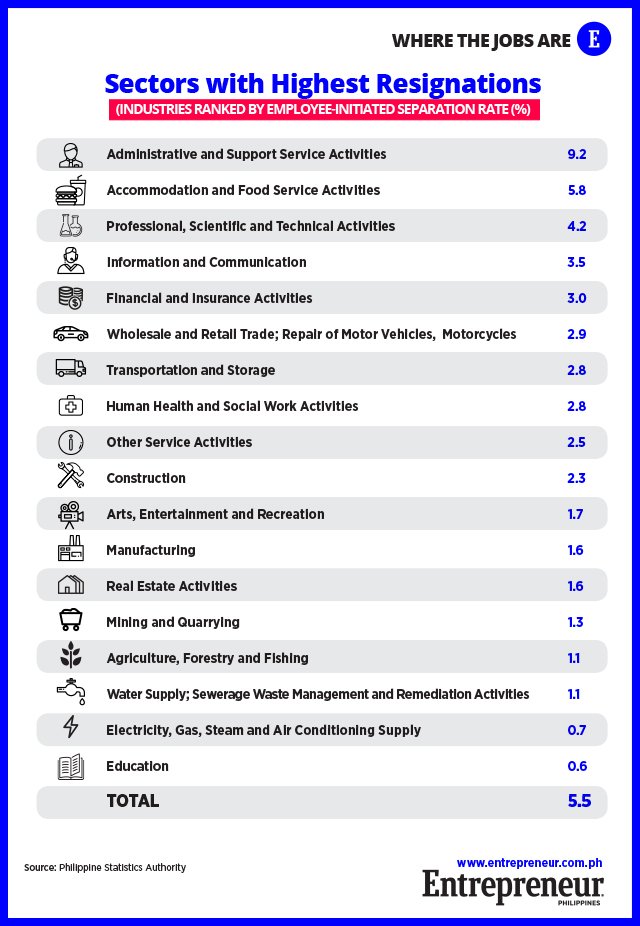 Each quarter, the PSA gathers statistics on separations, which could either be employer-initiated (layoffs) or employee-initiated (resignations) as well as accessions or hirings due to expansion or replacement.
To help jobseekers in Metro Manila find industries hiring the most workers and avoid those where layoffs are prevalent, Entrepreneur Philippines ranked the different economic sectors based on their separation and accession rates. Industries were also ranked based on the highest vacancies.
ADVERTISEMENT - CONTINUE READING BELOW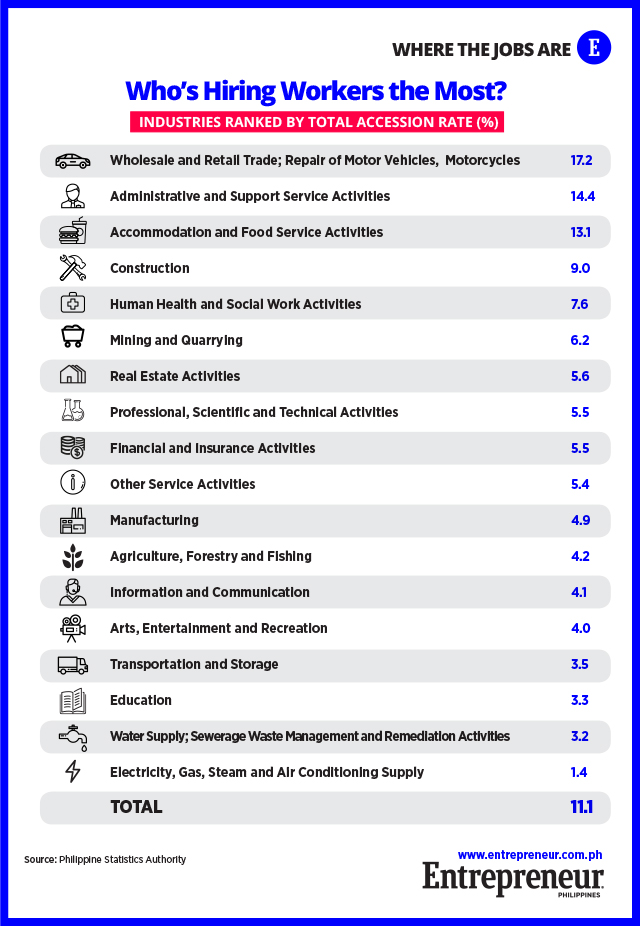 The results showed that the mining industry in the National Capital Region laid off the most workers. It was followed by the accommodation and food services activities sector which fired around four percent of workers.
Meanwhile, the administrative and support services sector, which includes call centers and BPOs, reported the most employee-initiated resignations at 9.2 percent. Unsurprisingly, the sector also had the most job vacancies at 14,738 with an accession or hiring rate average of 14.4 percent.
ADVERTISEMENT - CONTINUE READING BELOW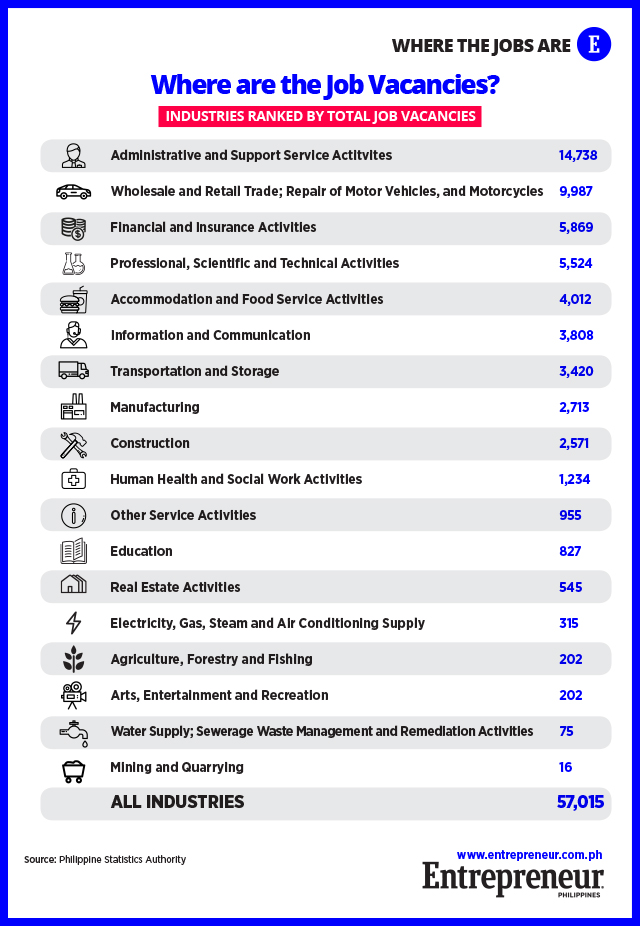 On the other hand, those in the wholesale, retail trade and repair of motor vehicles and motorcycles had the highest accession or hiring rate last year at 17.2 percent. The same sector also enjoyed robust motorcycle unit sales in 2016 at 1.14 million, which may explain the demand for labor.
Last year, the country recorded its lowest unemployment rate in 11 years with jobless Filipinos only at 2.04 million or 4.7 percent of the labor force. However, the unemployment rate in January rose to 6.6 percent, worrying some economists.
ADVERTISEMENT - CONTINUE READING BELOW
***** 
Elyssa Christine Lopez is a staff writer of Entrepreneur PH. Follow her on Twitter @elyssalopz