Thirty-five Filipino brands were included in the latest list of Asia's Top 1,000 Brands, an annual listing of the most recognizable brands in the Asia-Pacific region compiled by media and marketing firm Campaign Asia.
Leading the pack is liquor brand San Miguel, which ranked 326th in this year's list. As its beers are distributed both locally and across the region, this puts San Miguel above many other Filipino brands available only locally. The Top 1,000 Brands covers 14 Asia-Pacific markets.
ADVERTISEMENT - CONTINUE READING BELOW
This also explains why the next two highest-ranked Filipino brands in the Top 1,000 are also under the San Miguel group, as the Red Horse beer brand (No. 378) is also distributed regionally while fuel retailer Petron (No. 379) has a sizable presence in both the Philippines and Malaysia. Further down the list, San Miguel's food brand Purefoods (No. 802) also distributes products in other Southeast Asian countries.
A majority of the Filipino brands fall under the retail category, with nine local retailers making the list. Among these are the country's three largest supermarket operators: SM Supermarket (No. 536), Robinsons (No. 873) and Puregold (No. 942). SM Supermarket's parent company also appears on the list at No. 794.
As well, nine of the Filipino brands appear on the annual list for the first time, or have come back after being absent last year. This includes apparel retailers Bench (No. 648) and Penshoppe (No. 812), as well as sports organization Philippine Basketball Association (No. 816). 
ADVERTISEMENT - CONTINUE READING BELOW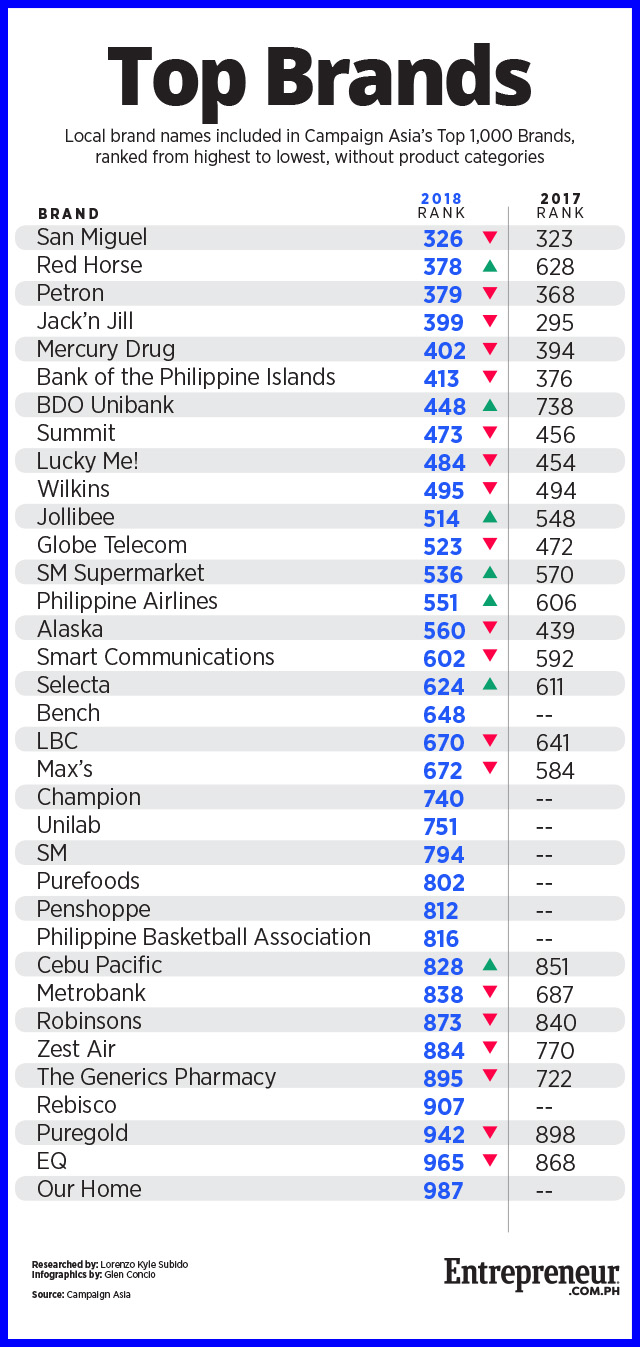 South Korean consumer electronics manufacturer Samsung leads the full list for the seventh year in a row, with American rival Apple coming in second. Fellow multinational brands Panasonic, Sony and Nestlé complete the top five.
Campaign Asia compiles the list of Asia's Top 1,000 Brands by surveying hundreds of respondents across 14 Asia-Pacific markets. This survey was done in March and April of 2018 and asked respondents which two brands they consider the best when talking about a specific consumer category.
ADVERTISEMENT - CONTINUE READING BELOW
*****
Lorenzo Kyle Subido is a staff writer of Entrepreneur PH