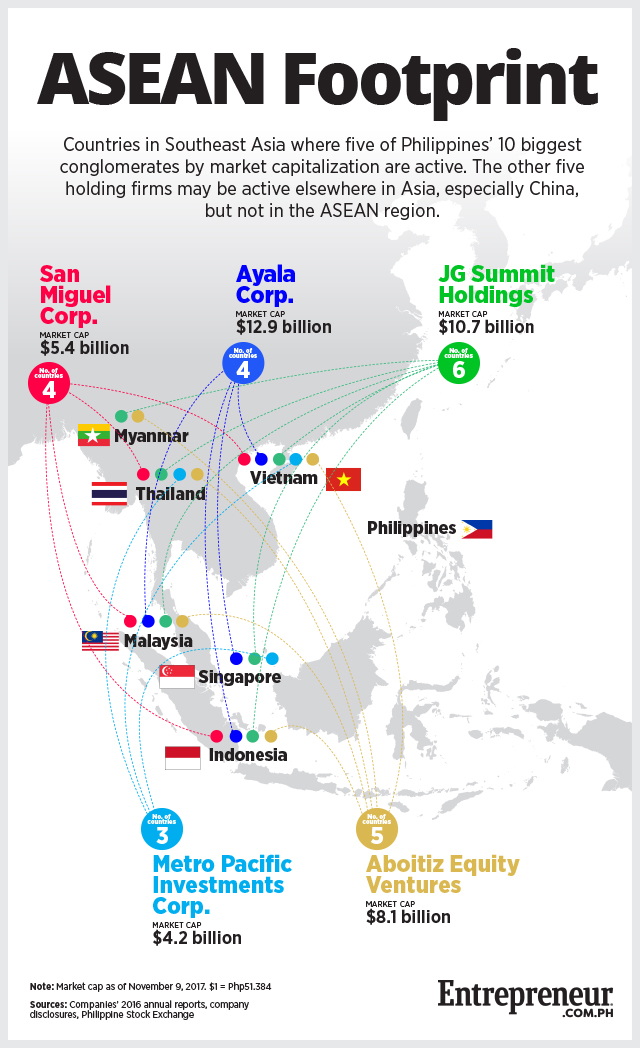 While the primary focus of almost all companies is to establish and solidify their footprint in the home market, many see the importance of international expansion in the growth of their businesses. By tapping new markets and engaging with a wider audience, companies open more opportunities for their businesses.
These big Philippine conglomerates know that by heart, as they've all embarked on major regional expansions. As the Association of Southeast Asian Nations (ASEAN) has continuously strived for economic development across all of its member countries, it comes as no surprise that many big businesses are taking advantage of this wider market.
ADVERTISEMENT - CONTINUE READING BELOW
Here, we list five of the country's largest holding firms by market capitalization that have set up major operations, acquired businesses and/or distribute their products across the ASEAN region. While they are not the only Philippine conglomerates to do so, these five have made significant investments across several countries in the region, and some even attribute a big part of their business to these operations.
1. San Miguel Corp.
Arguably the most active in ASEAN among the companies in this list, San Miguel's fuel and oil subsidiary Petron has established a sizeable presence in Malaysia. After acquiring and rebranding ExxonMobil in 2012, Petron operates around 580 retail gasoline stations across Malaysia as of end-2016. The company handling its operations in the country, Petron Malaysia Refining and Marketing Bhd, is listed in the Malaysian stock exchange, and the company reported revenues of 7.6 billion Malaysian Ringgit (Php87.2 billion) in 2016.
But San Miguel's ASEAN investments don't stop there. Its beer subsidiary, San Miguel Brewery, operates breweries in Indonesia, Thailand and Vietnam, while its food subsidiary, San Miguel Pure Foods, distributes products in Indonesia and Vietnam. As well, San Miguel Yamamura Packaging Corp. has packaging facilities in Malaysia and Vietnam.
ADVERTISEMENT - CONTINUE READING BELOW
Overall, San Miguel's ASEAN operations contributed over 22 percent of its sales in 2016.
2. Ayala Corp.
Many of Ayala's business segments have established presences in ASEAN countries. Its utility subsidiary, Manila Water has established companies in Singapore to oversee its ASEAN expansion and has currently established partnerships in Vietnam, with expansions to Myanmar and Indonesia in the works. Its power unit, AC Energy, is currently developing a 75-megawatt wind farm in Indonesia, and it is also part of an Indonesian consortium that acquired the geothermal operations of Chevron in Indonesia and the Philippines. Ayala's real estate and electronics segments also have minor presences in Malaysia and Singapore respectively.
Ayala also has additional though indirect ASEAN presences in other segments. The parent company has a joint venture with Singaporean telco SingTel that owns 100 percent of Globe Telecom's preferred shares. As well, earlier this year the company acquired a 49-percent stake in Zalora Philippines, the local unit of the Singapore-based fashion e-commerce site.
ADVERTISEMENT - CONTINUE READING BELOW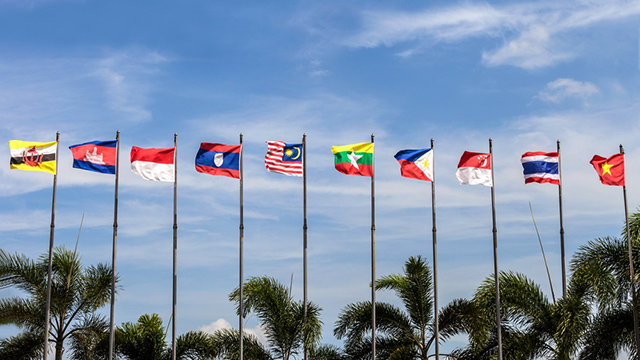 3. JG Summit Holdings
Most of JG Summit's ASEAN presence is tied to its food and beverage unit, Universal Robina Corp. (URC). It has established several consumer food plants in Indonesia, Malaysia, Myanmar, Thailand and Vietnam, where it distributes its products. In 2016, URC reported consolidated sales of almost Php33 billion from those countries. JG Summit also has a core investment in a Singaporean real estate company.
ADVERTISEMENT - CONTINUE READING BELOW
In addition, JG Summit joined a $550-million investing round last May by Singaporean tech company Sea Ltd., which operates online gaming firm Garena and e-commerce platform Shopee. In a disclosure to the Philippine Stock Exchange dated May 10, 2017, JG Summit revealed that it invested $25 million into Sea Ltd. "to help finance their growth plans."
4. Metro Pacific Investments Corp.
Metro Pacific's ASEAN presence comes in the form of investments in international companies. Its toll operations segment, Metro Pacific Tollways Corp., has invested in two toll road operators across ASEAN as of end-2016: a 29.45-percent stake in Thai toll operator DMT, which runs an elevated toll road in Bangkok; and a 44.9-percent effective interest in CII B&R, which operates infrastructure projects in Ho Chi Minh City, Vietnam.
As well, Metro Pacific's electricity segment, Meralco, has a 28-percent effective interest in PacificLight Power Co. Ltd. Acquired by Meralco unit MGen in 2013, PacificLight operates a 2x400-megawatt Liquefied Natural Gas power plant in Singapore.
ADVERTISEMENT - CONTINUE READING BELOW
5. Aboitiz Equity Ventures
Aboitiz's main investments in ASEAN fall under its agribusiness firm Pilmico and its Singapore-based subsidiary. In 2014, it acquired a 70-percent stake in a Vietnamese aqua feed manufacturer, which it has since renamed Pilmico VHF. According to Aboitiz's annual report, the group is planning to purchase the remaining 30 percent of Pilmico VHF's shares in the next five years.
In addition, Pilmico has opened offices in Indonesia and Vietnam to expand its flour milling business. Through these offices, Pilmico exports its flour products to Malaysia, Myanmar and Thailand.
*****
Lorenzo Kyle Subido is a staff writer of Entrepreneur PH