With the onset of the second semester, Entrepreneur Philippines sought to find out which of the country's major private colleges and universities are also the most profitable or at least doing well financially.
There are more than 1,500 private schools and colleges in the Philippines, according to the Commission on Higher Education. Entrepreneur Philippines picked the 35 most populous private higher education institutions and then ranked them by net income or excess of receipts or revenue over expenses. (Some universities are non-stock and non-profit corporations that do not report net income. Instead, they report what is called excess of receipts or revenues over expenses, which is roughly equivalent to net income or profit.)
ADVERTISEMENT - CONTINUE READING BELOW
Only 29 private HEIs were included in the rankings. Two HEIs from the 35 most populous list don't have records with the Securities and Exchange Commission, another two have records but have no financial reports, and one's registration was revoked. STI College Group, which is also not part of the rankings, only has individual records of its 50 campuses nationwide.
Entrepreneur Philippines used the latest available financial statements of each school, which covered the period from 2013 to 2016.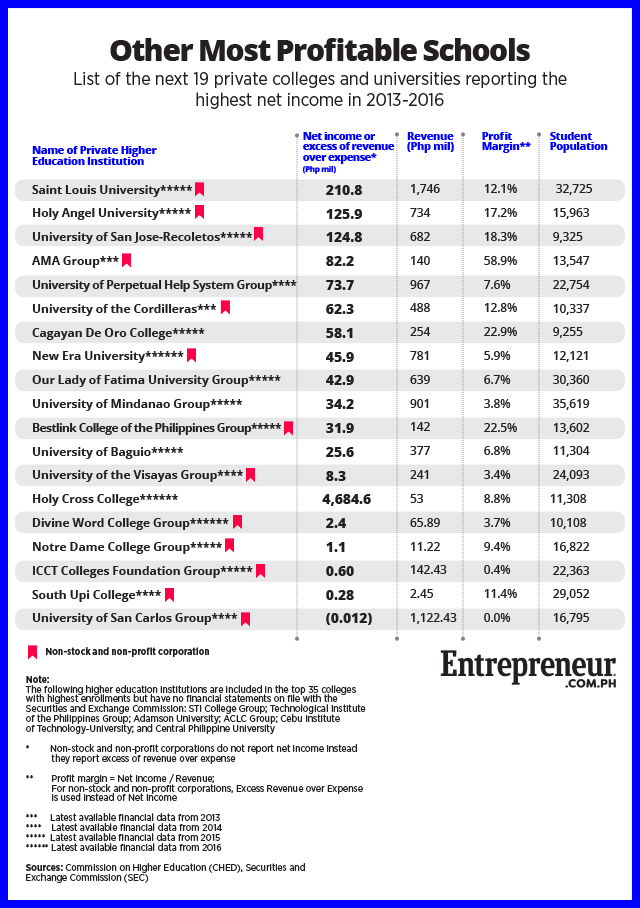 ADVERTISEMENT - CONTINUE READING BELOW
From their financial statements, we found that the average profit margin of the 29 most populous HEIs stands are about 20.5 percent, which is somewhat lower compared to the 26.5-percent average profit margin of the country's 1,000 biggest corporations by revenue as compiled by BusinessWorld newspaper in its Top 1000 Corporations in the Philippines.
University of Santo Tomas (UST), though a non-stock and non-profit corporation, tops the list of most lucrative HEI with a recorded excess of revenue over expense income of Php1.16 billion in 2016 from revenues amounting to Php6.3 billion. Though UST also earns money from its hospital, it is still teaching-related revenue that make up most of its revenue considering its student population of 35,633. UST is also the only school in the list that has reached a billion pesos in net earnings.
Far Eastern University group follows next with more than half of UST's net income, at Php776.8 million. The Lourdes Montinola (and family)-owned network of schools recorded revenues of Php2.3 billion in 2016 in its seven campuses in Luzon.
ADVERTISEMENT - CONTINUE READING BELOW
Mapua Institute of Technology group, now known as Mapua University, follows with Php753.1 million of net income. De La Salle University group trails closely with Php734 million. (see infographic for full list)
*****
Pauline Macaraeg is Entrepreneur PH's data journalist. Follow her on Twitter @paulinemacaraeg